The $15 Storage Solution I Use Everywhere to Keep My Entire Home Clutter Free
We independently select these products—if you buy from one of our links, we may earn a commission. All prices were accurate at the time of publishing.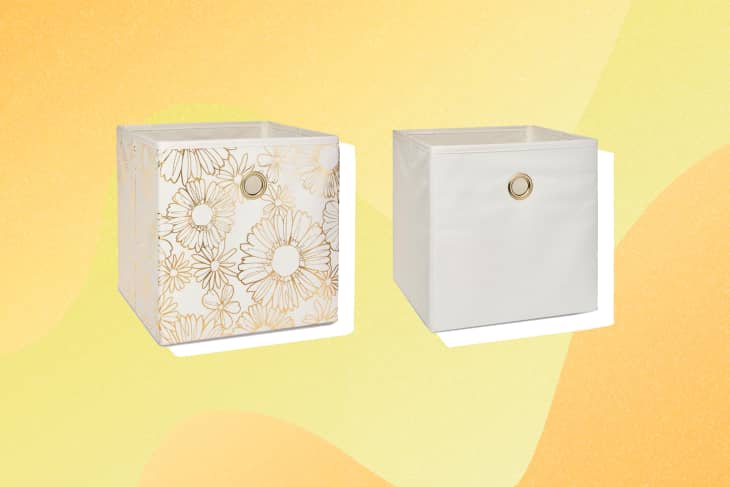 When it comes to household chores, everyone has their Achilles heel. For me, it's organizing. I'm not good at it, and, if I'm being honest, I just don't enjoy it. Those miscellaneous items, like my workout gloves or that heating pad I got as a gift last year, trip me up because it's tough to figure out exactly where they belong. This random "stuff" either gets tossed into a junk drawer or somehow winds up underneath my bed. It creates a confusing mess and makes it impossible to find things when I really need them. And I know I'm not alone. There are a sea of people out there who are organizing-avoidant. Why else would the Marie Kondos of the world be in such high demand?
Feeling frustrated by the mess I'd accumulated during quarantine, I called my sister (our family's resident organizing genius) over for help. Her winning hack changed my messy situation around for good: When in doubt, store it in a basket. She taught me that baskets not only keep messes out of sight, they're also the perfect vessel for the small stuff. My sister and I grazed the aisles at our local Walmart looking for basket-like storage solutions. I wanted something with plenty of depth but that wouldn't be a total eyesore. The Mainstays collapsible fabric cube storage bins exceeded my expectations! Even better? Priced at less than $15 for a pack of four, each one costs less than $4!
Since then, these inexpensive collapsible storage baskets have become this disorganized gal's saving grace. I use them everywhere around the house — but especially in my closet, which needed the biggest intervention. I now use two baskets on my closet shelves: one for socks and the other for belts and hats. I used the next two baskets for other clutter creators, like beauty and skincare products, chargers for all of my gadgets, and important paperwork that I need to keep handy. Though I opted for the gold and white floral pattern (which is absolutely stunning in person), they come in a slew of other colors and patterns.
A four-pack of these storage bins costs less than $15, so I initially suspected that they'd get worn down rather quickly. Not so! Eight months in, and the fabric covering hasn't torn or come unstitched. When I went to order more bins online for pretty much every room in my home, I noticed that the secret is out about this nifty organizing find. The reviews show that folks are loving these cubes just as much as I am for keeping everything from kids' toys to DIY supplies contained. "I love the look of these storage bins," one customer wrote. "They have a higher quality and look than the ones I purchased in the past. These [offer] a more sophisticated way to store items in a cube organizer and I love the look in my bedroom."
With one $15 purchase, you get four storage bins, which means each one costs roughly what I pay when I treat myself to a cup of joe from my local coffee shop. Because, as much as I might hate to admit it, staying organized is an important form of self-care, too.