A Complete Guide to Laundry Symbols: Find Out What Those Garment Labels Actually Mean
We independently select these products—if you buy from one of our links, we may earn a commission. All prices were accurate at the time of publishing.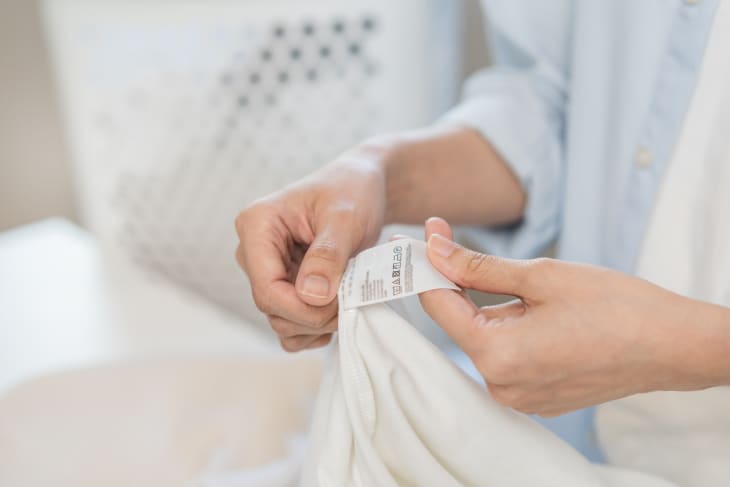 You probably have a general idea of how to wash your clothes based on the material they're made of — but there's a lot more to taking care of your clothing than just the washing machine. Some clothes shouldn't be dried at certain temperatures, and others can't withstand bleach or ironing. To make garment care easier for consumers, manufacturers usually include garment care instructions on items, usually in the form of confusing symbols on the clothing tag. 
Follow Topics for more like this
Follow for more stories like this
What are washing symbols for? 
The Federal Trade Commission requires any clothing garments manufactured in the U.S. to include care information. According to Wayne Edelman, CEO of Meurice Garment Care and CLEAN by Meurice, care labels are the instruction manual for ensuring your garments are cared for properly. "Basically, they state whether the item needs to be dry-cleaned, wet-cleaned, spot cleaned, or not cleaned at all," he says. 
The symbols also indicate the appropriate temperature to use when washing or drying, and whether or not you can use other garment-care tools, like an iron or bleach. If you want to take the best possible care of your clothing, Edelman suggests not removing the labels. 
Not totally sure what these symbols actually mean? We've got you covered. Here's your guide to those confusing washing icons on your clothes.
A tub with a wavy line means you can machine wash an item. 
A tub with a horizontal line beneath it suggests the permanent press cycle.
Two horizontal lines beneath a tub with a wavy line icon suggest the delicate or gentle cycle.
A tub with a hand means you should hand wash.
A crossed-out tub means do not wash this item at all.
A circle indicates dry clean only.
A crossed-out circle means do not dry clean this item.
Washing temperature symbols
A single dot inside a tub means an item should be washed cold (85 degrees Fahrenheit).
Two dots inside a tub indicate a warm wash temperature (105 degrees Fahrenheit).
Three dots suggest a warm or hot wash temperature (120 degrees Fahrenheit).
Four dots suggest a hot wash temperature (140 degrees Fahrenheit).
Five dots indicate a sanitizing wash (160 degrees Fahrenheit).
A square with a circle inside of it indicates it's safe to tumble dry an item.
A square with a circle inside of it that's crossed out means do not tumble dry.
A square with a single line under it indicates permanent press.
A square with two lines under it indicates delicate or gentle.
A square with a curvy line within it at the top, going from one side to another, suggests line- or hang-drying an item.
A square with three vertical lines inside it means you should drip dry an item.
A square with just one horizontal line suggests you should dry an item flat.
Drying temperature symbols
A tumble dry symbol with a filled-in circle means you should not use any heat.
A tumble dry symbol with a single dot in the center indicates low heat.
A tumble dry symbol with two dots means medium heat.
A tumble dry symbol with three dots means high heat.
A triangle symbol means you can use bleach on an item.
A triangle with two angled lines means you should use non-chlorine bleach.
A crossed-out triangle means do not bleach.
An iron symbol means it's OK to iron an item.
A single dot indicates you should use low heat.
Two dots mean medium heat.
Three dots mean high heat is OK to use on this item.
An iron symbol with two crossed-out vertical lines beneath it means you should not use steam.
A crossed-out iron means don't iron this item.
Keep in mind that while these labels carry general guidelines, they aren't always correct. "As garments have evolved over time to include several different materials and colors, good common sense is necessary to ensure positive results in garment care," Edelman says. As a rule of thumb in home washing, if you're ever unsure about how to care for a garment, it's a good idea to seek professional care from an experienced garment care specialist (aka a good, reputable dry cleaner).