Watching TV Is My Favorite Form of Self Care — An Ode to Tuning In to Tune Out
We independently select these products—if you buy from one of our links, we may earn a commission. All prices were accurate at the time of publishing.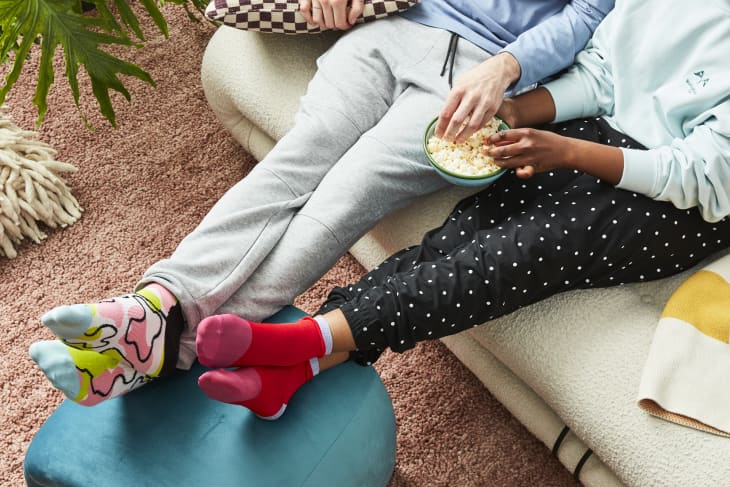 In my early 20s, I was new to big-city living and my anxiety would spike whenever I was in crowds. The first thing I'd do when I got home to shake off the fear of being crushed to death? Pop in my DVDs of "When Harry Met Sally" or "You've Got Mail."
Follow Topics for more like this
Follow for more stories like this
Both films were essentially love letters to a less-rushed life in New York City, and once the credits rolled, I loved the city again.
These days, I'm a regular listener and fan of NPR's "Pop Culture Happy Hour" podcast, and at the end of each episode, the hosts will share what made them happy on screen that week. For as long as I can remember, indulging in feel-good films and TV have been a necessary part of surviving adulthood. I've watched and rewatched hours of small-screen entertainment because of the simple happiness it brings me when the realities of life feel too intense, like rush-hour commutes, work deadlines, and motherhood.  Hearing the NPR hosts talk about what they are watching assures me I'm not alone in using TV as a personal retreat. Typically, they don't talk about prestige series, but rather the feel-good films and TV shows that bring the hosts more comfort than a cultural critique. I get it. These are the types of programs that help reset our mental capacity, often when we need it most. 
For me, 30 minutes of a feel-good sitcom is just as beneficial as yoga. Yes, I'm an educated professional who knows and understands the proven health benefits of practicing physical activities beyond the couch. But the instant cup of joy I get from rewatching "The Diamond Dogs" episode of "Ted Lasso" feels better than an extended downward dog movement for me.
Here's the set up (for anyone who didn't see "Ted Lasso" stars take home a bunch of Emmys): Ted is an American football coach who's been dubiously hired to coach a Premier League soccer team in England. He's a joke to everyone until he defeats one of his most visceral adversaries on their home court: the local pub. You can feel the anticipation of Ted upending the crowd as he (Jason Sudeikis) stops the shenanigans of being a poor dart player by calling out his favorite food: "barbecue sauce." As his final dart hits a bullseye, Ted becomes a hero for underdogs and a White Knight for girls with horrible exes. The euphoria I feel after watching Ted prove his naysayers wrong week after week makes my spirit smile. In fact, this central plot point in the series — winning people over with simple kindness — always lifts my spirits, which is why I can't think of a better form of instant self-care. No workout pants or soaking tub required.
I'm not alone in watching the small screen as a means of preserving and nourishing my daily mental health. Actually, it's something I learned from my mama. When I was a young girl, she worked a late-night shift as an airline ticket agent. When she'd come home, she would immediately turn on the TV. Once I grew up and started juggling a job and family, I asked her how she kept her sanity working such long hours, especially coming home after midnight. She told me that she watched TV for an hour to unwind after a long night of answering a high volume of calls (this was the early 80s, long before online booking became the norm). It was her secret to finding peace, and one I eventually adopted, too. I went on to have a career as an entertainment editor in New York City, covering and reviewing TV and film culture for a living. You'd think after many hours of required screenings, celebrity interviews, and writing about entertainment, the last thing I'd want to do was actually come home and turn on the TV. Nope. I'd happily cue up whatever I had stored on my DVR or scroll the viewing guide until something signaled my brain to stop and watch.
Using TV as a soothing tool is nothing to be ashamed of. According to a 2020 Nielsen survey, TV occupies 80 percent of the time we spend consuming entertainment, still dominating app and internet viewing. While most sleep experts recommend no TV before bedtime and definitely no screen time while sleeping, New York based therapist Elisha Mudly, L.M.SW., encourages us to embrace watching a little evening telly if that's what makes you happy. "A big thing that can be helpful is finding the tools that help you self-soothe and disengage [from work] in a healthy way," she says. "For example, some folks find that no screens before bed is useful. I also, hypocritically, enjoy mindless Netflix shows sometimes. That helps me regulate and lower my anxiety levels."
And just like that, Mudly takes the sting out of accepting TV as a healthy form of self-care: "Be really compassionate with yourself in what you need, don't think and judge yourself for what you need to rest. For me, it's watching 'The Office.' It just like puts me right to sleep."
For many people, tuning in to tune out is as necessary to their daily replenishment as drinking water. When I posed the question on social media, I quickly realized that others practice self-care in front of the TV, too.  "I watch reality TV to turn my brain off," says Isabella "Izzy" Persico, a 20-something publicity manager who pulls in long hours for a global brand. "'New Girl' always relaxes me," says Mikalah Thomas, a marketing and tech professional in Atlanta. "I like the style of comedy and I heavily relate to the Jess character, so it feels like I'm watching myself in another reality." Steve Jones, an entertainment producer in Los Angeles, says "After a hard week, I look forward to Sunday as my day to escape inside of someone else's story. Their ability to overcome obstacles by the end of the season reminds me of my ability to do the same at the end of whatever season of life I find myself in." And Tiara Jackson, a senior marketing manager in La Plata, Maryland, says "I enjoy rom-coms for self-care. I need a relatable romantic story with fantasy and a happy, optimistic ending. Gotta keep hope alive."
Same here. When I'm cozy in bed but my eyes aren't closing fast enough, I search for a stress-free series that's familiar but unlike anything in my real world. My sleeping pill: the BBC production of "Pride & Prejudice" with Colin Firth and Jennifer Ehle. Between the British accents and pageantry of the Regency era, the slow pace of early 18th century life lulls me to dreamland. TV programs that are mirrors of my life, or the lives of people I know and love, have the opposite effect on me. A year ago a friend suggested the Canadian series "Workin' Moms" on Netflix. Instantly I dove in because of its irreverent take on how modern women navigate subjects such as abortion, cheating, and emotionally estranged kids with thoughtfulness and quirky humor. However, watching it before bed had my mind racing: What would I do if I was pregnant with my third kid and the weight of motherhood was crushing me? How would I handle my teen who's the bad apple of the group? The questions kept coming and I needed to quiet the conversations in my head. Back to 18th century England I go.
When I'm not looking at TV as an escape before bed or winding down after hours on my computer, I'm tuning in for the warmth of cuddling with my loved ones as we watch a series together and make new memories. This summer we were late crashers to the "Stranger Things" party. We deep dived into Hawkins by watching three or four episodes a day until we were caught up for the fourth season. (I may or may not have broken my family's circle of trust and watched the finale while I was traveling for work and my daughter was at camp.) We're officially team Lucas and Max, and Erica is my avatar.
We were happily awaiting the return of "Abbott Elementary" because we cannot get enough of vice principal Ava's antics. Speaking of Ava (Ava DuVernay that is), "Queen Sugar's" final season starts soon, and the series continues being a love letter to Black women and Louisiana. After hours on Sunday, my partner and I are reliving the glory days of bonding over "Game of Thrones" with "House of the Dragon" (the verdict is out if we'll stay in Westros.) And the next time I have a few hours of me time at home, I'm taking a trip to The Pink because I missed watching the second season of "P-Valley" in real time.
If a few hours of viewing pleasure a night helps to ease your mind, I say, go for it. Bobette Gillette, a media executive in Washington, D.C., says the repeats of procedural "Law & Order" take her to her happy place. "That dum dun gets me every time." Sometimes it really is all about the little things.