This Absurdly Simple Cooking Habit Keeps My Kitchen Counters Spotless
We independently select these products—if you buy from one of our links, we may earn a commission. All prices were accurate at the time of publishing.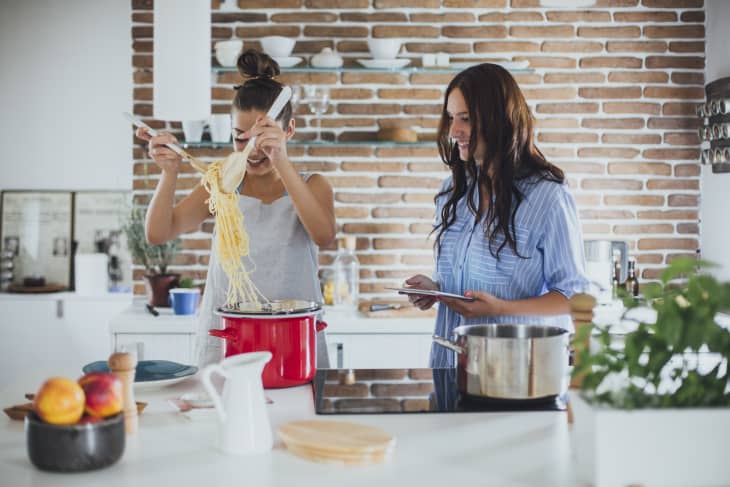 If cleanliness begets cleanliness, the idea that mess begets mess is even more true. 
Keeping or allowing things in your house to be in a certain state generally influences the way things will go. That's why keeping your sink clear can inspire your household to just wash the mug or stick the plate in the dishwasher rather than stash it in the sink, waiting to get washed and inadvertently giving the next person who comes along permission to do the same until there's a whole sink full of dishes!
One super simple (yet often overlooked) kitchen habit has the power to save you from cooking messes spreading all over the kitchen — keeping a close eye on your counters. 
Let me elaborate: Dirty counters aren't just small, localized messes that affect only one kitchen surface. They are actually more like little landmines that, if left untended to, make anything you unknowingly set down on top of them a little dirtier too. That mess then travels and multiplies when these items, which could be anything from the bottle of maple syrup to the container of baking soda, are put back into the fridge or pantry after being placed on a dirty surface. (Let's not even talk about the soon-to-be sticky set of keys unknowingly placed on an unseen dribble of honey that are then tossed inside your purse.) 
Clean counters first was always one of my mother's biggest kitchen rules for this very reason. Keeping the counters clean is a critical first step toward keeping the kitchen (and beyond!) clean too.
There are a few effective ways to practice keeping your counters squeaky clean. One of the easiest is to make sure you always have a reliable spoon rest on hand. Having a designated space — one that can "travel" with you throughout the kitchen — to set down the wooden spoon you're using to stir the marinara sauce or the dipper you used for some honey or even the eggshells after you cracked them into the mixer, means those dirty items won't instantly stain or dirty your counter space while you cook.
But you may need more than just one. I enjoy having a set of silicone spoon rests because I can grab another if one's in the dishwasher and I can also use multiple rests if there's a lot going on in the kitchen. But even if you don't have a spoon rest, just use what you have on hand, such as a small dinner plate or even folded square of paper towel to avoid setting down any single dirty thing straight onto the counter. 
Keeping kitchen messes contained where they start is one truly simple yet high-impact way to keep them from snowballing and keep your nightly kitchen cleanup time down.