14 Reasons You Should Hang On To Those Paper Grocery Bags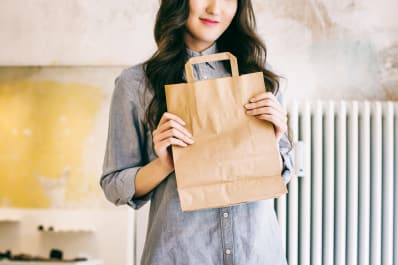 (Image credit: VISUALSPECTRUM/Stocksy)
If you suddenly find yourself with a huge stash of paper grocery bags—either from extra runs to the store, or from ordering a ton of takeout—sure, you could just recycle them, but there are plenty of ways to reuse them.
1. Line your trash can. This is perhaps the most practical, but by inserting a paper bag into your trash can, you can cut down on plastic use, and give your bag a second chance. Of course, maybe don't dispose any liquid-y trash to prevent a future mishap on the way to the dumpster...
2. Use as a recycling bin. Similarly, you can hang on to a bag or two as a receptacle for booze, cans, etc.
3. Use them as storage bins. If your bags are in good shape, you can use them for storage and organization in pantries and linen closets. Just paint your favorite color, and roll down to the size of your choice.
4. Send guests home with leftovers. Snag one of your takeout bags so your guests aren't left awkwardly juggling a handful of Tupperware.
5. Make place mats. Cut out rectangles from your bags and use them as disposable placemats. If you're afraid of coming across too derelict, use a paint pen to customize each place setting. Or save your recycled placemats for the kids table, complete with packs of crayons to keep them entertained while you enjoy your much-deserved adult time.
6. Use them to remove wax stains. Having a paper bag or two on hand will help you rescue your wax stained fabrics and surfaces. Check out this post to learn more.
7. Make a planter pot cover. If you have smaller brown paper bags, make custom planters using paint and/or paint pens. They just might make the perfect hostess gift or party favors.
8. Weave a hanging planter. That's right, you can cut up your bags into strips and weave them together for a hardly-recognizable recycled planter.
9. Wrap up a bouquet. Give the gift of fresh flowers and gussy up the presentation by rolling them into a cut paper bag. Tie with a ribbon or string and you're done!
10. Fireplace sachets. Speaking of fires, you can use them to make cinnamon-scented sachets to give your hearth all the winter feels.
11. Construct a pendant lamp. Yes, you can make a lamp out of a recycled grocery bag. If you want it to look less crafty, give your bag a coat of metallic paint.
12. Cover your books. Turn your ordinary books into a cohesive set by covering them in paper cut to size.
13. Make your own journals. Give your kids a place to write their thoughts or sketch with hand-sewn brown paper journals.
14. Decoupage your floors & walls. Go big or go home, right? If you've been hanging onto more than just a few brown paper bags, boy do I have a project for you...It may not be for everyone, but you have to admit, it's an epic way to reuse your waste.
Do You Recycle These Items?