This Not-So-Hidden Kitchen Surface Is the Last Place Anyone Thinks to Clean
We
independently
select these products—if you buy from one of our links, we may earn a commission. All prices were accurate at the time of publishing.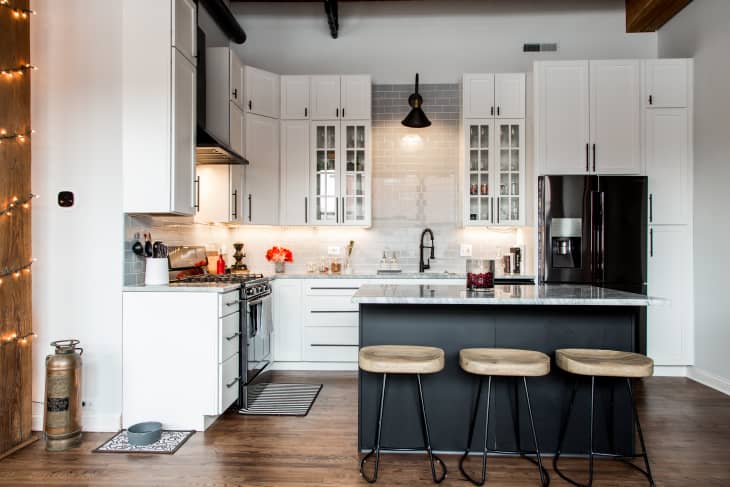 Apartment Therapy Weekend Projects is a guided program designed to help you get the happy, healthy home you've always wanted, one weekend at a time. Sign up now for email updates so you never miss a lesson.
Dusting is one chore that's easy for me to let slip through the cracks. Even though it never ceases to surprise me how quickly dust coats every surface, I've been known to slack on the task until I'm either disgusted or embarrassed. But when the urge strikes, I go to town with my microfiber duster and telescoping dusting wand, hitting every horizontal surface that doubles as dust catcher. From top to bottom, my bookshelves, dressers, lamps, and even (sometimes) my ceiling fans get a thorough dusting.
But there's another dusty spot that gets overlooked even more often. Vertical surfaces don't collect dust to the extent that flat surfaces do, so they might escape your eye when you're looking for something to clean. But that doesn't mean they don't need cleaning! From food splatters on the wall around the kitchen table to rubs that leave "shadows" of grime along door frames, vertical surfaces see their fair share of messes.
Drawer fronts and cabinets are one particular category of vertical surface that can get especially grubby over time. With so much handling, especially near knobs and handles, these surfaces often sport fingerprints and other remnants of frequent touching. Now more than ever, it's important to clean these high-touch spots.
This Weekend: Wipe down drawer fronts and cabinet doors.
First, take stock of all the drawer fronts and cabinet doors you have in the house. In addition to bathrooms and the kitchen, remember to address dresser drawers and doors on shelving units, including those for books or even shoes.
Next, gather your supplies. Sometimes a dampened microfiber cloth is enough, but for deeper cleaning, you may want to make a solution of Murphy Oil Soap for wooden surfaces and perhaps also have a Magic Eraser on hand handy for stubborn marks (always start with a gentle touch and spot test when using a Magic Eraser).
You may want to begin cleaning your vertical surfaces with a quick dry dusting. Getting rid of dirt always makes wet cleaning most effective. Once you've dusted, concentrate your effort on the knobs and handles themselves and then on the area immediately surrounding them. This is where you'll find the most dirt. Finish by quickly wiping down the rest of the surface.
Once you're done, even if you didn't notice how dirty these spots were before, you'll appreciate how clear and clean they are now—and might make more of an effort to keep them that way.
You can catch up with weekend projects right here. Share your progress with us and others by posting updates and photos on Instagram and Twitter with the hashtag #atweekendproject.
Remember: This is about improvement, not perfection. Each week you can either choose to work on the assignment we've sent you, or tackle another project you've been meaning to get to. It's also completely okay to skip a weekend if you're busy or not feeling the assignment.