One Spot in Every Kitchen That Doesn't Get Thoroughly Cleaned Enough
We independently select these products—if you buy from one of our links, we may earn a commission. All prices were accurate at the time of publishing.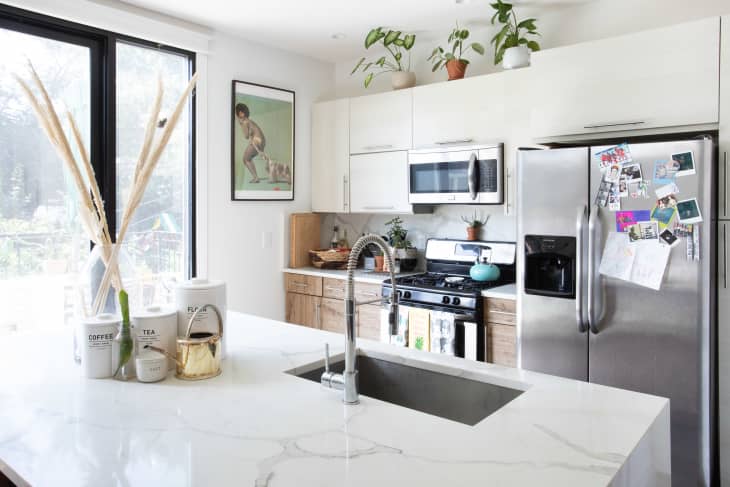 Apartment Therapy Weekend Projects is a guided program designed to help you get the happy, healthy home you've always wanted, one weekend at a time. Sign up now for email updates so you never miss a lesson.
Selective attention, which occurs when your brain filters out what it deems unnecessary input, can help you live your life without being overstimulated. But when it comes to cleaning, that lack of active attention means you could be overlooking some dirty messes.
For example, I have a garbage bag of winter hats and gloves on the floor in my closet. They were supposed to be in that bag temporarily — but that was the plan about eight months ago. I've gotten so used to seeing it and stepping past it every time I go in my closet that I've stopped "seeing" it entirely.
The same is true for dirt-collecting hotspots in your home. It takes a special effort to jolt you out of your sightlessness and really become aware of what needs a little extra TLC. This weekend project is going to be that jolt, and you're going to turn your attention to your water dispenser.
With guests possibly coming over soon for holiday gatherings (guests who do not have selective attention when it comes to the condition of your water dispenser), now is a good time to address what might be a less-than-ideal dispenser situation. Let's get that water dispenser sparkling clean.
This Weekend: Clean your water dispenser.
Whether we're talking about one built into a refrigerator, or a Brita-type pitcher that's become a staple on the shelf inside, water dispensers can build up all kinds of dirtiness, from hard water stains to the yuck that comes from spilled water sitting on surfaces nearby.
To clean your in-fridge water dispenser, make a half-and-half white vinegar and water solution and spray it on trouble spots. Let the vinegar sit a bit and then spray the same area with some Dawn Powerwash or use a rag dipped in some dish soap and water to wipe everything down.
Take out any removable trays in your unit and wash thoroughly. Clean under the tray, using a scrub brush and all-purpose cleaner or soapy water to get into the nooks and corners. For really stubborn spots, use some Bar Keeper's Friend. Rinse everything off with a wet rag and then dry.
If you don't have a fridge water dispenser, consider cleaning out your water pitchers, whether they are simple carafes or filtering units. Soaking pieces that are cloudy from hard water in a vinegar solution and then using a baking soda paste to clean off any lingering residue should make your pitchers crystal clear again.
You can catch up with weekend projects right here. Share your progress with us and others by posting updates and photos on Instagram and Twitter with the hashtag #atweekendproject.
Remember: This is about improvement, not perfection. Each week you can either choose to work on the assignment we've sent you, or tackle another project you've been meaning to get to. It's also completely okay to skip a weekend if you're busy or not feeling the assignment.