Now That Thanksgiving's Behind Us, You Should Declutter One Kitchen Collection
We independently select these products—if you buy from one of our links, we may earn a commission. All prices were accurate at the time of publishing.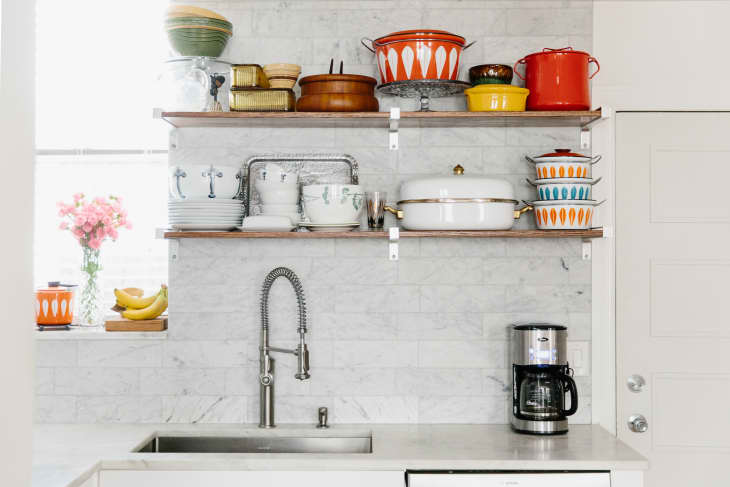 Apartment Therapy Weekend Projects is a guided program designed to help you get the happy, healthy home you've always wanted, one weekend at a time. Sign up now for email updates so you never miss a lesson.
The decluttering itch is stronger than ever. My theory is that so much time at home over the last year and half has everyone craving space and air and room to breathe. And also, on a deeper level, I think everyone has had it up to here with things that don't match who they are anymore, physical or otherwise.
Getting rid of things that no longer serve you not only frees up space, but it can also often rescue you from the frustration caused by cramped, overstuffed places in your home. This particularly applies in the kitchen, where being able to access things without digging and shuffling means every cooking and cleaning experience goes a little bit smoother.
But of course, decluttering is a challenge. And one of the biggest hurdles to getting rid of things is thinking that you might need them someday. The fear of not having it when you need it makes you hang on tight — which means some possessions can take up valuable storage space for years without ever being used. This weekend you're going to knock down this hurdle by taking a hard look at what didn't get used over Thanksgiving.
This Weekend: Declutter your entertaining wares.
Decluttering after something would have been used — but wasn't — is the best way to answer the question of whether you'll need something one day. If you didn't use it this Thanksgiving, after cooking up a storm and having guests, the answer is a big "probably not" and you should strongly consider donating it. (And if you didn't host, because you never host, it's an equally strong sign that some of these wares don't need a space in your home.)
Some items in this entertaining ware category include serving platters, serving spoons and other serving utensils, ice buckets and tongs, pitchers, etc. Taking a close look at your collection and subtracting what sat untouched for yet another holiday will ensure a less cluttered entertaining season next year, and a whole year of room to breathe in the meantime.
You can catch up with weekend projects right here. Share your progress with us and others by posting updates and photos on Instagram and Twitter with the hashtag #atweekendproject.
Remember: This is about improvement, not perfection. Each week you can either choose to work on the assignment we've sent you, or tackle another project you've been meaning to get to. It's also completely okay to skip a weekend if you're busy or not feeling the assignment.