Want Happy Houseplants? Here's One Springtime Ritual Your Green Thumb Friends Never Skip
We
independently
select these products—if you buy from one of our links, we may earn a commission. All prices were accurate at the time of publishing.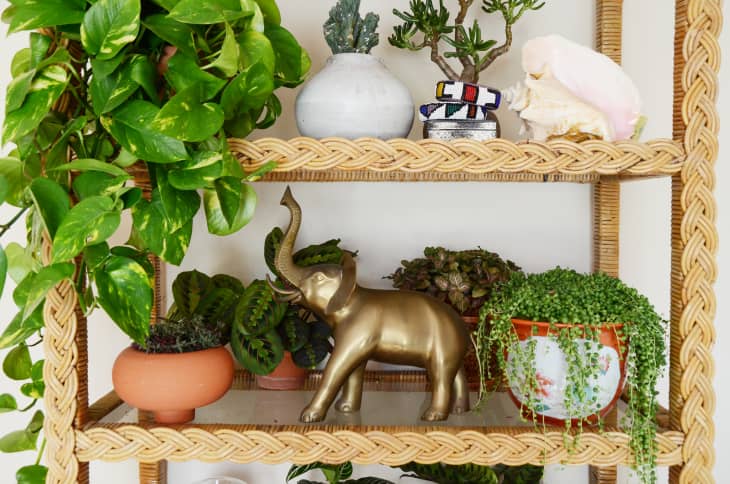 Apartment Therapy Weekend Projects is a guided program designed to help you get the happy, healthy home you've always wanted, one weekend at a time. Sign up now for email updates so you never miss a lesson.
Being at home more has me noticing the things that grate on my nerves (like the crooked light fixture), but it also makes me more aware of the things I enjoy looking at. For example, my plants are making me even happier than usual these days. When I sit in the armchair in the living room, I love the peek I get of the plant I have on top of our entryway shoe rack. And every single time I do the dishes, the pothos that trails from the top of our bookshelf, visible from the kitchen sink, gives me a little thrill.
I'm a plant lady already, but right now—in addition to bringing me aesthetic joy—my plants give me something to do and to observe. I appreciate the relaxing feeling I get from tending to them, and noticing their small changes. With temperatures warming up, many of my plants are emerging from their dormant states and are pushing out leaves—a quiet, subtle breath of hope that comes with watching new life grow.

Signs of growth signal something a bit more practical as well: that it's time to feed your plants.
This Weekend: Fertilize your houseplants.
Fertilizing your plants is fun because it means that they're going to stay healthy, strong, and grow more vigorously. But improper feeding can actually hurt your house plants. Here are some important things to keep in mind when fertilizing your houseplants, as well as some simple ways to do it:
1. Fertilize plants when they show active growth
2. Do not use more fertilizer than the package indicates.
Another way to over-fertilize is to simply use too much. Always follow the dosing instructions on your package of fertilizer; the label will usually recommend an amount based on the diameter of your plant pot.
3. Choose the right type of fertilizer for you, and for your plant.
Stick fertilizers are convenient, but some growers feel they don't do a good job of disbursing nutrients throughout the soil. Slow-release pellets allow for more even distribution and are less work than liquid fertilizers because they're a relatively "set it and forget it" solution. Liquid fertilizers are convenient, but you have to remember to use them. Use specialty fertilizer for African violets, orchids, cactus, and tropicals.
You can catch up with weekend projects right here. Share your progress with us and others by posting updates and photos on Instagram and Twitter with the hashtag #atweekendproject.
Remember: This is about improvement, not perfection. Each week you can either choose to work on the assignment we've sent you, or tackle another project you've been meaning to get to. It's also completely okay to skip a weekend if you're busy or not feeling the assignment.