6 Ways You Can Improve Your Bedroom in a Weekend
We independently select these products—if you buy from one of our links, we may earn a commission. All prices were accurate at the time of publishing.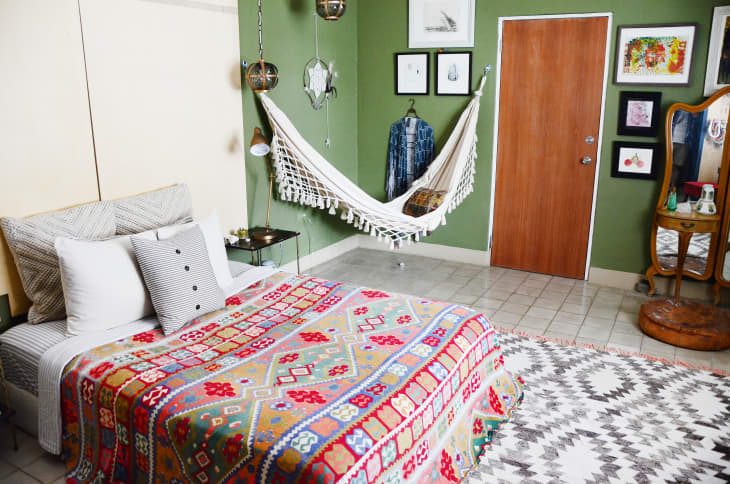 Apartment Therapy Weekend Projects is a guided program designed to help you get the happy, healthy home you've always wanted, one weekend at a time. Sign up now for email updates so you never miss a lesson.
Your bedroom is likely the last place you spend your house-keeping energy. Because it's a private room, only for you, it's natural to be lax on the idea of making making it look presentable, or turning to the bedroom when you want to upgrade a space at home. But this weekend is a great time to re-think how you treat your bedroom, for a couple reasons.
Follow Topics for more like this
Follow for more stories like this
First of all, at this moment in time, no one is making much of a fuss over curating spaces for entertainment purposes (at least anything besides what you can see in your Zoom background). Second, it's more important than ever to make sure that your home is a place that restores you. This is particularly true when it comes to where you sleep.
In honor of Valentine's Day, you're going to give your bedroom some love.
This Weekend: Do something (or a few things) to improve your bedroom.
Walking into a bedroom that's not only clean and orderly, but that makes you feel wrapped in comfort is key to a good night's sleep. A room that you enjoy might also become a favorite place for you to unwind, journal, read, or simply sit with a cup of tea and your thoughts.
Here are some ways to make your bedroom into a haven you'll love to retreat to:
Change out your lightbulbs for warmer-temperature light.
If your lightbulbs are casting bright or "daylight" hues, consider changing them out for warmer light. (I like 2700K.) The difference will make your lights glow and the effect is cozy and inviting. To take it a step further, consider smart bulbs that you can dim from an app on your phone. This way you can enjoy the warmth of low light even when you don't need or want bright lights on.
Getting nice sheets makes sliding between them an act of relaxation in and of itself. Or it might be time to replace your pillow. Small changes can have an outsized effect on your sleep, which impacts your whole sense of wellbeing throughout the day. And investment in quality sleep is always worth it.
Thoroughly wash your bedding.
Even if you're not in the position to upgrade bedding, washing everything thoroughly can make your bed feel like new. Take it a step further than washing just your sheets and duvet cover. Remove pillow covers and mattress covers and wash them, and then wash your comforters and pillows as well. Be sure to follow washing and drying instructions and allow enough time for them to thoroughly dry before putting them back on your bed. While it's bare, clean your mattress too.
Plug in a white noise sound machine.
A sound machine can help tame those racing thoughts. The soothing sound of white noise or a thunderstorm can help you not only fall asleep but stay asleep, especially if others in the house tend to get up earlier than you do and start, say, banging around in the kitchen. (I have this one from Big Red Rooster and I love it.)
Plants look good in a bedroom and being around plants can improve your mood. But you could also try a new piece of art or something way out of the box like a hammock. Adding playful, personal touches to your bedroom will keep it from feeling like a forgotten space.
You can catch up with weekend projects right here. Share your progress with us and others by posting updates and photos on Instagram and Twitter with the hashtag #atweekendproject.
Remember: This is about improvement, not perfection. Each week you can either choose to work on the assignment we've sent you, or tackle another project you've been meaning to get to. It's also completely okay to skip a weekend if you're busy or not feeling the assignment.