The Renter-Friendly West Elm Laundry Find That'll Let You Dry Clothes Anywhere
We
independently
select these products—if you buy from one of our links, we may earn a commission. All prices were accurate at the time of publishing.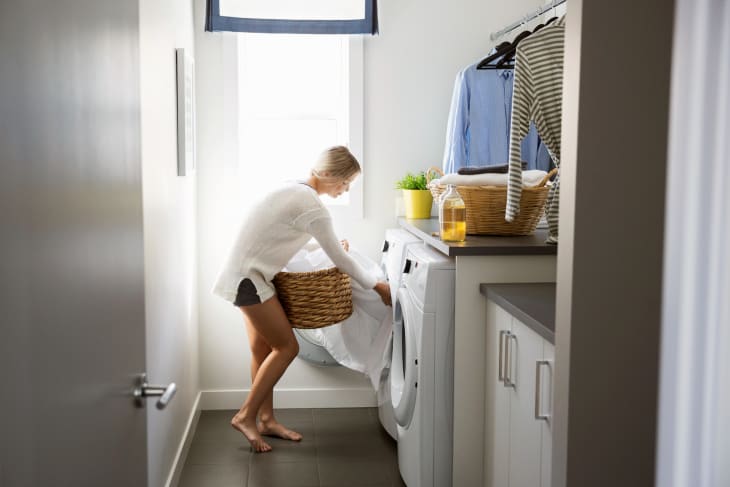 There's a certain kind of joy that comes from pulling warm blankets and sweatshirts out of the dryer and immediately wrapping myself up in them. Some of my newer and more special garments, however, cannot be subjected to the same heat and tumbling, therefore I need to get crafty in finding good air-dry spots. For a long time, damp knits, jeans, and other non-dryer-friendly clothes went over the shower rod or on hangers randomly dispersed throughout the house.
In the meantime, I'd have to warn others to avoid re-wetting my clothes if they planned on taking a shower and to watch out for jutting hangers. This is not the most convenient situation, as I'm sure those who live in small spaces can imagine. If you face a similar problem every time you want to clean and dry apparel, bedding, and other household items, you'll be excited to hear about this wall-mounted drying rack, which is available at West Elm. For less than $100, you can acquire a new place to comfortably hang wet clothing without compromising the utility of other surfaces.
This clever drying rack comes in two sizes — short, which is 27″ high, or tall, which is 42″ high — so you can choose whichever length fits better into your space. No matter the version you go with, this rack folds up and lies vertically flat against the wall when it's not in use. As a result, when your clothes are dry, no space is wasted! If you opt for the tall version, you'll have seven whole rungs of drying space, which is most likely enough for one load of laundry. And if, like me, you've resorted to hanging wet clothes on hangers only for the garments' shoulders to annoyingly protrude once dry, you'll appreciate the horizontal bars. This product also comes in white and has a simple design, so it won't clash with or detract from most home decor styles. A sturdy wooden frame provides plenty of support, too.
To utilize this clothes-drying rack, you can mount it to a wall (as its name implies), or — this is my favorite part — you can hang it over a door for an even easier damage-free installation. Gone are the days of needing to have a backyard or terrace and an outdoor clothesline in order to air-dry clothes. West Elm's wall mounted drying rack turns a previously obtrusive chore into a struggle-free task. That's smart design.