Inflatable Nightclubs Are This Year's Hottest New Yard Accessory
We
independently
select these products—if you buy from one of our links, we may earn a commission. All prices were accurate at the time of publishing.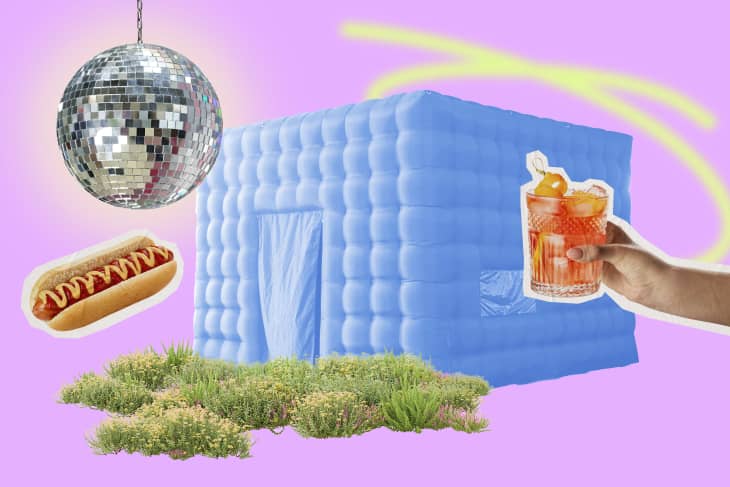 If you, like me, are over the age of 15, you probably assumed your days of bounce house parties were over. And you may be right — but you can move on to the latest lighthearted TikTok trend. Inflatable nightclubs have accrued nearly 130 million views on TikTok and are positioned to be the must-have rental for summer parties (at least in circles where outdoor space is easy to come by!). 
If you're scratching your head wondering what exactly inflatable nightclubs are, don't worry — you're not the only one. I did a deep dive and talked to an event planner who knows his way around an inflatable to find out why these bouncy nightclubs are taking off now.
To get an idea of the inflatable nightclub experience, think of a bounce house but without the air-filled floor. The sides are still made of inflated, cushiony synthetic material, but the ground is either just the ground beneath or a dance floor is brought in. The inflatable sides and roof help muffle the sound (and many come with additional noise insulation), and there's typically an entrance at the front, sans bouncer (unless you decide to play the role in your own backyard). 
With these inflatable nightclubs, make sure to book an events company that provides setup for lighting and sound so you get the full nightclub experience. Usually, they have LED lights and an easy-to-use Bluetooth system — because what's a nightclub without neon strobe lights and Rihanna pumping over the speakers? You decide whether the red carpet is necessary or if you want to create an entire lounge atmosphere with sofas, cocktail tables, and a bar all in chic white (I vote yes). 
Steve Radar, founder of Willie Fun Events, has seen a major uptick in inflatable requests. "We've noticed an increase in inquiries for these types of events, and it's no wonder — inflatable nightclubs provide a fun way to get guests moving and create memorable photo opportunities," he says. He explains that these inflatable nightclub structures allow for quick setup and removal, and there's also novelty to the experience. Can you imagine showing up to what you thought was going to be a casual Saturday evening cookout and seeing a nightclub with music and lights? It's fun, it's different! Plus, you have complete control over the party environment. Taylor Swift all night? All ages dance party? It's your call! And, yes, he's even used an inflatable nightclub that did have a bouncy house floor.
If you want to go a little lighter on the setup, inflatable projectors are also having a moment. You can set up a movie night in the backyard to stream all the summer classics. I imagine everybody gathered 'round for hot dogs, hamburgers, and a "Goonies" night, or maybe a camp-inspired evening for "The Parent Trap."
But whether you spring for the nightclub or keep it casual with the projector, Radar points out that there is one major challenge to hosting your TikTok-worthy party: the weather. It's a challenge for any outdoor event and the shelter provided by the inflatable nightclub doesn't necessarily protect you from a torrential downpour.

However, for the entrepreneurs among us, now might be the time to get into the inflatable rental business. You can buy an inflatable nightclub for just over $1,000 or an inflatable projector for under $200 and start your own inflatable rental empire.