What Chip Gaines' Night In Jail Taught The Fixer Upper Stars About Money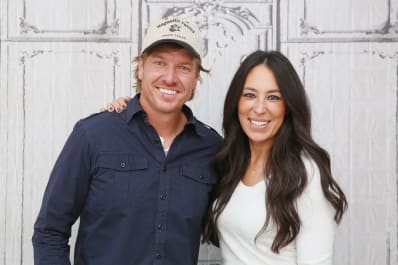 (Image credit: Mireya Acierto/Getty Images)
They may be HGTV tycoons these days, but that wasn't always the case for Chip and Joanna Gaines. The duo, who recently announced that they're ending their beloved home renovation show Fixer Upper, say they learned their best lesson about money over a decade ago, when Chip was tossed in the county jail after he was busted for having $2,500 racked up in tickets.
Business Insider reports that according to the duo's 2016 book, A Magnolia Story, the tickets were issued after neighbors complained about the couple's dogs roaming around in front of their house. But here's the plot twist: In order to come up with the $800 bail in order to spring Chip out of the slammer, Joanna had to take all the cash out of the register and safe in her shop. It was at that moment she realized they "were right on the edge of a real financial struggle."
Always the more fiscally conservative half of the dynamic renovation duo, Joanna says that after they married, the nest egg she brought into the marriage went into an investment—and unfortunately was gone by the time they really needed it.
"I think for me, the best lesson is always having a nest egg on the side," Gaines told Business Insider, adding that she always advises her clients to have some money stashed away when they're renovating. Chip, on the other hand, tends to be quite a bit footloose and fancy free with the couple's finances, a mentality he learned from his parents.
"They taught me to take that nest egg and throw that thing out the window, and go for it. You only live once — there will be plenty of time to sleep when you're dead," Chip told Business Insider.
Meanwhile, word on the web is that Chip and Joanna ditched their HGTV show over a bitter contract negotiation. While the couple insist they needed to take a step back from the limelight due to all their business endeavors, Page Six reports that the entire situation is actually due to "horrible contracts" with HGTV.
"They are using this end of their contract as a total renegotiation to get the deal they really want: more money, less work, more control," the source told Page Six.
A rep for HGTV shut down the allegations in a statement on Monday, saying "of course, this inflammatory information is inaccurate. Chip and Joanna have already shared with their fans why they made their decision and we support them."
Apartment Therapy supports our readers with carefully chosen product recommendations to improve life at home. You support us through our independently chosen links, many of which earn us a commission.