Here's What a "Cash Offer" Means (No, It's Not a Money-Filled Briefcase)
We
independently
select these products—if you buy from one of our links, we may earn a commission. All prices were accurate at the time of publishing.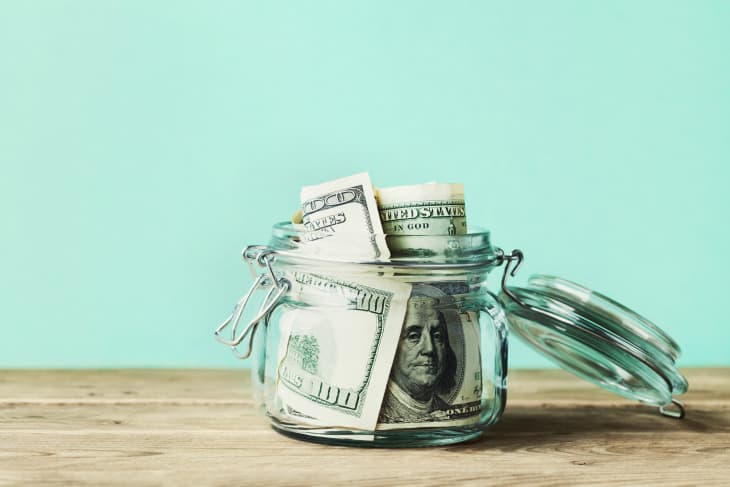 Some would say cash has always been king. But during the height of the pandemic, where bidding wars went to the highest, strongest, fastest-to-close offer, and now, with interest rates driving up potential monthly payments to astronomical highs, cash is taking on a new meaning across real estate markets.
Quick Overview
What even is a cash offer?
In real estate, a cash offer is made by a buyer who doesn't need to take out a loan to finance the home they're planning to purchase.
Adie Kriegstein, an agent with Compass, explains that a cash offer doesn't always mean literal cash. "A 'cash offer' refers to an offer made by a buyer where they will not be taking out a loan to finance the property they wish to purchase," she says.
Kriegstein explains that the buyer isn't cartoonishly showing up to the closing table with a briefcase filled with cash, but they do have the funds readily available to close, so there will not be a mortgage lender involved. This doesn't necessarily mean they have those funds in their account — but they do have them somewhere, whether that's in a retirement fund, an existing property, or a family member's bank account. These types of offers can often move quickly, as they're not waiting on notoriously slow bank documents or anxiously awaiting an appraisal that may or may not come in where it needs to. 
So if you've been watching all of those "cash offer" closings wondering, "What on Earth? I'm just trying to save a down payment," have no fear. I asked real estate experts to break down the strategies and pull back the curtain on what exactly a cash offer means.
A cash offer can be actual cash.
Lindsey Harn, an agent with Christie's International Real Estate, explains that sometimes cash actually does mean the buyer has the liquid funds on hand. "A cash offer can simply mean the buyer has access to the liquid funds necessary to purchase your home outright. They do not need financing or an appraisal of any kind to buy your home."
She explains that the money still gets wired to escrow, title, or the closing attorney electronically so the funds can be verified and documented. The seller will receive the money via a wire or a check, just as they would from a sale with a mortgage.
A cash offer can also be hard money loans.
Farah Sutton is a licensed Realtor based in Arizona. It's a state that's seen an increase in cash offers, thanks to buyers moving in from more expensive markets where they cashed out on the sale of a home. However, she's also witnessed cash offers that are actually hard money loans, where an investor puts up the cash, and a developer or flipper pays it back once they turn around and sell the property.
"These types of loans are frequently used by flippers, as they can be funded in three to five days," explains Sutton. "The drawback to hard money loans is that they have much higher than market interest rates and are only for short periods of time."
A cash offer can be borrowed 401(k) funds.
"Some buyers are taking money out of their 401(k) to achieve cash offers," says Tammy Abrusci, a Realtor at RE/MAX Heritage Properties. This is often done with penalties, and it has to be paid back into your retirement account within a set period of time. In competitive markets, buyers are weighing the pros and cons — and they're sometimes deciding it's worth the potential and probable downsides.
A home equity line of credit is a type of cash offer.
"With the increase in home value equity, if a buyer has a house to sell first, they may pull the cash out of their home, find a home they like, and once they get through inspections, they will put their current home on the market," says Abrusci. Pulling a home equity line of credit is a tough situation in a market where there's no need for a seller to entertain home sale contingencies, but it could work in a world where interest rates are rising and offers are no longer turning up in droves.
Family loans are also a cash offer.
Rather than borrowing the money from a bank and paying interest to the bank, some buyers will take the cash out from a family member, pay for the house, then pay the family back as if they were the bank. "A family could provide cash to the buyer," Abrusci says. "Once closed, the buyer will either refinance and repay the loan or do a private mortgage with interest back to the family."
Abrusci points out that despite the reputation of cash as king, cash doesn't always win against a traditional offer with a down payment and mortgage. "Some cash offers feel that they do not need to be as competitive since they are cash. But if the buyer with a mortgage is fully pre-approved by a reputable lender, we will go with the mortgage," Abrusci says. There's hope yet for buyers in hot markets.