6 Things Pro Furniture Flippers Wish They Would Have Known Before They Got Started
We independently select these products—if you buy from one of our links, we may earn a commission. All prices were accurate at the time of publishing.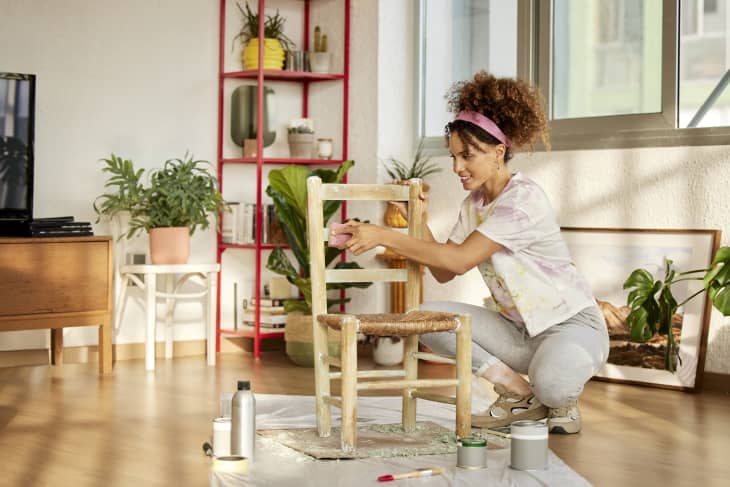 Few things are more satisfying than giving a well-worn piece of furniture a new life. And if you can get paid to do it, then it's a creative and rewarding gig. But pro furniture flipping is not all sunshine, rainbows, and bureaus. It can be a ton of hard work, too. 
Follow Topics for more like this
Follow for more stories like this
I interviewed talented pro furniture flippers from all over the country to get their advice on what they wished they'd known the first time they took sandpaper to a sideboard. And their advice sounded a lot like great wisdom for life in general: To be yourself, experiment, adapt, and not forget to check the weather forecast. Read on to learn the six things to keep in mind when you embark on your own furniture flipping project.
It's all about preparation, preparation, preparation.
"I wish I'd known how much time, energy, and sweat goes into preparing the furniture before any paint touches the surface," says Debbie Johnson from Debbie Did It! "When I find that perfect piece, I want to jump right in and start painting, but I also want my pieces to be of a high quality and last." Thoroughly cleaning, sanding, and priming a piece of salvaged furniture is necessary, but it can take up the majority of your time on a project. Be patient!
You can embrace unique design choices. 
For a pro flipper, settling on design and color can be a balancing act between personal tastes versus what will sell. But if you're inspired to create something that's more out-of-the-box, go for it. 
Amini Design Ashburn owner Anna Michelle's flips show off jewel tones and stenciled designs. She even enhanced an old dresser with a paint-pour technique, mixing indigo blue with a hot pink. "It's those creative pieces that I get the most joy out of doing," she says. "They typically take longer to find a new home, and I am a bit sad when they do sell!"
Go with the flow of the project. 
Flexibility and adaptability will be your best friends as you work — pro flippers reported changing their plans whenever something didn't go as they expected. After sanding a piece down to the bare wood and seeing it in a new light, for example, it's common to switch the design direction. "The furniture does the leading; we just have to follow," says Michelle. "Many of us furniture artists let the pieces talk to us."
Consider the climate you're working in. 
As it relates to staining, painting, and wood filler, the weather will affect your process for a project. Dani and Sherry of mother-daughter duo Second Chance Ohana work out of a garage in Phoenix. Extreme dryness means the paint starts to set mid-coat, creating streaks or clumps, and a further topcoat can crack easily. They work around this by painting with a sprayer rather than brushes. "Temperatures, humidity, and wind will all have major effects on furniture projects," Dani says. "It doesn't matter if you live in Toronto, Seattle, Miami, or Phoenix — you have to learn how to make it work for you!"
If you're going to get into the furniture flipping business, it's time-consuming and requires an investment in quality tools and materials. Furniture refinisher and DIY enthusiast Mariana of @FlippinRubbish reminds small business owners to be confident in their pricing strategy: "Just because someone doesn't appreciate the time and energy and supplies that go into refinishing a piece, doesn't mean it's not worth the asking price. Know your worth and stand by it!"
Before she got into flipping, Kimberly Stiles of High Street Home was a research scientist at a university — and it's not uncommon for flippers to come from a range of backgrounds. "While I enjoyed that work, nothing I have ever done has given me this much pleasure," Stiles says. "I wish I knew how much fun it was going to be!" While you don't have to go all-in from the start on furniture flipping for a profit, know that many furniture flippers decided to give it a go after figuring out how good it made them feel. You never know what the future holds!