3 Things You Should Do Immediately After Being Laid Off, According to People Who Have Been There
We independently select these products—if you buy from one of our links, we may earn a commission. All prices were accurate at the time of publishing.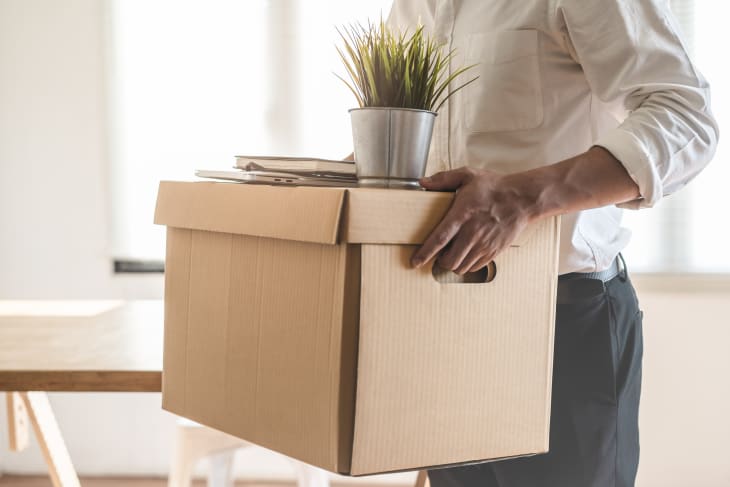 Maria Karr had recently returned from her honeymoon and was ready to kick off the holiday season when she received an unexpected calendar invite from her company's human resources department. As she messaged her colleagues — some of whom received a similar invitation — Karr got a sense that "change was in the air." Unfortunately, she was proven right when she took the meeting on that fateful Friday in 2016. "We were told that the agency had gone through some changes, resulting in restructuring of the teams, and that we'd been laid off, effective immediately," she shares.
Follow Topics for more like this
Follow for more stories like this
I hate to be the bearer of bad news, but Karr's story is more common than you think. According to a study by Intoo, 40 percent of Americans have been laid off at least once over the course of their careers. Still, with so many professional, logistical, and emotional factors to navigate, getting laid off can be scary. To help, we asked a career expert and people who've been there about the top three things everyone should do once you've been laid off. Don't worry, you've got this.
Understand Your Severance Package
According to Scott Bonneau, Vice President of Global Talent Attraction and HR Analytics at Indeed, your mental and emotional health should be your number one priority. However, before you leave the office once and for all, it's a good idea to get a basic understanding of your parting package.
"You should connect with your employer to determine your eligibility to continue receiving healthcare benefits, confirm when you can expect your final paycheck, and [understand] whether you will be receiving severance pay," he says. "You will also want to make sure you know what's going to happen to your 401(k) plan and learn about the options available for the accrued money."
If getting laid off came as a total surprise, there's a good chance your head was spinning and everything the company's human resources department said went in one ear and out the other. In that case, send the HR representative a quick email to outline all of the terms. Since you'll have everything in writing, you can reference back to it when you need to apply for unemployment or a new healthcare policy.
You might be tempted to spruce up your resume and apply for a dozen jobs right away, but it's totally okay to take a beat.
"You're probably going to go through a bit of grieving process, " explains Anna Dearmon Kornick, a time management coach who was recently laid off from her full-time position. "Nobody expects you to immediately bounce back and be fine. It's okay to not be fine!"
Karr spent the weekend after her layoff unwinding and cheering on runners during the New York City marathon. Watching the big race inspired Karr to pound the pavement. "Running — which was so new to me — has become my outlet. It gave me energy, helped clear my mind, and made me feel more confident in myself," she says.
But just because you're taking some time for yourself doesn't mean it's a vacation. Dearmon Kornick encourages you create some structure. "When things feel so wide open, it's easy for boundaries to go out the window," she shares. "After all, you can't spend 24 hours a day, seven days a week looking for jobs. There has to be some balance."
Go ahead, carve out time in your schedule for both practical (i.e. applying for jobs, networking) and personal (i.e. going for a run, reading a book) activities.
Start Looking for Jobs — But Be Picky
Once you've processed the layoff and taken a much-needed break, you might want to start looking for new opportunities. However, Bonneau says you shouldn't jump at the first opportunity that comes your way. Instead, he recommends an always-on approach to monitoring the companies and industries that pique your interest.
"By staying up-to-date with the hiring landscape in the areas you are interested in, you'll be better prepared to find the next step without the urgency of taking the next role available," he says.
Though getting laid off — and finding your next job — can feel stressful, Karr says it doesn't have to be that way. She was recruited for her dream job and eventually went onto launch Hillcrest Communications and Rumore Beauty. "I like to think about this layoff as one of the best things that has happened in my professional and personal life. While it was upsetting in the moment, it worked out for me in the best possible way," she shares.
Though Apartment Therapy is packed with plenty of career advice, Dearmon Kornick says it's important to get into the mindset of being on your way to the next big thing. "If you're freelancing in the interim, tell yourself 'I am a creative,' not 'I am unemployed," she shares.
After all, a little bit of positivity can go a long, long way.