10 Tips I Wish I Knew When I Became My Own Boss 5 Years Ago
We independently select these products—if you buy from one of our links, we may earn a commission. All prices were accurate at the time of publishing.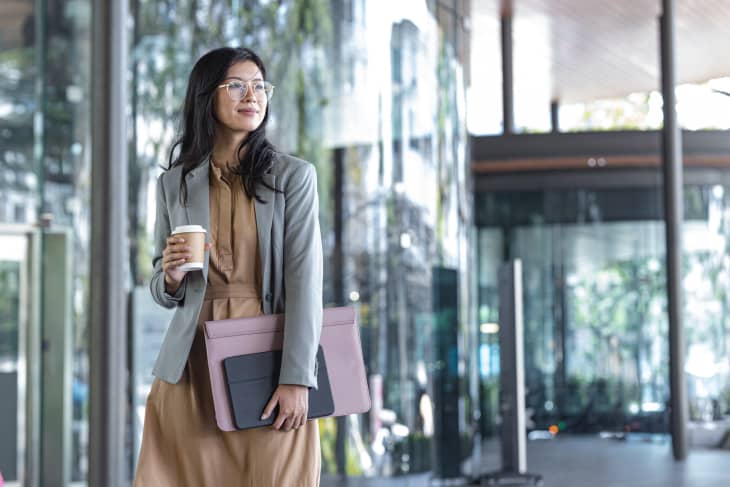 When I left my last full-time job to become a full-time freelance writer nearly five years ago, I knew exactly what I wanted out of this career move. I wanted to work on meaningful projects for the talented editors and amazing publications I adored. (Here's looking at you, Apartment Therapy!) I wanted the autonomy and freedom to tell the stories I wanted to tell the way I thought they should be told. And I wanted to meet like-minded people who took the leap of faith to lean into their callings.
Follow Topics for more like this
Follow for more stories like this
But, vision aside, did I know what I was actually doing? Of course not. I'd spend my days aimlessly hopping from coffee shop to coffee shop, which in hindsight is not productive. I had no idea how to structure my days or set my rate. And, even though I had written for national publications at my full-time jobs, I wasn't totally sure how to find new clients.
Fortunately, a lot has changed since I've first became my own boss. Not only have I worked for dozens of amazing publications, but I've also talked about being your own boss in articles, on podcasts, and during online courses. Suffice it to say, I have learned a lot over the past five years— and am imparting some of my favorite lessons to you. Whether you want to start a side hustle or leave your nine-to-five job, there's bound to be a boss move for everyone.
Tip 1: Being your own boss is not for the faint of heart.
A few years before I went freelance, I grabbed coffee with a work acquaintance who was going back to the corporate life after being her own boss for a few months. "It's just really hard," she told me. Back then, I didn't understand how being self-employed could be that difficult. (After all, aren't you the one setting the schedule?)
Years later, I completely understand what she's talking about. Unless your business has passive revenue streams, like affiliate links or a webinar, you need to grind to make bank. (Yes, that means you might work nights, weekends, and vacations — I've done all of the above many, many times. Work-life balance? I don't know her.)
Blame it on the Great Resignation, but I think being your own boss is often considered an "easier alternative" to being a full-time employee. And, though being able to work from anywhere might seem glamorous, there's a lot of hustle and sacrifice that doesn't make it on our Instagram highlight reels. If you are thinking about becoming your own boss, think how much time and work you'll need to be financially stable — and whether or not you're willing to sacrifice your former free time to do that.
Tip 2: Create a schedule for yourself.
Like Beyoncé, you only have 24 hours in a day — so it's important to use them wisely. I've found my days are much more productive when I have a schedule and stick to it. Before the shelter-in-place order went into effect, I would spend my workweek writing at my favorite co-working space.
Though I currently work from home, I try to create some structure in my days. After I wake up, I make a quick cup of coffee and wash my face before moseying over to my home office. Once I'm settled in, I spend a few hours coordinating interviews and pitching stories before I get writing. While I take breaks to workout, eat dinner, and spend some quality time with my fiancé, I find that my days are most productive when I have a large chunk of undisrupted time to write. Of course, everyone's preferences and to-do lists look different, so it'll take some trial and error to find a routine that works best for you.
Tip 3: Diversify your income.
Repeat after me: Don't become a one-trick pony. As a full-time freelancer, it's awesome to become an expert in one category. However, it's important to stretch your creative muscle and take on different types of work. Need an example? Though I primarily write about home decor, I feel comfortable with writing career and shopping content. I also do behind-the-scenes editing for brands and help direct-to-consumer companies with big launches.
Not only do different types of work help diversify your revenue stream — something that was definitely beneficial for me during peak pandemic — but it can also give you a leg up if you want to grow or evolve your business down the road.
Tip 4: Stay on top of your invoices.
I'll be the first to admit I get so laser-focused on the task(s) on my to-do list that I put all my admin work on the proverbial back burner. Yes, that includes submitting invoices. And, yes, I'm aware that's not the best habit. You won't get paid unless you submit your invoices, so do future you a favor and carve out some time to get that admin work done. (I love working on my invoices while watching a movie with my fiancé on a lazy Sunday. Talk about business and pleasure!)
Tip 5: Stash away your savings.
It's only natural to receive a big paycheck and think, "I'm rich! I should treat myself to a fancy candle or a great pair of shoes." But in reality? It's important to save your money. Unlike being an employee at a major corporation — one that withholds money for taxes, matches your 401K, and offers healthcare — you are in charge of covering those big fees.
Each month, invest in the future you by transferring a portion of your income into savings accounts for taxes, healthcare, or even a "rainy day" fund. (Platforms like Digit make it as easy as texting your friend!) A little bit goes a long way, so only set aside what you can when you factor in your other monthly expenses.
Tip 6: Take care of yourself.
I say this all of the time in my newsletter, but your business cannot thrive if you don't take care of its MVP. (That's you.) It can be so easy to deprioritize yourself and your needs — it's something I still struggle with — but try to do something every day to invest in your mental health. Carve out time to read a book! Go to therapy! Call your grandma! For me, spending some quality time with my stationary bike is non-negotiable.
And, if anything ever comes up — be it a family or health emergency or an impromptu engagement party for your college roommate — show up for the milestones that matter.
Tip 7: Hold yourself accountable.
Things happen. It doesn't matter if you are neck-deep in deadlines or are tending to a personal matter, one thing's for sure: Balls will drop. Deadlines will be missed. When you are booked and busy, it's hard for everything to flow smoothly all of the time. And, when things do happen, try to communicate with your clients so everyone's on the same page. Did you drop the ball on communication? Apologize, mean it, and try to do better the next time. Nobody is perfect, so own your mistakes and move forward.
Tip 8: Learn how to say no.
I'm a yes person. I love what I do, so I tend to jump at every opportunity that comes my way. But, in reality? Saying "yes" to everything can lead to serious burnout. Before you agree to yet another project, think about why you're saying "yes" in the first place. Is it a great paycheck? An opportunity with a brand you've been dreaming to work with? A project that makes you excited? Otherwise, it might be a hard pass.
Tip 9: Community is everything.
Self-employment might be a solo sport, but having a community of like-minded solopreneurs in your corner is invaluable. Not only do they make for excellent co-working buddies or listening ears when being your own boss feels a little difficult, but it'll also make the solitude that comes with being your own boss feel a little less lonely. So, how do you make community when you work for yourself? Join a Facebook group, DM a creator you admire, or sign up for a co-working space. Community is all around — you just need to seek it out.
Tip 10: Celebrate your small wins.
When you're your own boss, business is personal. Honestly, it can be hard to not interpret every less-than-pleased client, typo, or "thanks but no thanks" as a punch to the gut. But, why don't you flip that script? Instead, celebrate yourself for being brave enough to take a leap of faith and lean into your calling. (Leaving comfort and diving head-first into the unknown is scary stuff, people!) Also, celebrate the small wins — be it a glowing email from a client or a negotiating a higher rate. I still do a little happy dance whenever I get a new assignment. Because, even after nearly five years, those small wins never get old.