4 Things You Can Plant in March, the Very Beginning of Outdoor Gardening Season
We independently select these products—if you buy from one of our links, we may earn a commission. All prices were accurate at the time of publishing.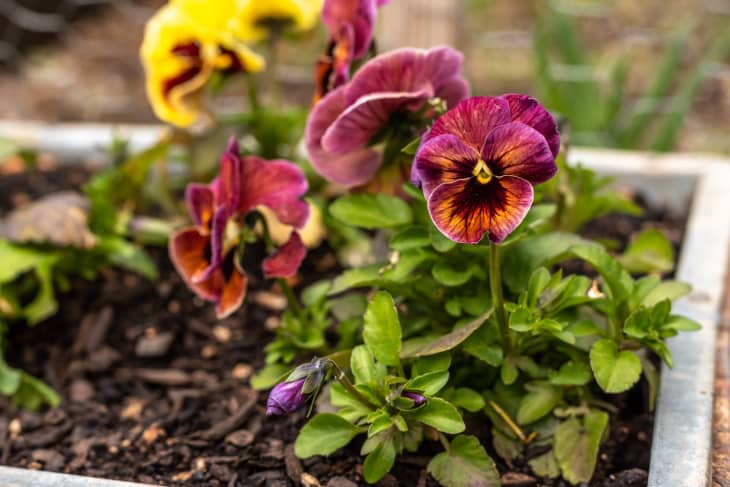 No matter what the groundhog says, it seems like March usually ends up bringing more winter than spring. But that doesn't stop gardeners from daydreaming about what to grow — and in fact, in some cases, they can actually start their planting.
The most important thing about planting in the early spring is to understand the USDA agricultural plant hardiness zone map. This map is the standard that gardeners and growers use to understand which plants will thrive in their locations. It's based on the minimum winter temperature of a location. The United States is separated into 10-degree Fahrenheit zones, which are then subsequently split into subzones. For example, I live in central Massachusetts, which is on the border of zones 6a and 5b. My flower-farm-owning parents, however, live in zone 7a in southern Illinois. Knowing your zone will also help you determine the last frost date for your area, so you'll know when it's mostly safe to start planting.
So, what do you plant if the ground in your area starts to thaw in March? If you think there aren't many options, think again. The early spring is the best time to dig in (pun intended) and start gardening. Whether you're dabbling with cool-annuals or want to start a veggie garden, there's no time like the present! 
Early, Cool-Loving Annuals
A few of my favorite things to plant in the spring are cool-loving annuals. Not only do they bring a fresh pop of color to a regenerating garden, they are also quite economical. 
You can plant these in containers or in between your emerging bulbs. Generally you'll start to see these in nurseries at the beginning to middle of March. Don't worry, these plants love to be a little chilly.
Try planting pansies and violas for a sweet splash of color. If you're looking for a bit of romance, go for ranunculus. For something that's a little trailing and drapey, reach for bacopa.
The best time to get these in the ground is in the early spring, making them a perfect match for March. Trees and shrubs do best when they can be moved around and planted with the least amount of stress — and cooler temperatures are the least stressful.
This also means that early spring is the best time to redesign your garden. Trees and shrubs are often centerpieces, so they're a great place to start; later this spring, you can plant flowering perennials.
Dogwood and magnolia trees bring beauty to the garden year round, while apple and plum trees will produce for you. In terms of shrubs, try something that flowers such as lilac, Rose of Sharon, or witch hazel. 
Most berry plants have roots that are sensitive to the heat, which is why March is one of the best months to plant them in your garden — though if you're located farther north, you might have to wait until April to plant.
Keep in mind that most berry bushes need exposure to full sun in order to thrive and produce ample fruit.
While I am self-proclaimed to have never grown a vegetable for my own personal use (though I've grown many for clients), there's something about digging in the cool earth to plant vegetable seeds that makes you feel connected to the Earth in a very big way. If you don't have the space in your garden, vegetables can easily be grown in containers.
If you're a beginning gardener, don't fret: Most vegetables are hardy and easy to grow, even in the early spring.