5 Places to Buy Live Christmas Trees Online
We independently select these products—if you buy from one of our links, we may earn a commission. All prices were accurate at the time of publishing.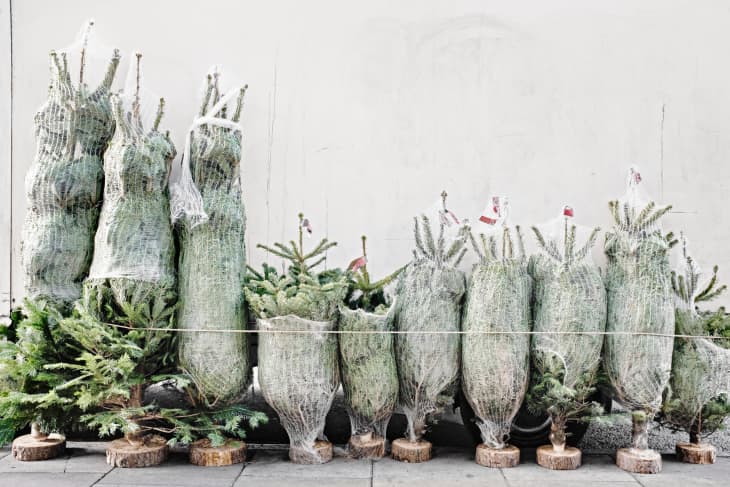 While finding the perfect tree to bring home is a holiday tradition for many, it's not exactly the easiest undertaking. From dealing with low inventory to transporting your tree home, there's a lot about the process of securing a live Christmas tree that's downright stressful. If you can't bear to make the switch to faux trees, there is another option: buying your tree online. Sure, it seems a little ridiculous, but hear us out — you don't have to deal with the hassle, you know your tree has been approved for quality, and you have a nice variety to choose from. If you're considering it, we rounded up five places to shop for your live tree online. (Just don't return your tree once January rolls around like this woman did.)
Follow Topics for more like this
Follow for more stories like this
Have an online source for live Christmas trees we missed? Let us know your favorite shops in the comments below!
If you have a tiny space but still want a real tree, Terrain should be the first place you check. Anthro's sister store sells a range of live plants, including small Christmas trees that are perfect for placing on a tabletop. The Little Living Tree is a black spruce and it comes with string lights and a velvet ribbon for decoration.
Walmart sells a variety of faux Christmas trees (including colorful trees and even upside down options), but they also have a live tree option that's worth checking out. This 5 ft. Black Hill spruce is sold exclusively on Walmart and shipped directly from a US farm — for free. Each tree is inspected and professionally shaped, so you can feel good about purchasing before seeing it in person.
They say you can buy anything on Amazon — well, now you can add real Christmas trees to that list! This gorgeous seven-footer is a hybrid Balsam and Fraser fir, resulting in a tree that has a strong fagrance, firm branches, more needles per branch, better needle retntion, and a stunning blueish tint. Freshly cut and hearvested in Quebec, it's also hand sheared for a tree that's good to go, from farm to doorstep.
For a unique spin on a traditional Christmas tree, Bloomscape's got just the thing. A graceful, festive pick, its Norfolk Pine Tree is pre-potted (in a pot of your choice!) and comes with your choice of fairy lights for a tree that'll be ready to display in minutes! Keep it well-watered and in a humid, sunny spot and you'll have this tree around for many holiday seasons to come.