Why a White-Painted Home Will Forever Be This HGTV Star's Favorite
We independently select these products—if you buy from one of our links, we may earn a commission. All prices were accurate at the time of publishing.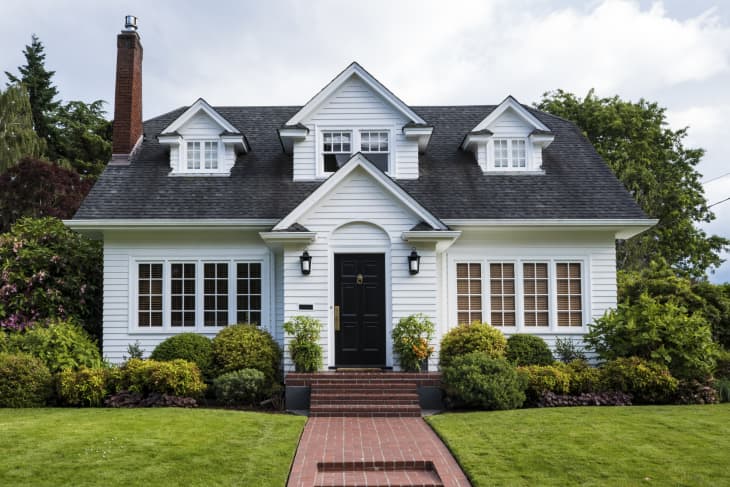 When it comes to a home's exterior, sometimes it's a good idea to think a little outside the box — like actress Kaley Cuoco, whose black-on-black home is more sleek than scary. But there's also nothing wrong with keeping things simple, and HGTV's Breegan Jane makes a case for the classic exterior paint color that, quite frankly, you can never go wrong with: white.
Follow Topics for more like this
Follow for more stories like this
Recently, the "Extreme Makeover: Home Edition" host explained the reasoning for her favorite exterior hue in an Instagram post.
"In a word, what is the first thing you notice about the exterior of a house? For me, it's probably the color," she wrote in the post's caption. "White is my favorite color for a house's exterior, because it just looks so crisp and bright. It has the added advantage of being the perfect backdrop for gorgeous greenery and landscaping,"
She explains that the color is often the first thing she notices about the exterior of a house, which is something that many people are likely to agree with. In fact, the exterior paint color may also determine how quickly a house will sell.
"Selling a house involves lots of considerations, and it's definitely worth thinking about repainting when you're putting your house on the market. You might like having a colorful exterior, but buyers may not share your taste," Percy Lendrum, Director of Dexters Chelsea, told Apartment Therapy. "That's why I'd tend to advise people to lean towards neutral and lighter colors. A fresh lick of white paint freshens up a house and makes it seem larger, brighter, and more appealing. At the end of the day, it's a relatively cheap way to make a big impact on the likelihood your home will attract interest."
Not only do white exteriors look clean and timeless, but using a light hue on your outer walls can also give you more freedom to add a pop of color or extra detailing to other areas of the home's exterior, like the front door. If you're a fan of pink, take inspiration from Hilary Duff's blush-toned door. If you're looking for another way to add character to a white exterior, Jane suggests turning your attention to your landscaping.
"If your home is in need of an enhancement, investing in beautiful landscaping could be just the fix you seek," she wrote. "Search for a gardening partner that understands your needs, and bring your horticulture dreams to fruition!"