This $17 Laundry Find Completely Transformed The Way I Dry Clothes in My Tiny Studio Apartment
We
independently
select these products—if you buy from one of our links, we may earn a commission. All prices were accurate at the time of publishing.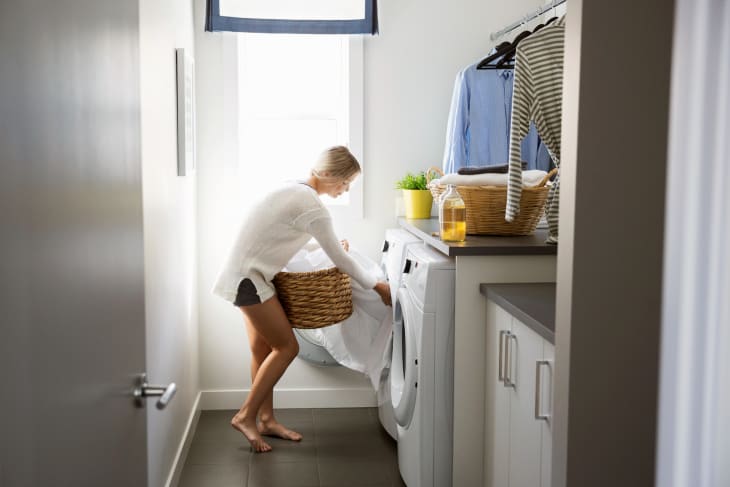 As someone who lives in a studio apartment, I'm always looking for new ways to make the most out of the space I have. From strategically using the space under my bed for extra storage to taking advantage of every square inch of vertical space I can, I feel like I'm slowly becoming a pro at this small-space living thing. So whenever I'm thinking about buying something for my home, I always stop and ask myself, "Is there a product out there better suited for my small space needs than this?" And I can confidently say that over the last year, this way of thinking has led me to some pretty interesting finds. Case in point: the Whitmor Over the Door Drying Rack.
A couple of months back, I began a hunt for the perfect drying rack (because frankly, I was getting sick of stringing my delicates over my shower door.) However, as much as I wanted one, I didn't want to sacrifice the floor space. Then I remembered the cardinal rule of small-space living: think vertically. I headed over to Amazon, typed in "over the door drying rack", and the rest is history. Clean, simple, and compact, this drying rack effortlessly hangs off the back of any door. With four bars and four included hooks, all there's left to do is prop it open and get to drying.
For me, this hanging drying rack was the perfect solution to my problem. I'm lucky enough to have an in-unit washer and dryer that's hidden behind two doors, so finding a door to hang it on was no problem. Setting it up is a two-step process: first, you hang the rack hooks over your door, then you align the body of the rack with the prongs on the hooks for a secure hold. That's it. The rack also comes with four optional clothing hooks that you can string across the body for even more hanging opportunities making it small but mighty. Once your clothes are dry, simply fold it up, close your door, and you're good to go — out of sight, out of mind.
While most drying racks can cost well over $30, this space-saving solution comes in at just $17, making it a cost-effective solution, too. So if you're tired of not having a dedicated space to dry your delicates but don't want something big and bulky taking up room in your tiny space, this is the answer you've been looking for. Now if you excuse me, I've got some laundry to take care of.