House Shoes are a Must in My Home — Here's Why and What I Wear Every Day
We independently select these products—if you buy from one of our links, we may earn a commission. All prices were accurate at the time of publishing.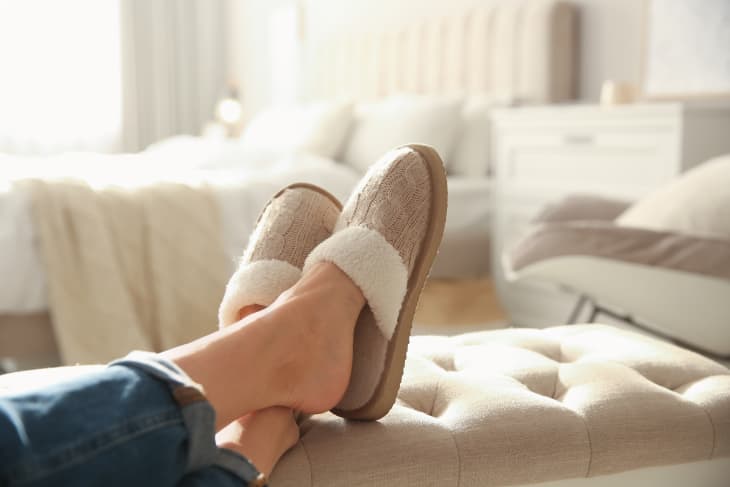 Many people prefer to have their homes be shoeless for not only their occupants but also their guests. I'm not particularly picky when it comes to visitors — I live in the Pacific Northwest, the land of pine needles, in a busy home full of kids and a dog, and my floors aren't necessarily always spotless. I wouldn't want my guests to have to go barefoot or sock-footed on a less-than-clean floor. When it comes to myself — and my kids, if they're willing — though, I say no to street shoes in the home.
This poses a problem though, as I have delicate feet and I can't be barefoot all day or my feet will hurt (and hate me). I also dislike having little dust particles or any amount of wetness touch my feet. This is why house shoes have become an essential item in my home. They're quieter than street shoes, which is perfect if you're trying to sneak around at night while your kids are sleeping, and they reduce wear on your floors and carpets, depending on the type of floor you have and the shoes you buy.
For years I wore rubber-soled slippers as my house shoes and replaced them annually. Eventually, however, I found that these slippers weren't serving me well enough and replacing them yearly felt wasteful. They'd also get gross pretty quickly too! Wearing them to the mailbox in inclement weather meant the fabric uppers got wet and soggy and I couldn't bear to wear them once the weather warmed up.
That's why I switched several years ago to the classic Birkenstocks — and yes, I do often wear them with socks. I put on wool ones in the winter and light exercise socks for the rest of the year, channeling my inner Vermont art teacher persona (although I'm neither in Vermont nor an art teacher). They make my feet happy and keep my home clean — and I've had the same pair for many years. I love the adjustability of the straps and their overall supportiveness.
And I'm not the only one who wears Birkenstocks as house shoes either. On the r/Birkenstocks Reddit thread, one user asked if anyone wears their Birkenstocks in their home as slippers and several replied that they in fact did! One person said, "I spend a lot of time cooking/baking and always wear mine in the kitchen, or if I know I'm going to be doing a lot of housework I'll put them on too. I have plantar fasciitis and if I've been standing a lot I feel much better if I've worn them than if not, so it works for me." 
I keep my house shoes in the garage when I'm not home, so it's easier to slip them on as soon as I get out of the car or back from walking the dog. They never follow me upstairs, since it's carpeted, and I often wear them as far as the back deck or mailbox, but never in the yard or street. My kids are inconsistent in their house shoe preferences but sometimes choose Crocs or something similar to wear in the summer and fabric slippers to wear in the winter. 
If you prefer to go barefoot, of course, follow your bliss. But, if you and your family have sensory issues, foot pain issues like plantar fasciitis or bunions, or if you prefer to have your feet supported or separated from the potential dirt on your floors, house shoes might be the right fit for you.