This Weekend, Address the Invisible Mess All Over Your Home
We independently select these products—if you buy from one of our links, we may earn a commission. All prices were accurate at the time of publishing.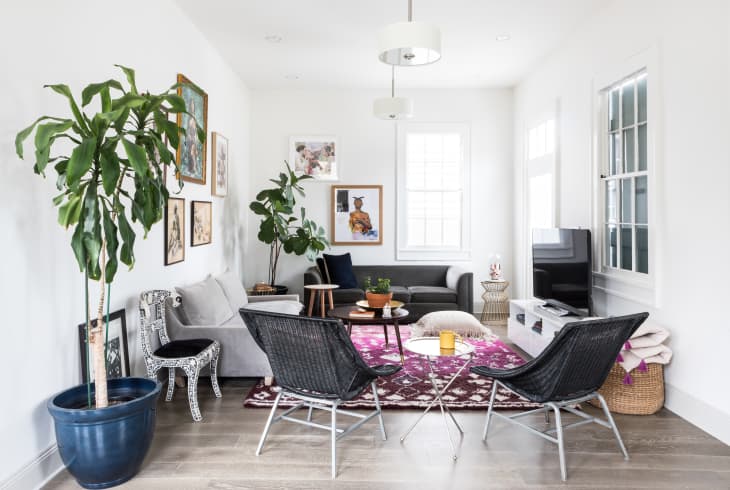 Apartment Therapy Weekend Projects is a guided program designed to help you get the happy, healthy home you've always wanted, one weekend at a time. Sign up now for email updates so you never miss a lesson.
I don't mean to raise the spectre of the shoes-on or shoes-off debate. When it comes to whether you allow shoes in the house — and especially whether you require guests to take off their shoes — many people have a lot of very strong feelings.
But here's the thing: No matter where you fall on this divisive issue, your floors are going to get dirty. True, you'll drag in a lot less if shoes come off at the door, especially the invisible stuff like garden chemicals and germs from the floors of public restrooms. But even if you do take shoes off, you'll drag in pine straw, sand, dirt, and loose grass, etc. and it'll eventually make its way around the house. Just consider how much you've gone in and out of the house this season and how much outside dirt is spread around inside. Yeah, it's a lot.
In addition to what comes in from the outside, there are the usual crumbs and spills and pet hair and dust bunnies. Of course you vacuum and wipe up spills, but there's nothing that makes your home feel cleaner than a thorough deep cleaning of your floors.
This Weekend: Deep clean your floors.
The particular method you'll use to deep clean your floors depends on the kinds of floors you have. But here are some tips that will help you get your floors as clean as possible, no matter the type of flooring:
Move furniture away from the walls.
So much dirt hides under desks, couches, and dressers, and routine floor maintenance often skips these hard-to-reach areas. If you can't move heavy furniture, make it a point to use a duster or slim profile vacuum cleaner to get to these spots.
If possible, remove furniture from the room.
For instance, move your dining chairs into a different room so you don't have a bunch of chair legs blocking clear access to your kitchen floors.
Consider giving your baseboards a quick swipe with a duster or sponge before you begin on your floors.
Dusty baseboards detract from the impact of clean floors. Plus, dusting them off before cleaning the floors gets any dislodged baseboard dirt off the floors.
Use the right tools to make the job as efficient, effective, and damage-free as possible.
For instance, a damp mopping method will certainly get your floors cleaner than any dry method, but wood floors should never be exposed to too much moisture. The popular and versatile O-Cedar Spin Mop is my favorite for both wet mopping my tile floors and using a barely damp mop to clean our LVP flooring.
Consider dealing with dirty grout if you have tile floors.
Cleaning grout is no one's favorite, but the effect of clean grout on the overall appearance of your tiled floors is dramatic. If you have the time and energy, consider cleaning your grout as part of your kitchen or bathroom floor refresh. I personally can't wait to try Zep.
You don't need fancy floor cleaners.
You can catch up with weekend projects right here. Share your progress with us and others by posting updates and photos on Instagram and Twitter with the hashtag #atweekendproject.
Remember: This is about improvement, not perfection. Each week you can either choose to work on the assignment we've sent you, or tackle another project you've been meaning to get to. It's also completely okay to skip a weekend if you're busy or not feeling the assignment.