I Made the Switch to This Front-Load Washing Machine — and I'm Never Going Back
We
independently
select these products—if you buy from one of our links, we may earn a commission. All prices were accurate at the time of publishing.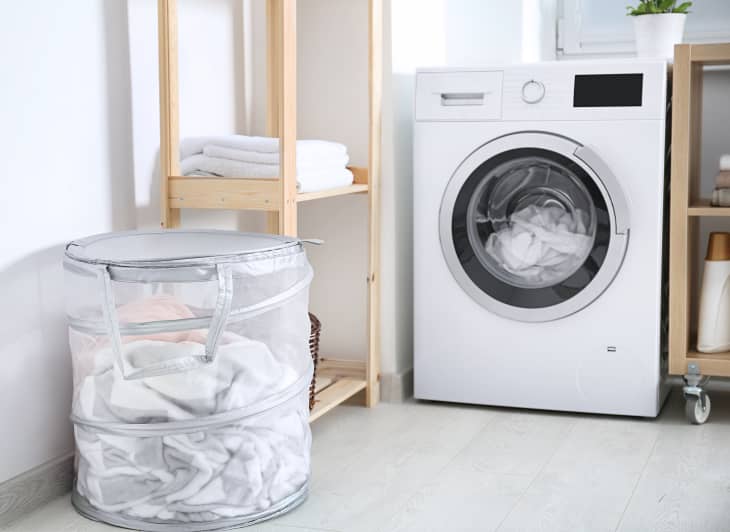 A few months ago, I made a very adult decision and purchased my first home. Though I truly had no idea how to "adult" in this manner, I knew long before my closing date exactly what I wanted inside of my house: a fancy "knock-knock" fridge (where you knock on the door twice to see inside), an all-in-one stove, and — without a doubt — a front-load washing machine.
Growing up, my mom always had a top-load washing machine. It wasn't until a few years after I moved out for college that she switched over to a front-load option and it was then that I fell in love with how sleek they were. Though most people that were my age at the time had other things on their minds, I knew that whenever I got my first house, that front-load washer would be mine. While the initial reason was because of the stylish look it presented, as I got older, I started looking into better reasons for switching over — and now that I have, I'm never going back. 
Benefits of choosing a front-load washing machine
In case you're on the fence about getting a front-load washing machine, it's good to know that by choosing one, you'll be able to use less water overall as they're high efficiency — and that comes in handy if you're using a hot water cycle. According to Consumer Reports, the average front-load washer uses 10 gallons of water, while the average agitator top-load washer uses 20. Additionally, front-load washers drain more water out of the clothes, cutting your dry time down, which is another way that you can reduce your energy use and become a bit more eco-friendly. 
Another reason why choosing a front-load washing machine could be good for you? If you have a lot of people in your household, front-load washers are great for larger loads. Since there is no central axis on them (like you would get with a top-load washer), you typically have more space inside the washer drum, making it easier to fit larger pieces of laundry and more clothing in general. And last, but certainly not least, front-load washing machines get your clothes cleaner (thanks to the gravitational pull) all while delivering less wear on your fabrics. 
And while there are so many great things about front-load washers, there are some cons to consider too, such as you have to regularly clean the door seal and gaskets to avoid mildew, you can't really add clothing when it's in the middle of a cycle, and they can be more expensive than a top-load washer. Plus, if you like to soak clothing to aid in stain removal, that's not possible the way it is with a top-loader. (You can read more about the differences here.) One of the main things that many people complain about is how bending over consistently to remove and/or add clothing to them can grow to be painful. And honestly, as my mom has grown in age, I see the impact that the front-load washer and dryer duo is having on her.
It was for this very reason that I was only looking for a front-load washer that came with a pedestal — and how I landed on my current washer and dryer.
Why I like LG's smart front-load washer
As someone with their own ailments, bending over consistently to move wet clothes wasn't an option for me, so seeing that the LG option had a matching pedestal definitely made my ears perk up. The best part? The pedestal serves as a second washer that's great for delicate clothes or smaller loads, speeding up my wash routine and giving me back more of my day. Even if I'm not using the pedestal (which is sold separately), the height it adds to my washer is truly a game-changer for me. And, there's even a pedestal that serves as a storage unit for the dryer, too.
But perhaps one of the best things about the washer (and probably the thing that sealed the deal for me) is that it has built-in intelligence that can determine what type of load I'm throwing in to automatically adjust the wash motions, temperatures, and fabric care. This built-in technology also includes smart pairing, allowing my dryer to instantly pick up the type of load I have and set the features based on my wash cycle and allows for Wi-Fi connectivity that offers up a complete control option for me to start a load (if I added the clothes before heading out) while on the go. Plus, the fact that the majority of the loads can be washed in less than 30 minutes isn't half bad either. And for someone who always has something to do, this is such a benefit for me. 
A smart front-load washer and dryer combo overall is a major investment, but there are front-load washers and dryers options — like this other LG washer and dryer, this Samsung washer and dryer, or this washer and dryer by Maytag — that are somewhat more budget-friendly. And if you're anything like me, once you decide to come on over to the front-load washer side, you'll never want to go back.