Why Real Estate Agents Hate Gray Living Rooms
We independently select these products—if you buy from one of our links, we may earn a commission. All prices were accurate at the time of publishing.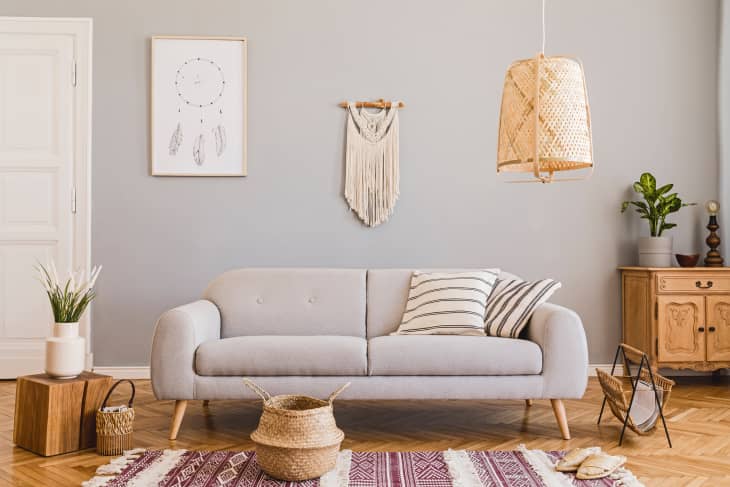 There was a time not too long ago when gray was all the rage in interior design. After all, it's a simple color to work with, especially for novice decorators, and there are quite a few (dare I say 50?) shades of gray to choose from. 
As is the nature of trends, it seems gray has been overdone to the extreme, with homeowners outfitting their abodes in the neutral hue from floor to ceiling—accessories and furniture included.
Follow Topics for more like this
Follow for more stories like this
You may be perfectly content with your gray decor scheme, and that's no problem—unless you're planning on putting your home on the market anytime soon. According to real estate professionals, having an all-gray aesthetic, particularly in the living room, could impact the sale of your home. Ahead, find a few reasons why.
Buyers scour countless homes when they're house hunting, so it's important for yours to stand out from the crowd.
"When it comes to appealing to more prospects, I find that the more bright a home is, the better it shows," says Miltiadis Kastanis with Douglas Elliman in Miami. "White just reflects light better and gives the impression of a more open and airy space."
Plus, you'll want to remember one of the most important rules of showing: Encourage potential buyers to see themselves in your home. If they have to paint over your gray walls, that may be a deterrent. 
"Buyers like to envision the space as their own and redesign it in their head as they walk through," he says. "Naturally, a white canvas leaves more room for the prospective buyer to mentally create, curate, and tailor a home to their specific taste and style."
He advises sellers to "neutralize" gray walls, fixtures, or decor before putting a home on the market.
While gray comes in countless shades, ranging from warm to cold, it's a color that can bring people down.
"Too much of a gray color creates sadness and a tendency for loneliness and isolation," says Marlene De Cespedes with Douglas Elliman.
Instead, incorporate different tones, textures, and finishes of white, ivory, and sand into the space to make it look "elegant, fresh, airy, and chic," she says.
The color doesn't photograph well
In today's increasingly screen-dominant world, a buyer's first impression is almost always via an online listing, and photographs are key in making it stand out. Gray doesn't necessarily translate well in photos, says Danae Aballi with Douglas Elliman in Newport Beach, Calif. 
"You can't capture a room's personality and cheer without a little contrast, so we use pops of color to make the photos stand out," she says. "People buy homes for the future memories and experiences, so it's natural in life to have some color. All gray just lets your imagination fall flat."
City dwellers see enough gray as it is
When you live in a concrete jungle like New York City, you're pretty much surrounded by gray everywhere you go, from sidewalks to skyscrapers to subway cars. So, do you want to go home to a gray space? Not really, says Phillip Salem with Triplemint in New York.
"Many of my buyers and I are seeing all-gray living rooms from the walls, to the rugs, to the coffee table, and even once on the tint on the windows. Most of them feel this overwhelming sense of gloom immediately walking into the apartment," he says. "Buyers want to view apartments that are inviting and feel like an oasis and escape from the gray colors outside."
Salem suggests adding pops of color and texture into a space by incorporating accessories and plants.
Finally—and put simply—it's been done.
"When a design or fashion trend reaches the saturation point, it is seen everywhere and becomes tired and predictable," says Gerard C. Splendore of Warburg Realty in New York. "It is safe to say that, once a trend is almost ubiquitous, it is probably on the way out because everyone has it and there is no sense of surprise or newness. The public is ready for the next big thing."
Consider a prospective buyer who's viewed several homes in a single day. At the end of the day, if they've seen more than a couple gray living rooms, it'll be hard for them to distinguish one from the other, Splendore explains. "To the home buyer, one gray living room is as good as another," he says.
And while gray's replacement as the color du jour remains to be seen, Splendore is ready for something original. And he's not alone.
"Any relief from an overused trend is refreshing for both a realtor and a home shopper," he says, adding that he's willing to take a chance and stage his next listing with any other color but gray.