The One Thing You Should Never Cheap Out on When Painting a Room
We independently select these products—if you buy from one of our links, we may earn a commission. All prices were accurate at the time of publishing.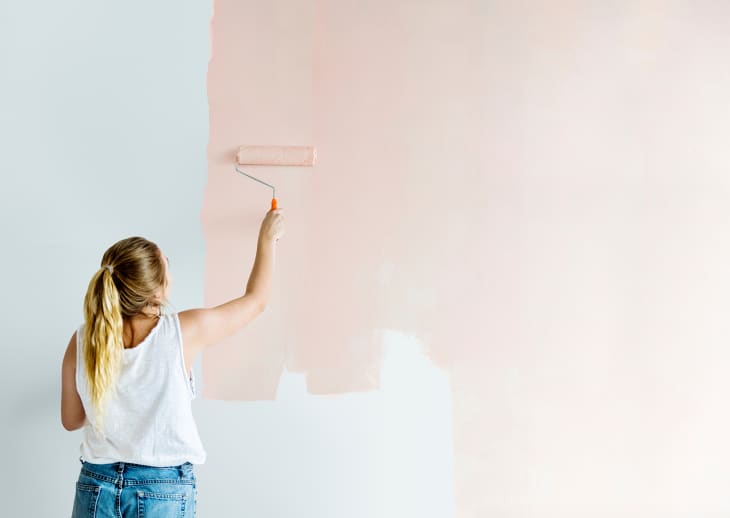 Follow Topics for more like this
Follow for more stories like this
I recently moved into a new place and one of the first things I wanted to do was paint.  I have interviewed professional painters before and knew their recommended brushes, but I found a basic paint kit on Amazon that had everything I needed. Did the brush brand really matter? After all, I had just spent a good chunk of money putting down a deposit and first month's rent as well as paying movers. I decided to cut corners a bit and just save some money by getting a run-of-the-mill paintbrush and roller kit.
I'll be the first to say that was a bad decision — and I even made a PSA TikTok about the experience.
After my first coat of paint, I saw several spots of inconsistency and began to feel a little defeated. I was usually pretty good at painting. What happened? I didn't invest in a good paint roller and brush, is what happened.
Jonathan Rios, professional painter and founder of Rios Interiors in New York City, walked me through my amateur mistake. "If it's too cheap, it's not worth it," says Rios of painting tools. "The cheaper brand won't last one day or maybe half of an afternoon. If you get a cheap brush, the hairs literally come off when you paint." I can confirm: it's gross.
Rios says in the basic painting kits like the one I purchased, even the handles might not be a good enough quality to really apply the pressure you need to paint a wall correctly. 
"You don't have to go with the most expensive option, but known name brands are there for a reason," he says.
Rios says the ProForm brushes are stiffer, so the hairs won't peel away when you're painting, while the Zibra brushes allow for a little more movement and cutting-in motions when you're painting.
With all of these products, Rios says that it's worth the investment because better tools will help you do a better job the first time around, and if you take care of them, they'll last.
So how do you care for your paint supplies once you've invested in some good, quality materials?
If you're working on a multi-day paint job and want to use the same brush, Rios says the key is keeping the brush wet. "Wet the roller with an ample amount of paint, remove it from the handle, and cover the roller in plastic." He says a plastic bag will do just fine. Leave it at room temperature overnight and when you come back to it the next day, you're ready to go.
If you're working with a paint supply such as a five-gallon bucket that still has paint in it, you can also leave the roller in that. The key is to keep the roller wet.
Alternatively (and when you have completed your paint job), you can wash the roller, but Rios warns against using hot water on rollers and brushes, as it can damage them. That's because there are small amounts of glue in the brushes that can wear away in hot water, causing you to lose hairs. Instead, use warm water and dish soap. Create a nice lather and rinse it well. Dry it off, and you're ready for the next time you want to change up your walls a bit.
A bit of bad news, though: I asked Rios if a good quality paint roller can make up for a lack in skill, and sadly, the answer was no.
"It will definitely turn out better than with a cheap handle and cheap roller, but you still need skill," he says. "Having the right things can make you feel more at ease, and if it comes out bad, then you know it's just you and not the brush." (For help, Apartment Therapy has directions for how to paint a room and tips on how to make your paint job look pro.)
The happy ending to my story is that I was able to run to my local paint shop after my first coat of paint and pick up a Purdy brush and set of rollers.  After using the quality products to complete the job, I had an even, consistent coat of paint and now have them on standby for the next time I get a painting itch.