These Stylish Covers Will Add a Pop of Color to Your Air Conditioner Unit
We independently select these products—if you buy from one of our links, we may earn a commission. All prices were accurate at the time of publishing.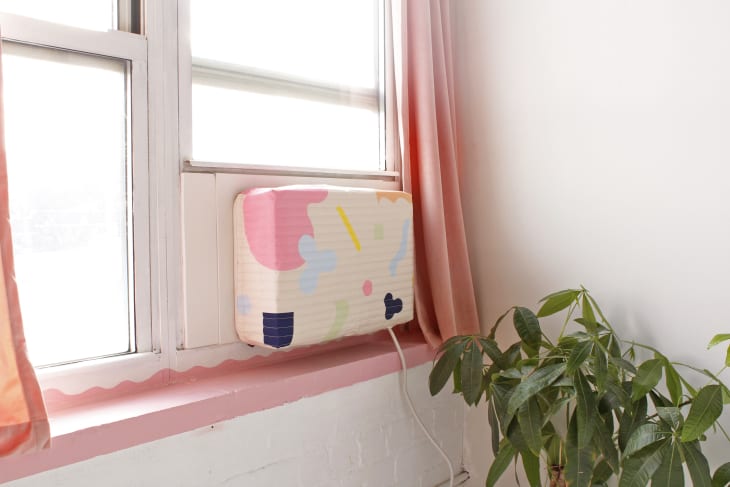 Throughout the winter months, indoor air conditioner covers are somewhat of an essential. They're a great way to make sure you keep your space cozy and avoid any cold drafts entering your space—as well as helping you save money on your energy bills in the long run. According to the U.S. Department of Energy, air sealing your home can lead to savings of up to 20 percent per year on your energy bills.
AC brand Windmill has released a limited collection of super stylish air conditioner covers, designed by celeb-loved furniture designer Sophie Collé. Honing in on her renowned '80s Italian-inspired aesthetic, Collé's AC covers feature playful patterns and colors that will make this wintertime essential a fun addition to your space.
Follow Topics for more like this
Follow for more stories like this
Retailing at $40, the winter covers are made from durable water and mold-resistant cotton that easily wraps around the front of your AC unit for a seamless and snug fit, insulating your room with ease. Collé has designed two covers for the brand that perfectly encapsulates her bright and cheery style. The "Breeze" cover features a retro-inspired gray and white wave design, while the eye-catching "Confetti" cover is adorned with multi-colored abstract shapes.
"As a furniture designer, I really believe in smart design, whether it be totally functional or just totally beautiful. I love that windmill combines the two, and that I got a hand in creating an item that will hopefully land in many design lovers' homes," Collé told Windmill. "My design sensibilities are mostly inspired by the playfulness of radical Italian design from the 80's, my own childhood, and anything fun I encounter throughout the day. In all of my work, but especially these covers, I aim to create a balance of whimsy and familiar geometries that people can relate to, while also giving them the opportunity of adding a touch of color to their home."
The covers are available to purchase now via windmillair.com.