6 Winter Date Night Ideas for Couples Who Want to Explore Their Hometown
We
independently
select these products—if you buy from one of our links, we may earn a commission. All prices were accurate at the time of publishing.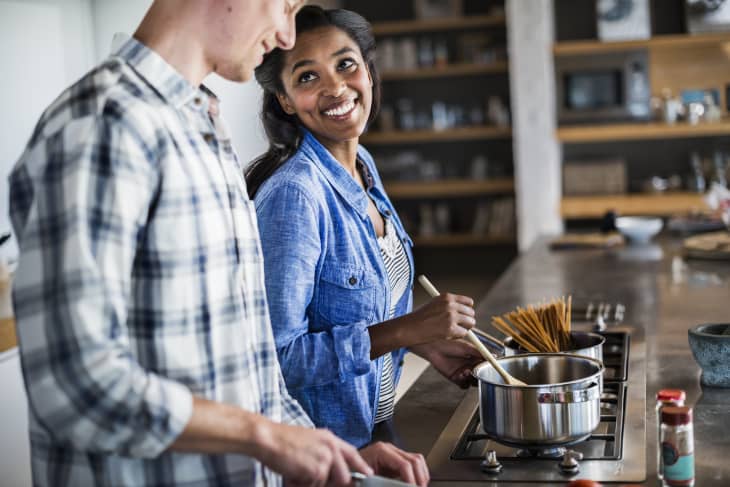 Thanks to the holidays, the start of winter is usually busy and full of gatherings with family and friends. But life tends to slow down as the season lingers on and temperatures drop. If you're trying to keep the romance alive with your partner during these dreary days of winter, you're probably finding yourself staying home to keep cozy and out of the cold. Although there's nothing wrong with huddling down inside and snuggling as you watch a movie, there are likely a whole host of activities waiting for you in your hometown.
As things grow quiet, seize the opportunity to familiarize yourself with your area. From trying a new restaurant to discovering a new favorite boutique, there are many unique ways to make discoveries close to home. So, look at your calendar, coordinate with your partner (or finally ask that certain someone out — you've got this!), and plan a winter date night to get to know each other and your hometown a bit more.
Plan a progressive dinner.
If your area has a great foodie scene, plan a night to visit different restaurants for each part of your meal. For example, have cocktails at one spot, head to another location for dinner, and try a third for dessert. You and your date can even head to a fourth restaurant for late-night drinks. Plan a few hours for your progressive date night, and aim for an off-peak time, such as a weeknight or an early weekend dinner.
Browse a local art gallery.
Artwork is beautiful and expressive, and spending time at a gallery can be a way to connect deeper with your partner. Check to see if your town has a "First Friday event" or if any galleries are open late. Look at the pieces together, and chat about which ones speak to you. It would be interesting to talk about your perspective on what you see, and deep conversations can stem from how you and your partner view more abstract works.
Learning a new skill together can be an enjoyable way to bond. See if your local library, parks department, art gallery, or dance studio is offering any classes. You could even delve into a cooking class or try your hand at painting while you sip wine. Whether you perfect a new dance move or completely fail at your first pottery attempt, you will make memories while spending time together. Plus, you may meet other couples who share similar interests to connect with and plan a double date with in the future. 
Perhaps one of the most romantic activities you can do with your partner is talk while you look up at the winter sky. Pack a picnic dinner, and find a good vantage point to view the stars as you enjoy a hearty charcuterie and sip some bubbly. Drive to an overlook and stay in your vehicle to keep warm as you stargaze, or get cozy and wrap up in a blanket to sit on a bench in a nearby park. Task yourself or your partner with coming up with a checklist of constellations to identify as you gaze.
Volunteer through a local organization.
Winter weather and long-lasting cold spells can take their toll on many people's mental health. Seize the opportunity to be an encouragement, lend a hand, and offer a smile to local folks in need. Help serve a meal through a soup kitchen, teach a skill to residents at a shelter, or sit with those in a nursing home and listen to their stories and memories. Helping others is rewarding, and using your date night to serve others is a great way to lift everyone's spirits. Just be sure to coordinate with the charity or living facility to assess their needs and schedule a time to volunteer.
Go window shopping downtown.
Even if your hometown doesn't have an urban area, head to a concentration of locally owned boutiques and browse from afar. Although the shops may be closed at night, you and your date can still look at the displays and make a list of the stores you want to visit when they're open. Window shopping is a great way to familiarize yourself with the shops in your town while bundling up and getting some fresh air. Plus, it doesn't cost a dime — although you can head to dinner and drinks before or after walking the town.