6 Garage Features That Are Always Worth the Extra Money, According to Home Experts
We
independently
select these products—if you buy from one of our links, we may earn a commission. All prices were accurate at the time of publishing.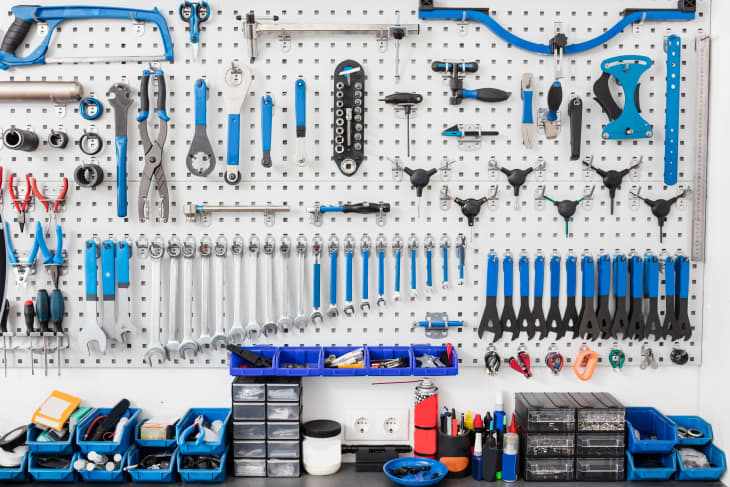 Still, there's a convincing case to be made for garage updates. For one, a well-designed garage can provide valuable storage space for everything from outdoor gear to off-season clothing. Plus, when you get home after a long day and you hit open on your remote, it's the garage you see first — and a concrete rectangle of chaos doesn't exactly say "welcome home!" 
We asked home experts what garage upgrades are actually worth it. Here are six things they suggest splurging on.
Your garage may not be the first space in your home that potential homebuyers want to tour. But a good organizational system like shelves or a pegboard can provide a "wow" factor as a grand finale.
"Built-in shelving is always a plus," says Betsy Ronel, a New York real estate agent with Compass. In her own garage, she hired a carpenter to put in sturdy 2 x 4s and build deep shelves along three walls of her garage so they could neatly hold storage bins. Pricing varies, but budget about $1,000 if you hire the work out, she says. Wall tracks to get bikes and yard tools off the ground and specialty tool storage can make your space extra organized, says Liz Jenkins, a certified professional organizer and owner of A Fresh Space in Nashville, Tennessee.
It's easy to overlook the flooring in your garage. After all, you're bound to track dirt through the space and your car might leak some oil here and there. But Emile L'Eplattenier, chief real estate analyst at TheClose.com, makes a good point: Oil penetrates raw concrete and can leave a stain. On sealed concrete or industrial tile, you can wipe it up with a rag. Epoxy floors can make a world of difference and can really make the garage feel like an extension of the home, Jenkins says.
When it comes to epoxy flooring, you don't have to go with a boring gray. "You can play with the color until you find the perfect design," says Tarek El Moussa of HGTV's "Flip or Flop" and "Flipping 101 with Tarek El Moussa." Coating an existing garage floor with epoxy costs, on average, $2,154, according to HomeAdvisor.
Jackshaft Garage Door Opener
Unlike most garage door openers that are mounted overhead, a jackshaft garage door opener is mounted on your wall. They can cost anywhere between $700 to $850, says Dave Krzyzak, of Palm Valley Garage Doors in Goodyear, Ariz., who has two decades of experience installing and repairing garage doors. "A jackshaft tends to be quieter than your average garage door motor, but the real benefit comes from the extra garage space you get without having the motor attached to the ceiling," he says. You could add an attic nook, for instance, for extra storage space. 
Maybe amid COVID shutdowns, your garage has doubled as your very own spin or yoga studio. Or perhaps it houses a work station for all of your at-home DIY projects. If your garage is a place you actually spend time in, air conditioning is a worthy splurge, says Holden Lewis, home and mortgage expert at NerdWallet. A ductless mini-split system might cost around $2,000, he says. Keep in mind your energy bill will go up a bit depending on how much you're cranking that A/C.
Hurricane-Resistant Garage Door
Some upgrades are more practical than sexy. But if you live on the East or Gulf Coasts, investing in a hurricane-resistant garage door with stout steel or aluminum beams will prevent high winds from crumpling the door inward, Lewis says. It will cost around $1,300, give or take a few hundred dollars. "If hurricane-force winds find their way into the garage, your roof might pop off," Lewis reasons.
Garages are often dungeon-like, in that they don't get enough light. A good lighting system can fix that. 
"You want daytime brightness in every corner and a nice bright environment," says Teris Pantazes, the cofounder of Settle Rite Home Services, a pre-sale home improvement company. 
While fluorescent light rods are common in garages, Pantazes recommends using daylight tone bulbs, 60 watts or higher. Specialized lighting near work areas is a good idea, too. To take it up a notch, go with a smart lighting system, he suggests, so that lights turn on automatically when you pull into the garage. This upgrade, which can be done for a couple hundred dollars, will make your garage more secure and friendly, Pantazes says.
Not ready to do a full-on garage renovation? Even investing in a smart garage door opener for $200 or so allows you to open and close your garage from your smartphone (even if you're not home).