8 Things Home Experts Say Are Always Worth the Extra Money for Your Kitchen
We
independently
select these products—if you buy from one of our links, we may earn a commission. All prices were accurate at the time of publishing.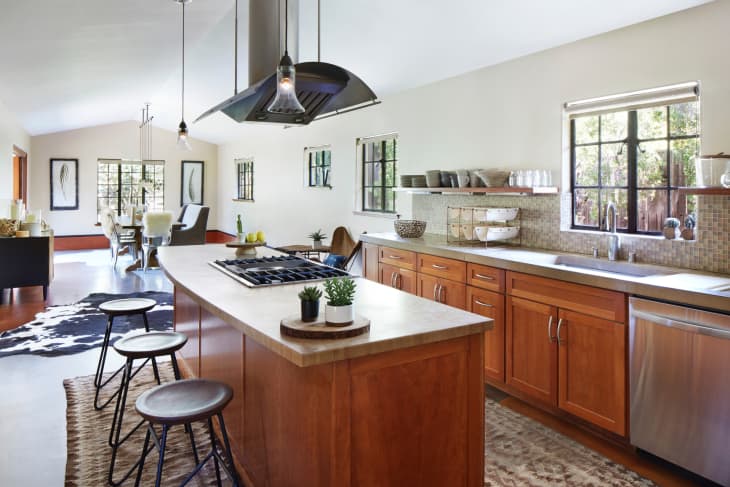 With Coronavirus restaurant closures, you've probably spent a lot of extra time in your own kitchen over the past few months. You may have even dreamed up some renovations—small or grandiose—to take your main gathering space to the next level. After all, if your kitchen has doubled as your Zoom conference center or homeschooling homeroom, it deserves some TLC, right?
How much people invest in their kitchen renovations is on the rise, according to a 2020 report from Houzz, with the median spend on major remodels in mid-2019 at $35,000, up 17 percent from $30,000 the year prior. But even if you don't do a full-on renovation, there are little upgrades that can bump up the value of your kitchen.
What exactly should you splurge on in the kitchen? Ahead, home experts share where your money will best be put to use.
"A pot filler seems like a luxury until you have one, and then you'll wonder how you ever got along without it," says Cristina Miguélez, a remodeling specialist with Fixr.com. These faucets are installed just above your stove, and the retractable fillers come in a range of styles and finishes to match your kitchen. When it's time to cook, you just set your pots right on the stove and fill them where they're at, Miguélez says, which is especially handy when you're cooking a big meal, she says. "It also helps free up your sink for other prep work or dishes," Miguélez says. A mid-grade pot filler costs around $450, but expect to pay at least $300 for the installation. You may also need to consult a plumber to run a water line for this renovation.
Kitchen faucets come in every shape, size, and configuration these days, Miguélez says. The one faucet, though, that is always worth it is the pull down spray head with extra pressure. They're capable of blasting your dishes and pots, removing stuck on food and grease without scrubbing, she says. "You'll use less water and you'll save time and elbow grease getting things clean." Expect to pay around $500 for the faucet, with installation costing about $150, Miguélez says.
A kitchen island—with appliances 
One in two homeowners opt to add a new island or upgrade an existing one when they renovate their kitchens, according to Houzz. Storage and overhead lighting are the norm in upgraded islands, and half of those islands house new appliances, like microwaves or dishwashers. Islands that incorporate appliances like a microwave are a good example of space planning and makes a kitchen feel more modern and high-end, says Lukasz Kukwa, a real estate agent with Coldwell Banker in Westfield, N.J. While an island renovation can range in price depending on the materials you use and the extent of the project, the average cost of adding a microwave in an island is around $600 to $700, Kukwa says. The project requires a specific cabinet you can install the appliance in. Also trending in the kitchen island design are contrasting colors, according to Houzz, like gray and blue as top picks for island cabinets.
File wine fridges in the "looks expensive, but only costs a couple hundred dollars" category. "As I'm touring clients through a home, a wine fridge leaves a lasting impression on them and they keep on thinking about the home after we have left," says Roh Habibi, of Bravo's "Million Dollar Listing San Francisco". "They think about the kitchen and being able to entertain friends and family there." Plus, small house parties and gatherings with friends may be part of the new norm as restaurants and bars reopen with limited capacity.
Much like fashion design labels, appliance brands have different lines at varying price points under their brand's umbrella. A mid-tier dishwasher will cost around $600 to $700. But it's worth splurging on a top-notch dishwasher that's about double that price. "Dishwashers are extremely important in a kitchen, says Tina Ramchandani, a New York-based interior designer. "A cheap one will stop working quickly, and the homeowner will have to run the dishwasher several times to get dishes clean or bite the bullet and replace it." She advises her clients to save themselves from the frustration and just invest in a high-end dishwasher from the start if they can afford it.
Not only should your home be beautiful, but it should be functional and easy to live in, Ramchandani says. "Quartz is non-porous, so it's incredibly easy to clean—even when things like oils, turmeric, or red wine are spilled and sit for long periods of time," she says. Quartz is also a very hard surface, so unlike granite or other surfaces, it's much less likely to chip or crack, she says. Budget about $75 per square foot for quartz countertops before installation, recommends renovation site HomeAdvisor.
Many homeowners gravitate toward a tile backsplash because it gives your kitchen texture and can add color to a space, says Lauren McKinney, a marketing director with Judd Builders, a custom builder in Asheville, N.C. But for the bonus round, tile will keep your kitchen walls near your cooking area safe from oil splatters and food stains, she points out. Budget about $1,000 to $3,000 for this upgrade, she says.
If you're building a new home, consider a walk-in pantry, McKinney suggests. "A pantry big enough to hold less-used appliances and pantry goods will keep countertops and cabinets more organized," she says. "Being able to walk in and see everything will help you be more efficient in the kitchen." Plus, amid COVID-19, your grocery shopping habits may have changed, forcing you to stock up on more non-perishable goods to limit your grocery trips. A walk-in pantry addition costs about $1,500 to $5,000, McKinney says.