A Glossary of Lawn Terms Every New Yard Owner Should Know
We
independently
select these products—if you buy from one of our links, we may earn a commission. All prices were accurate at the time of publishing.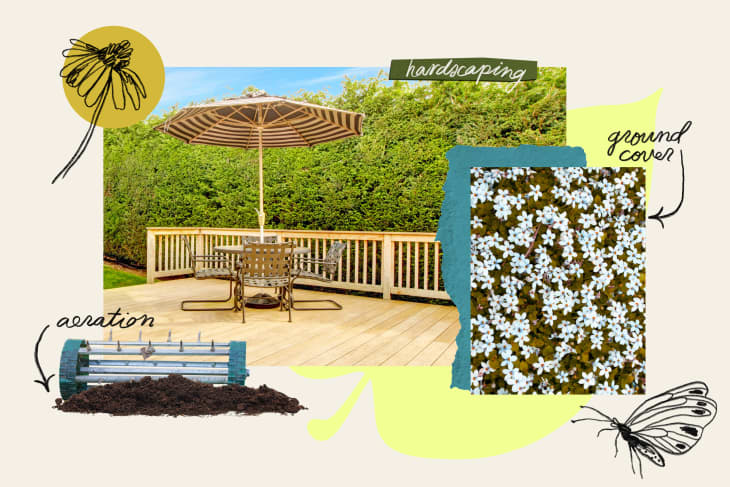 If you've just moved into a home with a yard for the first time, your head might be filled with thoughts of paint colors and furniture — you know, the fun stuff! But while a whole house brings with it all those exciting tasks, there are some drawbacks, too. Case in point: Lawn care? Unless you decide to hire someone to mow your lawn and maintain it — a convenient option, but certainly not a cheap one! — then you've got to dig deep and learn everything you can about taking care of your yard. 
While you may be a bonafide pro when it comes to houseplant upkeep, dealing with outside lawncare and plant care can be a bit different. Luckily, we're here to help. Below, you'll find a glossary of lawn terms every new yard owner should know so you'll be armed and ready to tackle your yard care, from perusing the aisles of your local home center to digging in at home.
To put it simply, aeration is the process of poking holes in your lawn's soil, says Mallory Micetich, a Home Expert at Angi. "Aeration can keep your lawn healthy by helping air, water and nutrients reach the roots more easily," Micetich says. She adds that you should aerate your lawn about once a year.
Annuals are flowering plants that last only one growing season. "They grow and die quickly, so you have to replant them each year. Before you buy plants for your garden, check to see if they are annual or perennial plants. If they are annual, keep in mind that you will have to plant them again next year," Micetich says.
Bedding plants are flowers that are grouped together in a flower bed to create maximum visual impact. Bedding plants can be picked for the season, but if you want them to be around all year long, then definitely look for perennial bedding plants.
To deadhead is to remove finished blooms from flowers (similar to pruning, although it's a more specific process). Deadheading encourages the plant to produce more blooms (instead of using its energy to turn those spent blooms into seed).
When plants are not actively growing, like during drought or winter, they're dormant. And depending on if you have annuals or perennials, they may or may not grow back. 
Drainage is an important term to know for your lawn because it's how water passes through soil. Good drainage means it's easy for water to pass through; poor drainage means that the soil tends to be water-logged. This will determine whether you have a muddy messy lawn, potential leaks into your home, or even what types of plants you should plant.
"Drought tolerance refers to a plant's ability to survive with infrequent or no supplemental irrigation once established," says Kevin Lenhart, design director and licensed landscape architect at Yardzen. In other words, drought-tolerant plants can withstand periods of time with little water and will continue to grow and be happy.
Ground cover plants are creeping or spreading plants with a low height that are used to cover large areas of ground with minimal upkeep. "Groundcover planting is wonderful on many levels," says Lenhart. This means more plants and a permeable surface where water can soak into the ground as opposed to hardscaping, he says. "Groundcover is essentially a living mulch, helping to enrich the soil, suppress weeds, and stabilize against erosion," he says. "It also keeps ground temperatures cooler, and preserves soil moisture. Planted beneath trees, native groundcovers provide critical habitat for the caterpillars that form the base of food webs," says Lenhart.  
A hardscape refers to the "manmade materials and structures" that you'll find in your lawn, says Micetich. This includes walkways, patios, decks, pergolas, retaining walls, fences, stone, gravel, concrete, and garden walls, according to Lenhart.

"A little hardscaping can go a long way to elevate the look and functionality of your outdoor areas," Micetich says.
Invasive plants are plants that aren't native to the environment in which they're planted and "quickly spread and cause harm to the surrounding areas," according to Micetich. "I recommend knowing which invasive plants are common in your area so you know how to spot them if they pop up in your yard," she says.
Macronutrients are the soil components a plant needs in large amounts in order to grow. These include nitrogen, phosphorus, magnesium, calcium, and sulfur.
Micronutrients are soil components a plant needs in small amounts in order to grow. These include iron, copper, zinc, and boron.
Mulch can be a lifesaver depending on the climate you live in. It's a layer of organic material that's added on top of soil to retain moisture and protect plants from cold, among other things. Micetich says that people typically spread mulch on flower beds and gardens, and it prevents weeds, and adds moisture and nutrients to the soil beneath it. "Many people prefer to plant perennials because they require less maintenance than annual plants," she says.
Native plants are plants that are indigenous to a specific area or region — they've grown and adapted in a region or ecosystem over a long period of time, according to Lenhart. He adds that they not only look gorgeous in landscapes, but also have a long list of benefits for homeowners such as requiring less water, fertilizer, and fuss, because they've evolved to thrive in your climate. 

Lenhart adds, "A bonus to including them in your landscape: You'll attract butterflies, birds, and bees and create valuable habitat in your yard!" 

"Native species provide essential habitat and food sources for important local wildlife like insects, birds, and mammals. Supporting native pollinators is crucial for agricultural and ecological systems," he says.
According to Micetich, "Overseeding is a process that involves planting new grass seeds in areas that already have existing grass." She adds that overseeding can be a great way to reduce lawn patchiness without starting from scratch. 
Perennials are plants that come back every year and can live for multiple years. "Typically, they die in the winter and spring back to life each spring," Micetich says. "Many people prefer to plant perennials because they require less maintenance than annual plants."
When you transplant one of your plants, sometimes it's a "shock" to its system, which means it can wilt or lose leaves after being transplanted.
A softscape is referring to everything else in the lawn, such as the living elements, like flowers, shrubs, trees, etc. "Softscaping requires some upkeep to stay in good condition, so homeowners should know how to maintain their softscape features," Micetich says.
Topsoil is the upper layer of soil in a garden or yard. "Plants get their water and nutrients from topsoil, making it a very important factor for plant growth," says Micetich.
"USDA zones are hardiness ratings that indicate which plants grow best in different areas of the United States," says Micetich. "Knowing your zone can help you make more informed decisions about which plants can thrive in your area," she adds.

Zones are numbered from north to south, so the lowest numbers are in the most northern parts of the U.S., while the highest numbers are in the most southern parts. Plants for a zone with a lower number than the one you live in are less tolerant of heat; plants for a higher number zone will have a lower tolerance for cold. Pay attention to your zone when selecting plants for the best chance of success.