This Is the Color Experts Say You Should Paint Your Kitchen In 2022
We independently select these products—if you buy from one of our links, we may earn a commission. All prices were accurate at the time of publishing.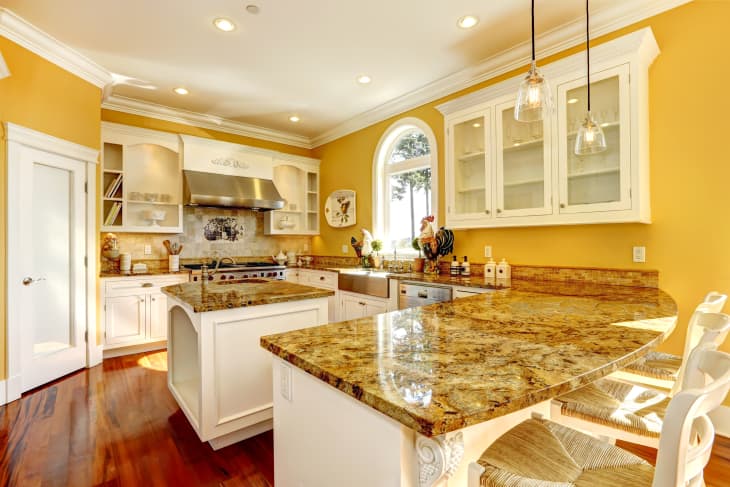 New year, new hue. If one of your resolutions for 2022 is to spruce up your space with a lick of paint, start thinking about it now so you can grab a great deal on all the essentials during Black Friday and Cyber Monday sales. Whether you're a fan of the various shades of green we've seen in the color of the year reports, or something a little more "out there", consider the top paint trends that are set to become huge hits in the new year ahead.
U.K.-based property buyers, GoodMove, analyzed Google Search trend data to discover the top paint trends in 2022, as well as enlisting a color expert from Graham & Brown to suggest which room each color will work best in, and what mood it will bring to each room.
Sunny shades have seen a spike in searches, with yellow hues coming out on top. Abby Hesketh suggests using bright and uplifting colors in the kitchen—there's been a 19% increase in searches for "yellow paint for kitchen" over the past year.
"Bright yellow shades represent optimism and happiness, so they are the perfect pick for promoting positive emotions within the home," she says. "Since the kitchen is the first one you head to in the morning, it is important to choose a shade that will wake you up and start your day on a positive note,"
There are plenty of ways you can incorporate this trend into your kitchen space, from bold all-yellow walls that are sure to grab some attention, to subtly adding hints of the shade through accessories and appliances.
Don't think you have to stick to a super bold lemon yellow, either. Anything from pretty peach shades through to sunshine yellows will do the trick, instantly brightening up the room.
"Dark aubergine is very much here to stay as we see rich purple shades begin to pop up again for Winter. Deep plums and aubergines are deep and indulgent, perfect for any room you want to cocoon in, such as the bedroom," she notes.
In the living room? Opt for gray-green shades and warm neutrals.
"When toned down enough, green can be just as neutral as beige, without being boring," she explains. "Green has calming properties as it so closely emulates nature, so it is ideal for a living room, creating an environment you can relax and unwind in."