This Incredibly Stylish French Press Set Takes My Morning Routine to the Next Level (and It's on Sale!)
We
independently
select these products—if you buy from one of our links, we may earn a commission. All prices were accurate at the time of publishing.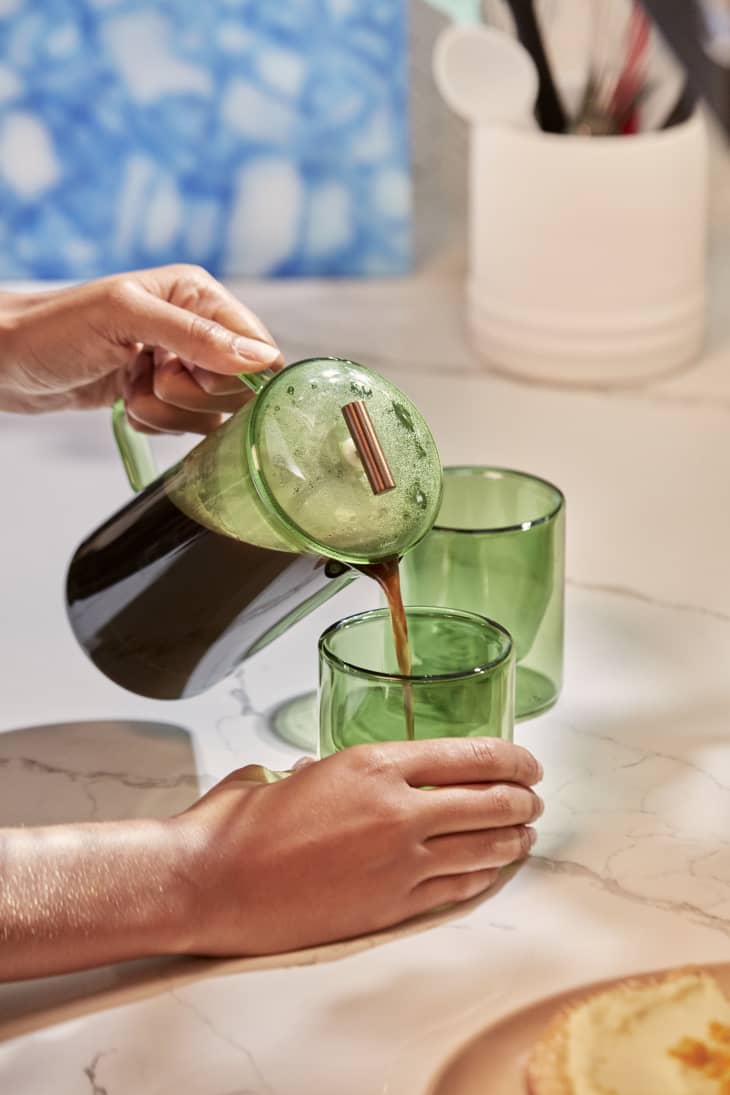 Whenever I'm shopping for my kitchen, I prioritize tools and appliances based on how well they work, rather than how they look. I probably inherited this "function over form" mentality from my dad, who has never been blinded by the beauty of anything that also has a price tag on it, and I think it's mostly served me well. Just about every gadget and piece of cookware in my kitchen works really well! Although my wife would be quick to point out that they look extremely plain, too.
To prove to my wife — and to myself — that I'm capable of growing as a person, I sought out to find something that would add beauty and joy to our kitchen. I started by looking at coffee makers, because I know those can incorporate a lot of inventive design features, and I knew I'd found the right one when I came across this all-glass French press coffee set. It's the only tool in our kitchen that serves both practical and aesthetic purposes, and I couldn't be happier with it.
While you can buy the French press on its own, right now you're better off getting the bundle deal that includes a French press and two double-wall glasses. Alone, the French press costs $85 and the glasses are $50 for a two-pack. But, together they're only $108 (meaning each glass is 50 percent off). If you're in the market for a coffee brewer that's a statement piece, you're going to want to have matching, equally stylish cups to go with it — and thankfully, Yield makes that easy.
There are many things to admire about this set: First and foremost is the borosilicate glass that's available in five mesmerizing colors. Mine is a kind of sage green, although I think the reddish-brown amber looks just as nice. There is also the copper handle on top of the press, which adds a subtle flair and completes the "functional art piece" effect that drew me to this in the first place. But, the details I appreciate the most have to do with the way everything is constructed.
This French press is short enough to easily fit in my cabinets and a little bit narrower than I was expecting, which means it takes up very little space. The double-wall glasses are deceptively lightweight and do a fantastic job of keeping my hot coffee hot. I could pour boiling water into these cups and they would hardly feel warm — that's how effective their double-wall design is. And, when the weather warms up, that also means these cups will be perfect for iced coffee in the morning and chilled cocktails in the evening.
I found this French press worked just as well (if not better) than others I've used in the past. I like my coffee strong and I can get something that approaches the richness of espresso with this tool. My usual go-to pour-over brewer, which I bought strictly for utilitarian reasons, has actually had some time off for a change, and I can't say when — or if — I'm ever going back. This one is too nice to stop using!