You Should Consider Adding Disco Balls to Your Nightstand, for the Fun of It
We
independently
select these products—if you buy from one of our links, we may earn a commission. All prices were accurate at the time of publishing.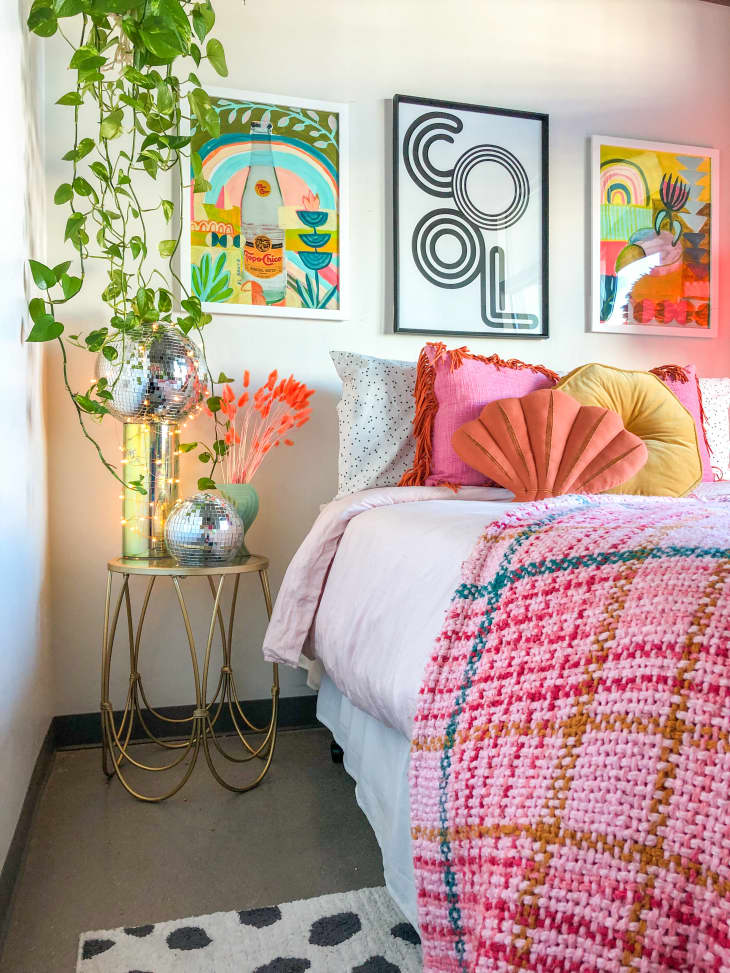 Life can be stressful sometimes, to say the least. In order to unwind, there's always the common solutions of calling up a friend, taking a stroll around the neighborhood, or watching a movie. But if you've been following the latest design trends, then one possible way to make your surroundings less stressful and more smile-inducing is to add disco balls — lots and lots of disco balls. 
The trend of incorporating disco balls into decor has popped up everywhere from planters and mantel accessories to mobiles and, well, everyday light fixtures. In this 476-square-foot studio in Tucson, Arizona, a law student decided to use them as a two-tier decorative statement on the side of her bed. "This studio is my first time living without roommates, and hence, my first time with total freedom to decorate however I wish. Naturally, this meant pink, plants, and disco balls," Madi wrote to AT. One disco ball is on a round, gold pedestal wrapped in lights, and the other is sitting on the surface of her nightstand. Together, they add a whimsical and fun touch to that corner, while also providing light. Considering that Madi is also in law school, the disco balls promote an easy shift from that stress, too. 
"I moved into this studio with the intention of making every inch of the 476 square feet reflect my personality and what makes me the happiest," she says. "Law school can be tough at times, so I wanted a space that felt like pure positivity and sunshine to get me through long study days."
Even if you have no intention of blasting Donna Summer or the Bee Gees in your home anytime soon — and if you don't know what I'm talking about please correct that immediately — consider placing disco balls around your home for a party in and of themselves. The best part about the way Madi incorporated this trend is that she didn't do much DIY work to make it happen, and the duo still creates a winning aesthetic. You can follow in Madi's footsteps and place disco balls in your bedroom, ensuring that the surrounding art and cascading plants are just as inviting, or you can hang some in your bathroom, or even put a few larger ones in the corner of your living room. Heck, place one where you do your laundry.
"For some people, they feel the most centered in a space that is neutral and calming. For me, I like to be surrounded by art, colors, patterns, and textures," she continues. "I feel most at peace in a space that allows me to be freely creative and wholly myself."
That's a solid piece of advice for cultivating happiness, and disco balls seem like a clear embodiment of carefree living. A couple of them in your home couldn't hurt.