1-800-Flowers Has a 2020 Plant of the Year, and You're In Luck (Literally)
We independently select these products—if you buy from one of our links, we may earn a commission. All prices were accurate at the time of publishing.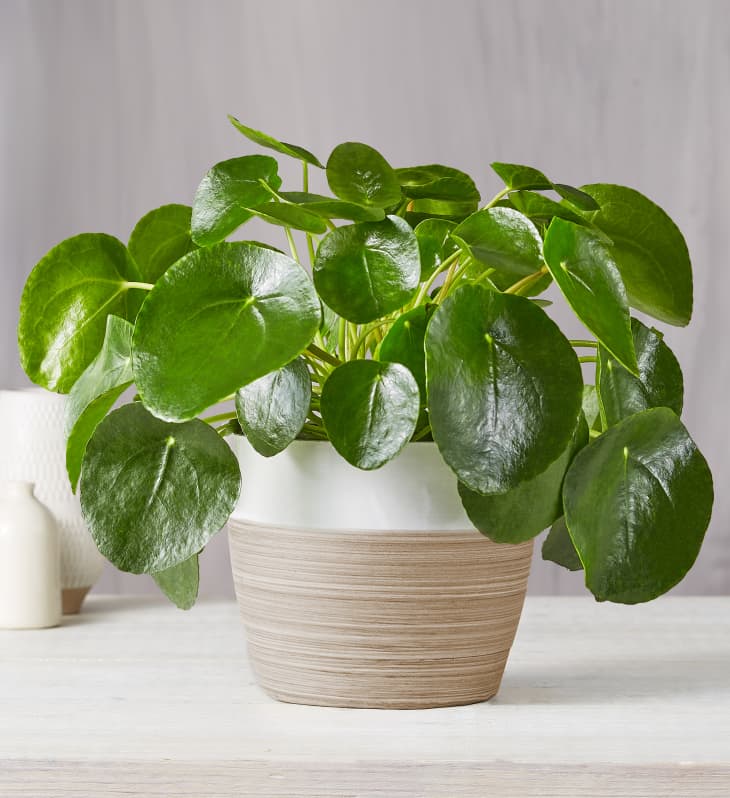 There's Pattern of the Year and Color of the Year, but what about Plant of the Year? Well, turns out 1-800-Flowers has it covered, and their 2020 houseplant is sending through good vibes that'll hopefully last for the rest of the decade.
Follow Topics for more like this
Follow for more stories like this
Known for its uniquely shaped leaves, the pilea peperomioides—also known as the Chinese money plant—has become a popular houseplant to live within the modern home. And it doesn't hurt that legend says it'll bring good fortune to its owner.
"This plant has become a staple in plant parent's #shelfie on Instagram for its distinct and attractive shape," the floral retailer wrote in their announcement story. "Originally grown in Yunnan Province in Southwest China, the Pilea's rounded leaves is an attention magnet in any home or apartment."
In the spectrum of plant species, the pilea is generally a low-maintenance option that makes it inclusive by nature. The houseplant thrives in indirect sunlight, so pick a spot that isn't too shady or too sunny. Water the pilea whenever the soil dries out, and pay attention to the droopiness of the leaves. When they start slouching, you know it's time to hydrate.
Another fun detail about this plant is it's easy to propagate. As your pilea thrives, plantlets should rise up through the soil, which you can plant within its own pot with moist soil until you start seeing growth. 
For more on how to take care of your future Chinese money plant, see our article here. If you're planning on purchasing, we wish you the best of luck in your plant parenting journey—not that you're going to need it.