Updated from a post originally published in May 2017.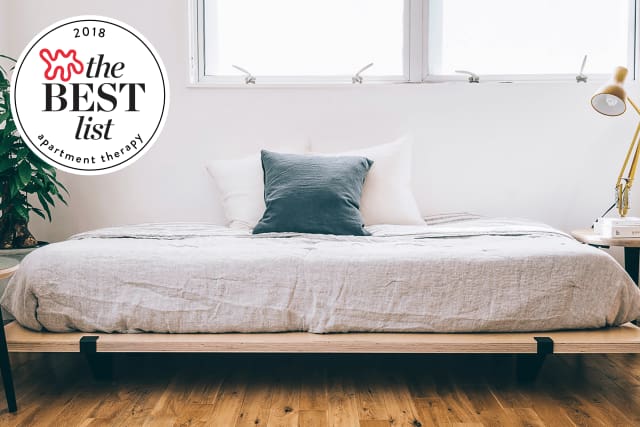 (Image credit: Floyd)
Love it or hate it, platform beds are popping up everywhere—not only for their aesthetic appeal, but also for their convenience. Aside from being a minimalist's dream, platform beds don't require a box spring, making them much easier to move around with. Plus, most of the popular mattresses-in-a-box don't need a box spring either, so a platform bed is an obvious choice. While these beds are typically lower to the ground, not all of them sacrifice that much-needed under-bed storage space—in fact, platform beds are more versatile than ever. We've rounded up our favorites that may be low to the ground but are high in style, so you're sure to find one that suits your space.
How This Works
Every week we research new product categories and bring our final picks into the office, where we haggle and decide which ones make the final list. Everything is based on quality, appearance and price. These are what we could choose for our own home.
---
Maxwell's Favorite:
Platform beds are the universal first bed for your first apartment or home. They are affordable, easy to transport, use the smallest footprint AND they don't like a box spring. That said, a flat solid surface under your mattress absolutely sucks, so you really want a platform with nice, sprung ribs that will breathe and provide some give.
My favorite is the Min from DWR. Designed by Luciano Bertoncini in 2003 it is a minimal (get the pun?) classic which has been in stock at DWR for years (it's their best seller). Light and strong, made out of powder coated aluminum it assembles easily and is super tightly held together with hex screws. The slats are curved wood set into rubber at the ends. It also has felt pads. This bed is silent, a bit bouncy and will never jiggle or squeak. All true. I slept on one for years and still have it in my basement waiting for a new home.
---
MINIMALIST


The Floyd Bed is about as minimalist as it gets—setup requires no tools and parts include just three birch wood panels and eight supports. This design makes for an ideal bed for renters and those who move around a lot, as it's super easy to put together, take apart and transport. There isn't much under-bed space, but you do get a clean aesthetic and a bed that will move around with you for years.
---
If flexibility is important to you, then the Yaasa Adjustable Bed is a real game-changer. As the name implies, this bed adjusts to whatever position you need—you can elevate your upper body for reading, or your legs for improved circulation and pain relief. Plus, it's compatible with most mattresses, has USB outlets on both sides and ample under bed storage.
---
WOOD MODERN


I actually have this bed—it's budget-friendly, easy to put together (if I can figure it out anyone can), and impressively sturdy. Plus, it looks way more expensive than it actually is. The combination of a wood headboard and steel frame is versatile, giving this bed a warm and sleek style that looks good in any room.
---
The classic MALM bed from IKEA comes in four finishes and can used in a couple different ways—you can keep the bed as is, or add MALM bed boxes underneath to create a storage bed. If you choose to keep it as is, there's still lots of storage space, plus the sides can be adjusted to account for different mattress thicknesses. Simple and sturdy, this bed has been around for years and is much loved for its reliability.
---
Rarely have I thought of a bed as beautiful, but this one from CB2 has made me see the light. With an acacia wood frame and warm leather headboard (a less expensive upholstered version is also available), this bed looks like it belongs in a luxury cabin—it's basically guaranteed to make your bedroom feel extra cozy. Created by German designer Jannis Ellenberger, it's full of lovely details and quality construction.
---
A mid-century modern dream, this bed from Rove Concepts is made of either ash or walnut veneer and gives the appearance of your mattress sinking into the frame. The design is simple, with a wide set frame and slim legs, but the result is seriously stunning. It's heavy and high quality, but the assembly is straightforward and not too difficult to manage. Although it's one of the more expensive options on our list, it's well worth the higher price.
---
TRADITIONAL


For a traditional farmhouse look at a budget price, consider this bed found on Wayfair. Made of metal, it comes in four finishes and is easy to assemble. Although this style might bring to mind older, squeaky beds, this pick is sturdy and silent—perfect for kids to grow with or your own master bedroom. We love how versatile it is—depending on the bedding and room style, it can look vintage, beachy or rustic.
---
This bed from Pottery Barn is made of solid mango wood, but stands out as a great traditional option because of its turned legs (which, by the way, can be adjusted for uneven old apartment floors!). The wood finish is naturally grainy, which gives it a more rustic look, and the low price is just right. Again, the turned legs elevate this bed (in more ways than one), giving it a dose of romantic sophistication.
---
If drama is what you're after, Anthropologie's Menara Bed delivers. Inspired by Louis XV and classic French style, this bed is made of acacia wood and adorned with gorgeous detailing. It comes in both carbon and neutral shades, but we love how the darker color really turns this bed into the focal point of the bedroom. Impressively ornate and dramatic, this is the bed of our dreams.
---
UPHOLSTERED


A newer option from IKEA, the TOMREFJORD bed has an oversized upholstered headboard and industrial stainless steel legs. This bed is especially great for families with kids or pets, as the headboard cover is removable and machine-washable. Right now the only color option available is a light neutral shade—perfect for pairing with any decor style.
---
This streamlined bed from The Inside is totally customizable, from the huge variety of color and pattern options to the materials used. There are a ton of options here, but happily you can order up to ten free swatch samples to help you make your choice. Each bed is made to order in two to three weeks, giving you a bed that is truly yours.
---
There's just something about a velvet bed that demands attention. This one from Urban Outfitters comes in five colors and has luxe gold-finished metal legs, amping up the sophistication of any dwelling (looking at you, fifth-floor walkups). Each bed is made to order, and although some assembly is required, it's nothing too challenging.
---
Our Best Platform Bed Posts:
---
Other Good Resources:
---
Apartment Therapy supports our readers with carefully chosen product recommendations to improve life at home. You support us through our independently chosen links, many of which earn us a commission.