This Might Be the Most Chic Grow Light for Plants We've Ever Seen (It's on Sale!)
We
independently
select these products—if you buy from one of our links, we may earn a commission. All prices were accurate at the time of publishing.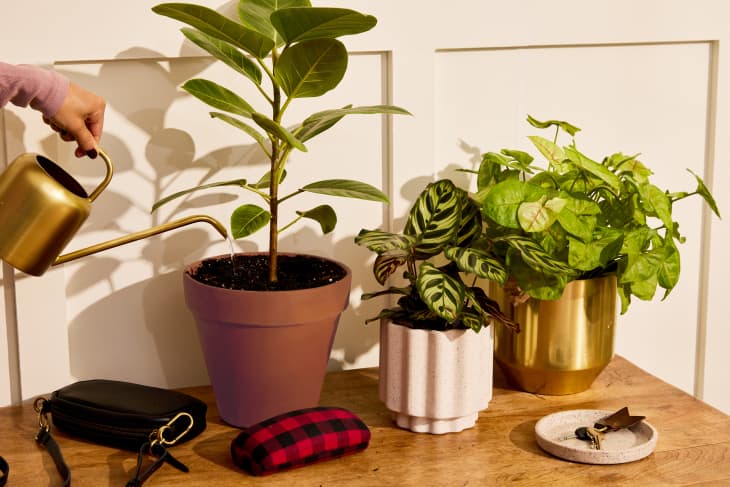 Back before indoor garden sets became a trendy, stylish accessory to own, I'd venture to guess that plant grow lights were most often associated with the kind you'd find in a science lab. You know the type: long, fluorescent, and annoyingly bright. In other words, hardly anything you'd ever want in your home. After all, we're all about ambient lighting here at AT, whether it comes in the form of a bedside table lamp, a candle, or a floor lamp in your living room. It's kind of rare to come across a grow light for plants that's simultaneously functional and stylish, but we did just that! After stumbling across this stunning tabletop grow light, we're convinced every plant owner needs one. It only makes sense that this find is manufactured by AeroGarden, the brand behind some of the coolest indoor gardening setups we've ever seen. And right now, you can score this beauty (and all other grow lights on their site) for 30 percent off!
I must note, this tabletop light does have a fluorescent-like glow, but it's hardly obtrusive. You can actually adjust it to one of four light modes — white, warm, cool, and full-spectrum — and also dim it. Additionally, this chic accessory has a built-in timer, allowing you to set a customized light schedule, so you can even simulate sunrises and sunsets. All you have to do is download AeroGarden's app to select your desired settings. You might be wondering what kinds of plants are fit to receive light from this lamp, and the answer is, anything up to 15 inches tall. Whether you've got a pothos or some sansevieria, this product will ensure that it gets as much artificial sunlight as it needs!
Although these high-tech aspects of the tabletop grow light are exciting, equally as enticing is the lamp's modern design. It's available in black or white, and both versions sport eye-catching brass details. A 6-foot power cord also lets you place the light anywhere in your room. Most importantly, AeroGarden shoppers say it works like a charm. "It's perfect for small to medium indoor plants and herbs!" one reviewer noted. "It makes a great conversation starter as well. All of my guests notice it and are quick to ask questions about it." And now that this grow light is 30 percent off, you can snag it for just $66, which is not bad for something as pretty as it is practical.