Here's Your Chance to Get Married at ALDI
We
independently
select these products—if you buy from one of our links, we may earn a commission. All prices were accurate at the time of publishing.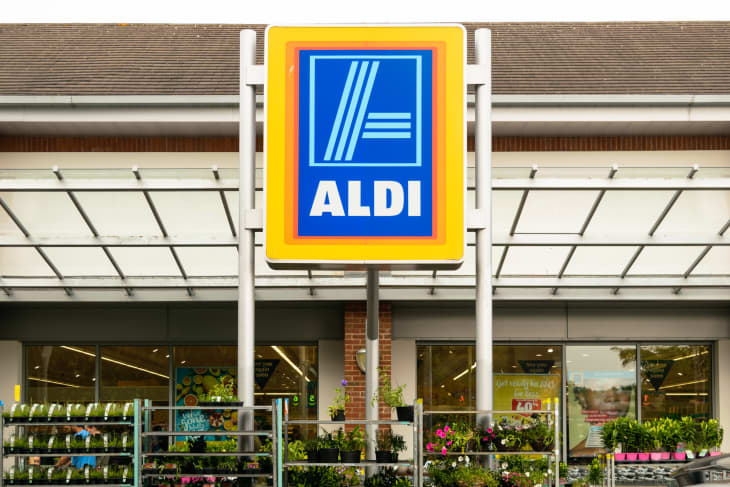 Do you and your significant other spend a lot of time roaming around the aisles of ALDI? The popular German retailer is offering an all-expenses-paid ceremony for an ALDI-themed wedding for one lucky couple. 
Accompanied by 50 of the winning couple's family and friends, the group will receive an exclusive ALDI-insiders look at the ALDI Insights Center, which will be the location of the wedding ceremony. For the lovely couple, they will receive free travel accommodations along with hair and makeup artists for the big day. The wedding, which will be held in Batavia, Illinois, will be officiated by an ALDI employee, and the reception will have a themed cocktail party with fan-favorite refreshments like the mini Red Bag Chicken sliders. If you haven't been convinced yet — the newlyweds will also receive a year's supply of free groceries.
According to Kate Kirkpatrick, ALDI's Director of Communications, the retailer can feel the love from their fans and is looking to reciprocate it. "Every time our shoppers include us in one of their big moments, we feel the #ALDILove," Kirkpatrick said in a press release. "We're showing our #ALDILove in return by giving one crazy-in-love-with-ALDI couple an opportunity to celebrate the ultimate life milestone with us."
For a chance to say "I do" in ALDI's Illinois storefront, couples can read the contest guidelines at Happily Ever ALDI to submit their special love story. The requirements include a short essay telling them about your personal love story, your #ALDILove story, and why the grocer is your dream destination wedding venue. While applying, you'll be required to add a precious photo of you and your partner that shows off your personality as a couple, your love for each other and your love for ALDI.
According to the contest's website, "The more creative and unique your story, the better." ALDI's beloved fanbase isn't new to showing their #ALDILove, which has included life milestones with the retailer, including engagements, baby showers, and birthday parties. 
Submissions for Happily Ever ALDI close on August 17, 2022, so take your adorable pictures in your local ALDI and apply soon!