This Tiny Mobile House Offers Shelter For the Homeless—and Redefines Public Space
We independently select these products—if you buy from one of our links, we may earn a commission. All prices were accurate at the time of publishing.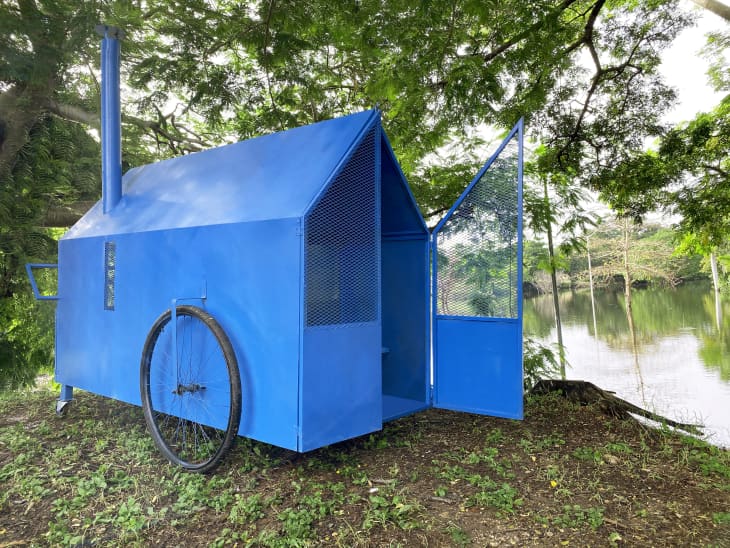 Design studio Andrés & José has created a mobile tiny house that could offer an immediate solution to homelessness—and redefine the concept of public space. With a focus on architecture, art, and public domain, the studio—made up of designers Andrés Sáenz and José Álvarez—created the ultimate compact blue dwelling. First presented at the 2020 Mexican Design Open, the tiny mobile home—called the "rodar design"—integrates vehicle and home into one to allow transients basic means of shelter. 
Follow Topics for more like this
Follow for more stories like this
The design duo's "rodar," which translates to "roll" in English, even takes the form of an archetypical house: A pitched triangular roof and chimney are among the geometric design choices. The shape of the tiny mobile home also evokes vehicles seen on the streets of Latin American cities, such as camote carts and markets on wheels. Along with introducing a tiny house solution for those without shelter, the design also reflects on the future of housing and interrogates the use of public areas in populated cities. 
Enlarged black wheels and architectural detailing that allows for ventilation make up the exterior of the "rodar," while the interior accommodates a raised level with enough room for one person to sleep in. Underneath this raised component is ample storage space for any personal belongings. The "rodar" is part of a larger project collection called "habitáculos" (loosely translated into "room"), a series of modified, readapted objects that hopes to give new, redefined meaning to products in the public space—using the city as a stage and public domain as the field of exploration.
"These [objects] are designed to make sense of public space, where two realities—social and health—now convey to strange material singularities," the design studio notes on Instagram. The subverted objects hope to "encourage the user to become aware of the global emergency situation through the joint visible links between infrastructure, public spaces, and adaptability. "