I've Seen Dozens of Parisian-Inspired Gold Floor Mirrors, but This One Spot Might Be the Most Genius
We independently select these products—if you buy from one of our links, we may earn a commission. All prices were accurate at the time of publishing.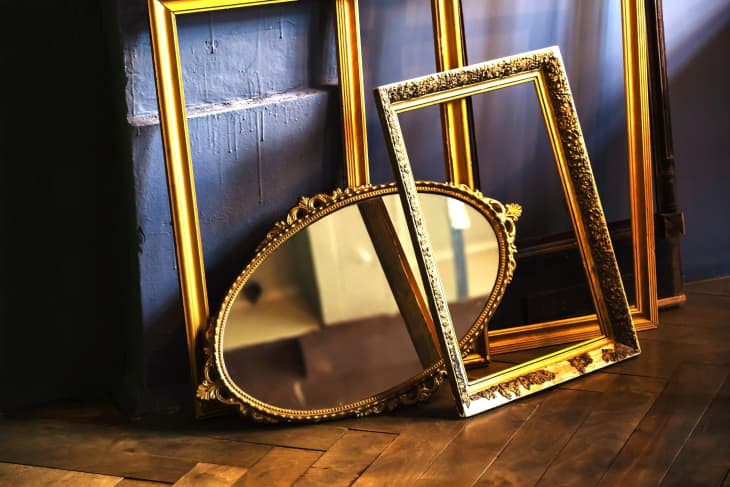 Tall floor mirrors can make a small space feel bigger and brighter, and it doesn't matter which room you place them in. For folks who don't live in small spaces though, mirrors still provide a fun, renter-friendly way to add personality to a home. Lately, a particular style of mirror — you know, the ornate, Parisian-inspired one with a gilded finish — has completely taken over the interior design world, and I'm absolutely here for it. Even if you've been eyeing one of these antique-looking mirrors for a while, I bet there's one place you may not have thought to put it. After seeing where renter Nicollette Starnella put her 7-foot mirror like this, you just might be motivated to snatch one of these pieces up right away to try it in this same unconventional place in your home.
Follow Topics for more like this
Follow for more stories like this
Starnella and her fiancé, Magnus, live in an 1100-square-foot apartment in Hell's Kitchen in New York City. The building's actually a boutique condo located inside of a renovated schoolhouse from the 1800s. "There's so much rich history in these walls," Starnella says. "The way the building was constructed preserved the beauty of the old architecture while adding modern finishes."
Inspired by the building itself and her love of vintage French country style with a modern twist, Starnella has made decorating choices that definitely complement and enhance her apartment's good bones. One of the rooms that maybe best exemplifies that is her luxe-looking kitchen. Awash in neutral tones with soaring 14-foot ceilings, large windows, and lots of fancy gold finishes, the cook space has a ladder to access the beautiful double-hung glass-front cabinetry and a movable "island" designed to look like a teacher's desk on wheels. One of my favorite design features, though (and Starnella's as well)? The seven-foot mirror with a brass finish she leant against an empty wall. "This large, vintage mirror has always been a dream of mine to incorporate into my home," she says.
Starnella's unique decision to place this mirror in the kitchen instead of in the primary bedroom or an entryway proves you don't have to follow any rules when it comes to designing your space. This placement takes an already airy, cabinetry-filled, vintage-look kitchen and makes it look even brighter and more expansive. You might not have quite as much space as Starnella, but that doesn't mean you can't try this trick on a smaller scale, with a smaller style near your breakfast nook or a tiny gold mirror propped up on a counter or an open shelf. "As long as you're incorporating pieces into your home that are reflective of you, then there's no way not to love your home," Starnella says. "Go bold and you may surprise yourself."