I'm a Stain Magnet and This $10 Stain Remover is the Only Thing That Saved My Clothes
We
independently
select these products—if you buy from one of our links, we may earn a commission. All prices were accurate at the time of publishing.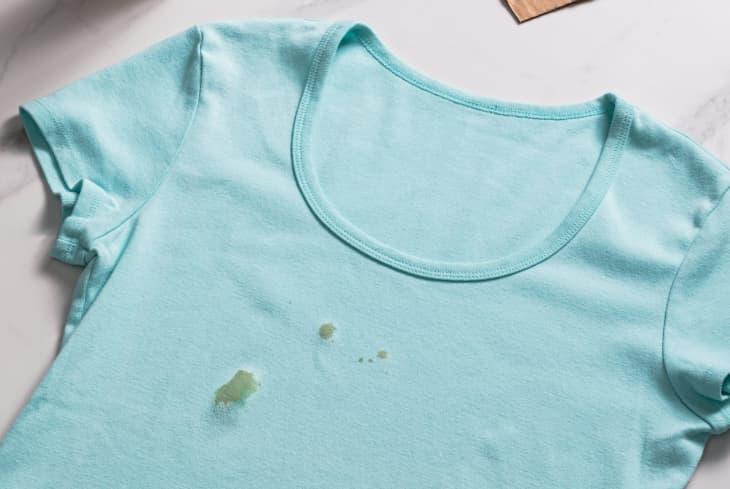 I am a certified stain magnet, attracting condiments, crumbs, and grease to whatever I'm wearing using unseen laws of physics that I can't begin to comprehend. Several times a week, despite my best efforts, I end up with a glob of something right in the middle of a new shirt. And, following their genetic destiny, my kids are already overachieving when it comes to staining their clothes.
As you might imagine, I've tried a lot of stain removers over the years, but until recently I had yet to find one I really loved. I'll admit that the bar is high: In addition to heavy-lifting, I also need a stain remover that works with my family's sensitive skin — something gentle, either unscented or with a light fragrance.
Lately, I've been trying to find more eco-friendly cleaning supplies — especially for laundry. The problem is that sometimes the more eco-conscious cleaners just don't cut the mustard. Like, literally, they can't get the mustard out of my shirt, and that's a problem because I eat a lot of sandwiches.
But then I found out about ArbOUR. The woman-owned brand based in Columbus, Ohio, launched with eight professional-grade, eco-friendly cleaning products, including an everyday cleaning spray, laundry detergent, and dish soap. When a friend told me about the brand, I immediately zeroed in on their stain remover. I was eager and hopeful that theirs might finally be the solution I've been looking for, and so far I'm happy to report that it's a winner!
I tested out ArbOUR's Stain Remover on my latest glob of (you guessed it) mustard, and I was thrilled with the results. The stain was less than an hour old when I sprayed it with the stain remover and tossed it in the wash. Things looked promising when I moved it over to the dryer, but I couldn't be sure until the timer went off. When it did, I was elated: Total stain removal was achieved! Maybe I can have nice things after all!
Since then, I've used the stain remover on grass stains and several random food spots on our laundry, and I've had similarly inspiring results. The only time it hasn't been totally successful was with a set-in grease stain, but I can live with that. Maybe I can't stop splattering food on myself, but for everyday messes (and there are many of them), this stain remover has fully won me over.
More Reasons ArbOUR's Stain Remover Is the Best Stain Remover
The fact that ArbOUR's stain remover actually removes stains is just one reason it's become my new go-to. Here are a few more.
It's gentle. ArbOUR's stain remover is as gentle as I could hope for. The product is made with natural ingredients, like the inner bark of the aptly named Soapbark tree, a centuries-old Andean plant used for its grease- and grime-fighting bark.
It smells good. The fragrance, cotton and sandalwood, is also plant-derived, and as someone who always gravitates toward unscented products, I have to say it's one of my favorite cleaning product smells of all time. It's light and fresh; it just smells 'clean' to me, and that's exactly what I'm going for.
It's kid-safe. I particularly love the fact that these products are safe for kids because I'm in the process of teaching my 10- and 4-year-old how to care for their own laundry. Having cleaning supplies that are safe for them to use is essential.
It neutralizes bacteria. Another plus: ArbOUR's products can actually neutralize a broad spectrum of bacteria like Staphylococcus, E. coli, Listeria, Salmonella. This means they not only clean, but also sanitize items — a huge bonus in these germ-averse times.