10 At-Home Spa & Beauty Products for When You Can't Leave the House
We independently select these products—if you buy from one of our links, we may earn a commission. All prices were accurate at the time of publishing.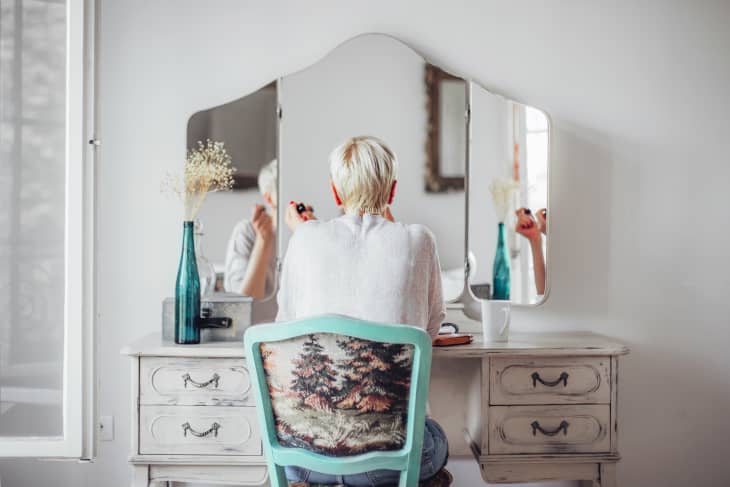 There couldn't be a more perfect time for a spa day in. Times are tense, most stores are closed, and there's plenty of downtime to fill. Plus, you want to limit your trips to the drug store as much as possible, so ordering your go-to toiletries online is much more ideal. Take the opportunity to chill out and treat your body and mind to a little self care, whether that means switching up your hair color or giving your nails a refresh. We rounded up 10 of our favorite at-home spa treatments and on-demand toiletries to try right now, so you can make the most of your time indoors.
Madison Reed Color Kit
Just because salons are closed doesn't mean you can't keep up with your hair color regimen—or try something new altogether. Madison Reed has hundreds of at-home color options ranging from permanent dyes to highlight and toning options. Take the hair quiz to find the perfect product for you based on everything from your hair texture and color to your experience with at-home dyes and past hair treatments. 

Buy: Madison Reed Color Kit, $26.50 from Madison Reed
HoMedics Bubble Mate Foot Spa
Now that you're spending less time on your feet, give them a little TLC with this foot spa. Jets and nodes massage your feet while they soak in warm water, and a removable pumice stone lets you scrub away calluses, leaving you with baby-soft skin. (And if you want something less heavy duty, try this pampering pack complete with a foot filer and two foot masks.)

Buy: HoMedics Bubble Mate Foot Spa, $27.49 from Amazon
Spa Sciences SIMA Sonic Dermaplaning Device
In need of a facial? Get a fresh face at home with this professional-grade dermaplaning tool. It softly removes peach fuzz, dead skin, and debris in minutes, giving you a clean, smooth face. And if you want to explore more tools, Urban has a surprisingly robust skin care section that's definitely worth checking out further.

Buy: Spa Sciences SIMA Sonic Dermaplaning Device, $34 from Urban Outfitters
St. Tropez Self-Tan Bronzing Mousse
You can still get a natural glow without going outdoors thanks to this popular self-tanning mousse. It dries in seconds and contains soothing aloe vera, while giving dull skin a nice healthy color boost. And don't worry about odors—it's got Aromaguard tech that keeps the majority of bad tanning smells at bay. 

Buy: St. Tropez Self Tan Bronzing Mousse, $18 from Dermstore
Quip Starter Set
Get your toothbrushes delivered on a regular schedule with Quip, which makes well-designed electric toothbrushes. Simple and effective, Quip brushes are slim (a rarity among electric brushes), and are timed to give you the best clean. You can also register for a refill plan and get new heads delivered every three months, eliminating the need to buy from the drug store.

Buy: Quip Starter Set, $40 from Quip
No Mo-Stache Portable Lip Waxing Kit
If waxing is part of your regular routine, consider this easy on-the-go lip waxing kit. Just heat up one of the wax strips by rubbing it between your hands, place it tightly on your skin, pull off, and apply the instant-relief aloe cream. It's a simple, budget-friendly solution if you can't make it to the salon.

Buy: No Mo-Stache Portable Lip Waxing Kit, $12 from Anthropologie
Saalt Menstrual Cup
Whether you've been wanting to try menstrual cups or you're just trying to avoid more trips to the store, now's a good time to give reusable menstrual cups a go. This two-pack comes with small and medium sizes, both with their own carrying pouches. Use, clean, and use again for toxin- and waste-free period care. 

Buy: Saalt Menstrual Cup (2-pack), $47 from Urban Outfitters
Le Mini Macaron Maxi Deluxe Gel Manicure Kit
Rather than give your nails a quick polish that'll wear off after a few days, treat yourself to an at-home gel manicure kit. You get two gel polishes, a cuticle stick, a nail file, and a mini LED lamp (that looks like a macaron!) to create as spa-like an experience as possible. P.S. The lamp is USB powered, so it can plug right into your laptop for a mani anytime, anywhere. 

Buy: Le Mini Macaron Maxi Deluxe Gel Manicure Kit, $60 from Urban Outfitters
Billie Razor Starter Kit
Time to never buy a razor at the drugstore again. This award-winning (seriously!) razor kit comes with two 5-blade razors, an ergonomic handle that won't slip even when soapy, and a "magic" magnetic holder that'll keep your razor on the wall (so long, forever-falling suction cups). And you get it all for under $10. If you decide to go for the subscription option, you'll get new blades sent to you however often you decide.  

Buy: Billie Razor Starter Kit, $9 from Billie
Lure Essentials Edge Cupping Therapy Kit
Whether you're doing more walking than normal or more sitting than you'd like (or you just find yourself tensing up frequently), your body could probably use a deep tissue massage. This cupping kit lets you get one at home in just five minutes. Apply the cups to your leg, back, or anywhere you need some loosening.

Buy: Lure Essentials Edge Cupping Therapy Kit, $39.95 $26.95 from Amazon