Why You Should Be Concerned If a Home's Attic Has Been Painted White
We
independently
select these products—if you buy from one of our links, we may earn a commission. All prices were accurate at the time of publishing.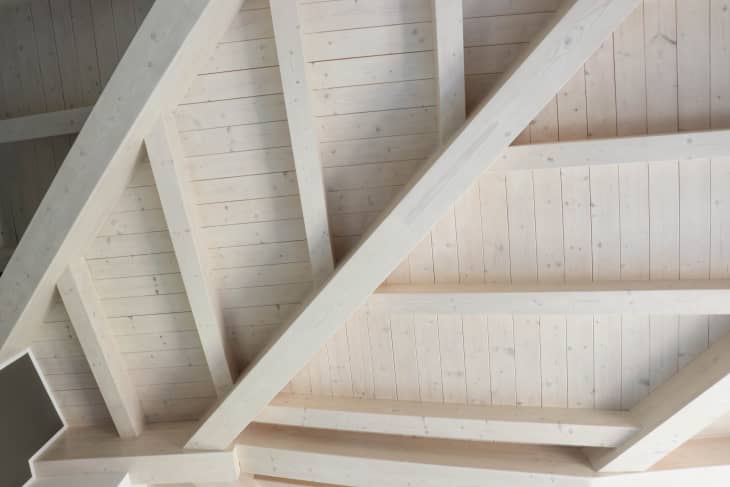 There are plenty of things to consider when you're buying a new home — Do you love your new neighborhood? Will the house meet your needs for years to come? Can you afford the new mortgage payment? — but there may be a surprising detail to consider that you don't even realize is hanging over your head: your attic.
If your attic appears to have been painted white at some point in the past, it may be a sign that mold remediation work was done. And according to an expert I spoke with, it may not have been done well.
Here's what to know about mold growth.
Mold grows roots called hyphae, explains Michael Rubino, mold and air quality expert, author of "The Mold Medic, an Expert's Guide on Mold Removal," and founder of HomeCleanse, a company that aims to end poor air quality indoors. 
Mold also grows similar to a weed. "If a colony grows on a porous or semi-porous surface (like wood), these roots will grow as far into the surface as possible," he says. "Like a weed, to eliminate mold from a home, you've got to get rid of the entire organism, roots and all." Otherwise, Rubino says it can pop right back up, creating trouble for you and your home.
What's the deal with the white paint?
In most cases, that white substance remediation companies use is called an "encapsulating sealant." Though it looks like paint, some pros use it to tackle an existing mold problem. In theory, this spray can stop mold growth in its tracks, especially when the mold cannot be completely removed from the attic's surface. Rubino says that sometimes those sealants don't quite do the job.
Do encapsulating sealants ever work?
If the remediation was done correctly, Rubino says encapsulant and microbial paint can be used as preventative measures to help avoid mold growth from popping up again.
"If it's being used as the sole step to remediate, that is not going to effectively deal with the contamination present and will result in continued exposure to mold," he says, adding that they are more of a "failsafe" than a fix. "Encapsulants and paint should never be used to correct an active mold issue," he says.
What's hiding under that white paint?
For semi-porous surfaces like wood, Rubino says a successful remediation would include abrasive methodologies to remove the roots, followed by decontamination to eliminate all particles present — including dead mold. According to him, proper remediation should check off three main boxes: Fix the source of mold growth properly, identify and address the problems that led to those sources in the first place (like leaks and moisture issues), and then eradicate all of the contaminants including toxins and bacteria.
"Simply putting paint or encapsulant over mold does not tick each of those boxes, which is why it is ineffective," he adds.
Know the facts before you buy.
If you haven't signed on the dotted line yet, Rubino says you can get some peace of mind about your white attic by hiring a qualified inspector to come in and assess the space to determine if there's contamination present.
"If the results show no current issue, [you] can decide whether or not [you] want to move in," he says, adding that if you get bad news, you'll at least have some information to decide whether or not you'll want to proceed. Although when it comes to mold, sometimes the hassle of remediation isn't worth the headache, and you may discover be better off finding a new place to call home instead.