6 Basement Trends That'll Make Your Home Look Dated, According to Real Estate Experts
We
independently
select these products—if you buy from one of our links, we may earn a commission. All prices were accurate at the time of publishing.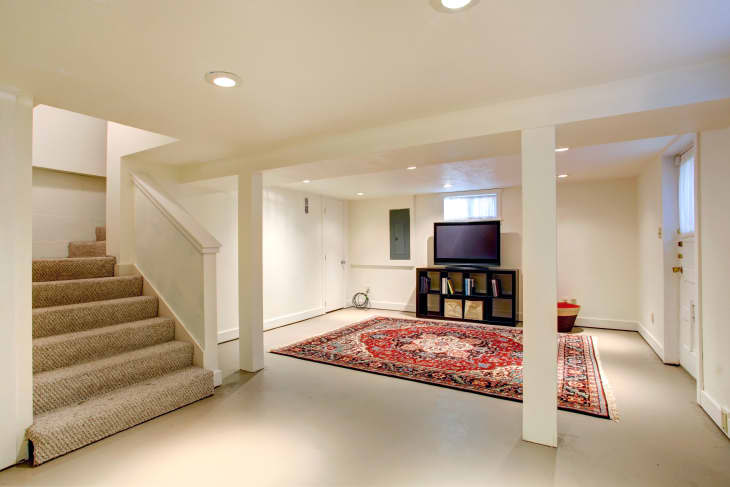 When I was growing up, our basement was multipurpose. It had a laundry room, an office, a play area for my brothers and I, and a mini water treatment plant for our well. As we grew up, the space changed—the office desk became an impromptu tornado shelter, the play area turned into a workout space, and everything else morphed into storage. Basically, it was (and still is) a space with no defined purpose. But that's not what people are looking for in homes these days. As we stay inside more and more, homeowners are finishing basements to bring in extra living space—and design is paramount. Stay away from these six outdated trends to make sure your finished basement isn't stuck in the past.
What's the first thing you think of when you imagine an old, outdated basement? Probably wood paneling, right? According to both Tia Greer, an agent at DreamTown in Chicago, and Kate Ziegler, a realtor with Arborview Realty in Boston, clients typically ask for the paneling to go first. It's being replaced with drywall, PVC trim for the floor, crown molding, and neutral paint colors. Some are being livened up with an accent wall or colorful furnishings. "People are moving away from the moody, dark, cavey vibes and opting for a lighter experience," Greer says.
In my basement growing up, we had a floor rug that was utterly ruined when the basement unexpectedly flooded. No one wants to deal with that, so please—don't put carpet in the basement. "High-pile carpets are gross if they get wet, and carpet trends shift quickly," Ziegler says. Instead, try neutral-colored vinyl squares, rugged carpet squares, or hardwood.
Drop ceilings were popular in the '70s, but they're not exactly in high demand these days. The bigger trend now is to use whatever's there and work around it. Leave the joists visible for extra head room, keep the pipes uncovered for an industrial flair. If you need more sound insulation, create a new ceiling with drywall or install an antique tin one.
Tech in the basement is attractive to buyers. Install some surround sound (because "whatever you're doing, you're going to need rock music," Greer says) and use as many Bluetooth devices as possible—think the lighting, your television, the sound—that can attach to an app. It's a big selling point, so you'll be increasing your home value even more.
The basement is no longer a suitable storage place for leftover furniture there's no room for in the rest of the house. Get new stuff built for comfort, like big sectionals, ottomans, poofs, and oversized beanbags.
The type of lighting you choose can make or break your basement. If you're finishing an unfinished one, you're in luck—you can work with an electrician to get whatever type of lighting you want (though Ziegler recommends LED-based recessed lighting).
If not, you might be stuck using the limited lighting that's already in a finished basement. In that case, try to avoid direct overhead lighting. Add some track lighting or move the lights to the edge of the ceiling for a glow-around look. "It's all about the vibes these days, so have the option for dimmers," Greer says.