Before & After: A Blank 250 Square Foot Space Becomes a Cozy Home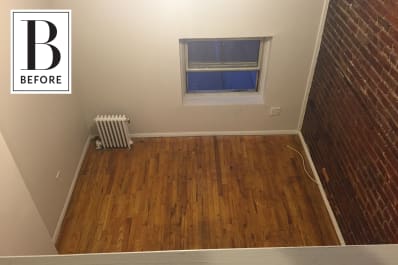 (Image credit: Submitted by Chelsea )
Chelsea moved into her charming, small apartment and immediately set to work turning it into a lovely little home. With help from her mother, she filled the living room and loft with DIY furniture designed to maximize its footprint by serving multiple purposes. Add in some colorful paint and some super cute furniture and you have an apartment that packs a lot of style into not a whole lot of space.
(Image credit: Submitted by Chelsea )
From Chelsea: I rented my little NYC "tiny home" as a blank slate. Yes, this is a rental, but I wanted it to feel like home. It was my dream apartment full of old character (brick wall included) and I couldn't wait to fix it up. I moved in with nothing but white walls, the cutest little red staircase up to the lofted bedroom and my beautiful brick wall.
(Image credit: Submitted by Chelsea )
The second I saw this space, I knew that with a little TLC my mom and I could transform it into a dream. My only requirement while apartment hunting was a brick wall, so once I found this place I was sold. I wanted to maximize all the space possible. I had a lot to fit in this 250 square foot apartment and it was going to take a lot of clever ideas to get there!
It took four months, with one week of really hard work, to get this place where it is today. My mom hand crafted the beautiful shelves in Idaho and drove them to NYC. I sent her the measurements and she designed and made the most functional piece for this tiny space I could image. Every shelf can move up and down and side to side, so if it needs to be re-arranged it can. And since seating is tight, she even found a way to build in a bench!
(Image credit: Submitted by Chelsea )
My mom also made the curtain with the genius idea of hanging it a few feet higher than the window actually goes, so it elongates the wall. She also made my bed, which actually pops up from the bottom so I can use all of that space for storage, and pulls back down with a pulley.
Every piece in my apartment has a double purpose. The coffee table pops up so it doubles as a table, the white dresser I use as a serving table for parties and the bookshelf holds all my books but also is a bench, shoe rack and craft center.
(Image credit: Submitted by Chelsea )
The paint was also a huge game-changer. The yellow accent wall really makes the room pop and added a lot of depth to the 99 square foot living room.
After furniture, paint, supplies and a few odds and ends, the renovation cost around $2,500.
Everyday I walk into my apartment I smile. I absolutely cannot imagine living here without the bookshelves. They are the main attraction and vital to making my apartment functional. I love everything we did! The only thing I would want to change is my dresser - I wish we would have had time to build another custom piece there that could hold some hangers.
(Image credit: Submitted by Chelsea )
Chelsea's words of wisdom: I know it seems crazy to put so much time and work into a rental - but being in my mid 20s I'm not at a place to buy, but still want a beautiful apartment that makes me happy. A home. Don't be afraid to paint or add a few unique pieces to make your apartment what you want. Believe me - you can take the smallest space and turn into anything you want it to be!
(Image credit: Submitted by Chelsea)
Resource list:
Coffee table: West Elm
Desk: West Elm
Couch: West Elm
Dresser: IKEA
Paint: West Elm, Benjamin Moore.
Thank you, Chelsea!
Apartment Therapy supports our readers with carefully chosen product recommendations to improve life at home. You support us through our independently chosen links, many of which earn us a commission.