Benjamin Moore's New Luxe Paint Line Is What Designers Have Been Waiting For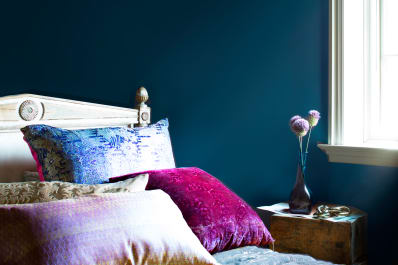 (Image credit: Benjamin Moore)
Have a room that could use an extra dose of drama? This week, Benjamin Moore announced CENTURY, their new luxury line of paint that is not only gorgeous, but has a tactile finish that adds a new experience to a space.
They're calling the finish "soft touch matte," and it reportedly feels like a soft leather glove. The ultra-premium formula is quite exacting— it's "so intricately balanced it is only made in small batches that will be pre-mixed and sealed to ensure the truest color and experience in every can," according to a press release. CENTURY is available in sample and gallon sizes in a range of 75 mid-tone to dark shades.
We love that dramatic colors are continuing to be popular; Benjamin Moore themselves chose a deep eggplant hue called Shadow as their 2017 Color of the Year. The new line includes colors inspired by natural elements—gems, minerals, herbs, spices, and plants—like dusty purple Ametrine, rich sage Beauvillon, ocean-hued Blue Muscari, and cool burgundy Alizarin.
"The unmatched richness and color saturation, coupled with the tactile experience of CENTURY, delivers a new dimension in paint unlike anything the design world has seen," said Harriette Martins, Benjamin Moore Senior Brand Manager. "Color becomes an experience."
We'll continue to shout it from the rooftops: painting is an affordable way to transform a space. But we've all experienced the frustration of a too-cheap gallon taking so many coats that it's no longer actually cheap (but still manages to look it). With a suggested retail price of $125 per gallon, CENTURY is no doubt a luxury product. The line is less for DIYers (at these prices, you're probably not going to want to slap it on yourself willy nilly), and more for designers and pros looking for that extra oomph. We can't wait to see how they decide to use it.