This $29 Amazon Find Is the Most Asked About (and Helpful) Item in My Kitchen
We independently select these products—if you buy from one of our links, we may earn a commission. All prices were accurate at the time of publishing.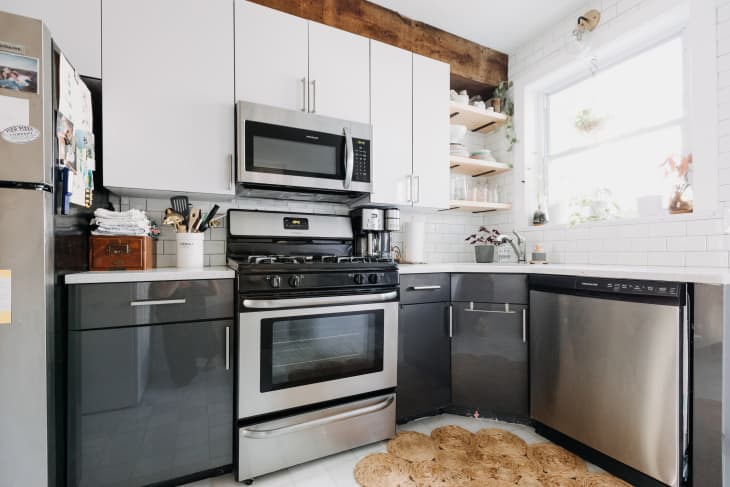 The kitchen in our home is a little tricky. At first glance, it appears to be more spacious than you might expect from a small colonial home built in the early 1930s, and the twin windows let in just enough light to make the space feel both open and inviting. But then the time comes to use the kitchen to prepare a meal and you realize that something is slightly off — there's plenty of room to walk around, but there's very little counter space.
The appliances and awkwardly-placed opening to the dining room area have greatly cut into the amount of counter space available. When we were house hunting, we were so enamored by the sight of an updated kitchen that we didn't pay much attention to whether it was truly a functional space or not. By the time we filled our cabinets with our dishes and cookware and put out our toaster, coffee maker, and knife block on the day we moved in, there wasn't really space left for much else.
Determined to keep our kitchen functional without feeling cluttered, I set out to find small space storage solutions that wouldn't take up any more counter space. Since there wasn't any room for our spice collection in our already overflowing small pantry either, I began combing the internet in search of a wall-mounted spice rack that would also complement our modern farmhouse aesthetic. What I found on Amazon was even better — a magnetic fridge organizer that conveniently holds four rows of spices and two rolls of paper towels. Since the side of our refrigerator is exposed and right next to our kitchen sink, I knew I'd have the perfect spot to hang it for easy access.
Straight out of the box, this handy little four-tier organizer did everything it promised, and then some. The magnet, which says it can hold up to 45 pounds, works wonderfully — you really have to tug on it to get it off, so pick your final spot wisely. Each of the two small shelves can comfortably store two rows of spices or one row of larger condiments if that better suits your needs. I managed to fit about 24 small spice jars on it and still make room to fit one of those oversized paper towel rolls from the bulk Costco packs. I removed the paper towel hook from the fourth tier to leave space for our coffee and tea canisters, but when our family is in town and our kitchen is extra busy, it takes just a few seconds to hook it back on and have the perfect place to keep a second roll handy.
I rely on this little gadget to store a lot of everyday items right in plain sight, so I also really appreciate how well the matte black finish (it also comes in white or gray) holds its own in our black-and-white kitchen.
While this $29 find has made a big difference in our small kitchen, I wasn't expecting it to be such a hit with our guests too. Any time someone is new to our kitchen, this organizer is the first thing they notice and ask about. I've had to share the link so many times, I now keep it saved in my favorites.