This $65 Tool Makes Cleaning When You Have Lower Back Pain Effortless
We independently select these products—if you buy from one of our links, we may earn a commission. All prices were accurate at the time of publishing.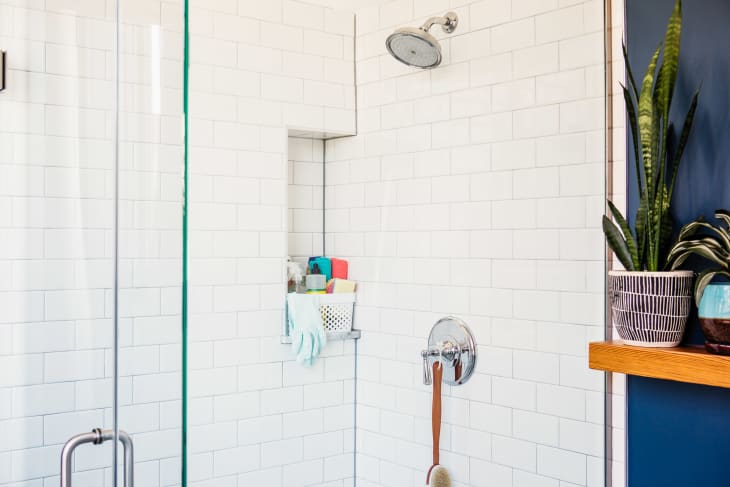 If you follow enough cleaning influencers on social media, you'll quickly start to see a pattern. A good majority of them swear by the same go-to products — all of them easily found on Amazon, with thousands of positive reviews — so your feed is constantly reminding you to give said products a try.
One of these wildly popular products is an electric scrubber set. These rechargeable cordless kits make regular appearances in all the cleaning videos I watch on repeat. Until recently, I was never sure this particular type of cleaning tool was a necessity for my weekend repertoire, mainly because my core cleaning philosophy is one my late grandmother passed down to me. She would always say the only way to truly get something sparkling clean is to give it "a little elbow grease," which to her, meant scrubbing a surface or stain by hand ferociously with all of your might. If you weren't "getting in there," she'd say, then you hadn't done the job.
Because my grandmother engrained this philosophy into all of us, I admit that, as an adult, it took me years to switch to a mop or fancy floor steamer, versus scrubbing the floors by hand. I always put an electric scrubber in my Amazon cart for safekeeping, but never actually bought one until a few months ago when I had new motivation to give it a go. I have lower back pain and was in search of a solution for easier cleaning.
I injured my back last year and wound up going to weekly physical therapy appointments to get back to "normal." I feel almost like myself, except for when I'm deep cleaning the bathroom or kitchen. Those are tougher jobs, of course, and sometimes the pain and soreness in my back are so extreme I have to pause midway through to rest. I'd begun to dread the thought of doing any cleaning chore, even the ones I used to find therapeutic or relaxing.
Then I ordered and unboxed my new Voweek Electric Spin Scrubber set and put it right to work. Let me just cut to the chase here: It is the definition of a game-changer. The convenience that using an electric scrubber offers for cleaning grime in tough-to-reach areas is apparent instantly. I've seen many versions of these on the market, with different features offered, but this set met all my needs on the first try. It charges fully in under an hour, which is almost exactly the amount of advance notice we get when someone's coming over and we need to do a deep clean quickly. I used it to clean my shower. Typically, doing so with just a scrub brush and spray cleaner in hand could take me an hour or more, which often included little "time outs" for my lower back which would start to spasm about halfway through the job due to all the leaning and pushing. This time, it took me less than 30 minutes.
This cordless scrubber comes with an extendable handle that adjusts from 27 to 43 inches, so I can reach the shower corners from top to bottom without ever kneeling or bending over and without breaking a sweat. You can also adjust the speed to tackle tough mildew stains and, of course, I call the stronger one "elbow grease mode." Because one size never fits all when it comes to cleaning brushes, I was also pleasantly surprised by the brush selection that comes with this set. There are four options: a hard flat brush that helps take on large surfaces in minutes, a corner brush for curved areas like the corners of my tub, a small flat brush for detailed work like cleaning the grout, and a pointed brush that's perfect for cleaning the small gaps around your shower hardware.
While I know this type of tool is commonly used among cleaning enthusiasts, if you're like me and you've always figured using an electric scrubber was more trouble than it's worth, you may want to think again. Not to mention that if applying the pressure it takes to remove tough stains makes cleaning less than relaxing for you, I recommend giving an electric scrubber a go to give your body some rest. This one is now a trusted part of my cleaning routine and my lower back thanks me for it.

Buy: Voweek Electric Spin Scrubber, $64.99 (originally $89.99)