10 Flameless Candles That'll Give You the Cozy Home Vibes Without the Worry
We
independently
select these products—if you buy from one of our links, we may earn a commission. All prices were accurate at the time of publishing.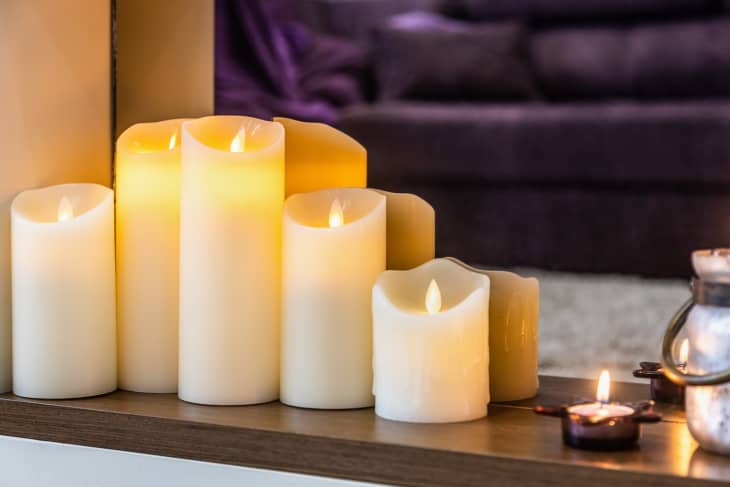 It's no secret that here at Apartment Therapy, we love candles — like, really love them. Many of us on the team are self-proclaimed candle aficionados, with candle-filled drawers and cabinets to prove it. While we do love enjoying candles au naturel, we're also fans of candle alternatives. I've personally waxed poetic more times than I can count about candle warmer lamps, but there's another alternative that I (and I suspect many of you) love too: flameless candles.
The Benefits of Flameless Candles
While many candle purists may balk at the idea of introducing a flameless candle into their space, there are many reasons to love them. First and foremost, these candles are much safer than a traditional candle. Aside from the obvious safety features of the flameless design (no forgotten flames or smoke allergies triggered with these candles), many of them also feature a built-in timer, so you'll never have to worry about forgetting to blow that candle out before leaving the house or heading to bed. Secondly, the design of flameless candles has majorly improved. Many of them feature updated designs that make these candles look just as good as the real thing! Heck, some even come with fragrance components! In the end, flameless candles are a great choice if you're looking for the comfort of a candle with none of the danger. That's why we rounded up 10 of the best flameless candles — from votives and tea lights to candlesticks and more — below. Here's to creating the ultimate cozy space this fall. 
Do you have a flameless candle you love? We want to hear all about it! Tell us about your favorite finds below!