10 Cleaning Hacks That'll Prepare You For Hosting Guests This Holiday Season (and Make Cleanup a Breeze!)
We independently select these products—if you buy from one of our links, we may earn a commission. All prices were accurate at the time of publishing.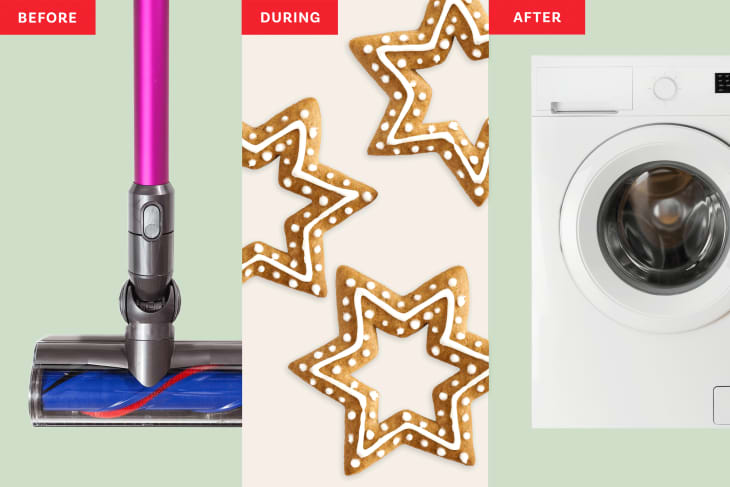 As the holidays quickly approach, many people are now planning how to decorate their homes and make them as inviting as possible to host family and friends. I, like many others, would much rather focus on which scented candles and twinkling lights I'll put out, what the menu will look like, and the overall ambiance of my get-together instead of planning out a cleaning routine. When it comes to hosting, however, cleaning is a crucial part of a night running smoothly — no matter how many guests will enjoy your home. 
I reached out to an array of professionals, from interior designers to cleaning experts, to ask them to share a few tips and hacks on how to clean before, during, and after hosting so your guests can have a great time and your home can feel like a comfortable space.
Regardless of the size of your event, Beatrice Flores, professional organizer and cleaning expert at Living Pristine, says it's essential to deep clean your home. She says this includes decluttering, dusting, vacuuming, mopping, removing pet hair, and, above all, cleaning the bathrooms and kitchen. "Go through each room and ask yourself if your home looks and feels more inviting and welcoming," says Flores.
If you're in a time crunch or just don't love the act of deep cleaning, Chris Alexakis, interior designer and the founder of CabinetSelect, says it's perfectly acceptable to only deep clean the areas in which guests will interact or, if budget permits, hire a professional. "Consider hiring a professional cleaning service if you have particularly high-traffic areas or surfaces that are prone to getting dirty easily, such as carpets or upholstered furniture," says Alexakis.
2. Rearrange your furniture and decor.
The art of feng shui should not be overlooked when hosting during the holidays. Alexakis recommends rearranging furniture, rugs, and decor to create a pleasant ambiance and help your guests feel welcomed and comfortable. "Rearrange your living room or hallway to make the space appear more open," he says.
"Use decorative furniture, rugs, and even candles to help define specific areas of the room and create a cozy, intimate atmosphere," adds Alexakis.
3. Prep as much as you can.
Hosting during the holidays usually means you'll prepare a lot of food and add more decor than usual. To make the day of your event as seamless as possible, Leanne Stapf, COO of The Cleaning Authority, highly recommends prepping as much as you can, from the fridge to your tablescape.
"Clean out your fridge about a week prior to the big day, using up ingredients during the week to avoid them going to waste. A couple of days before, throw out anything that hasn't been used," she says. "Do as much food prep ahead of time; side dishes that need to be baked can often be prepared and refrigerated the day before and popped in the oven the morning of."
Stapf also recommends setting the table the day before, making it one less thing you have to do the day of, and making sure your dishes are clean and your dishwasher is empty.
4. Keep guests out of certain rooms and items.
The more guests you host, the more risk you run of having certain things around your home be touched or prone to damage. If you'd like to avoid this altogether, Dorian Alves, cleaning expert and CEO of Silent Maids, suggests preparing your home for nosy or clumsy guests.
"It always helps to put away items you don't want to be touched or accidentally broken," he says. "Always keep the doors closed for rooms you don't want your guests peering into, especially your bedroom, as you can use this area for temporary storage while your guests are in your home."
5. Make sure certain things are stocked.
No matter how many guests you're hosting, certain items like napkins, toilet paper, and beverages will disappear quickly. Make sure to keep extra stock of things that go fast and, if possible, keep a stash just below the surface. "If you line your trash cans with extra bags ahead of time, you won't have to add a new one every time it fills up, saving you some time!" says Stapf.
Hosting events like dinner parties will involve keeping your kitchen counters, island, and any tables clean and tidy. Maintain this practice by wiping down surfaces and throwing things away immediately, says Alexakis, so you can worry about this less once guests leave. At the same time, he also recommends being mindful of your tidiness level and not letting it overtake the comfort of your guests or your time away from them.
"It's important to be mindful of how you are interacting with your guests while they are there," says Alexakis. "This can include being conscious of your cleanliness and tidiness and engaging with guests in a warm and welcoming way." 
7. Provide guests with what they need.
If you are hosting guests who are staying overnight, Flores suggests providing them with extra toiletries and linens to make sure they have everything they need and then some. "Remember, the more the merrier!" she says.
8. Be mindful of your guests' comfort level. 
During hosting, your time should focus less on cleaning and more on making sure you and your guests are having a great time. Alexakis says guests should always feel the welcoming warmth of your home. "Little things like greeting everyone at the door, offering them refreshments or snacks, and engaging in small talk throughout the event will help make your night successful," he says.
9. Take time for a quick cleanup.
After your guests leave, there are a few key things you should clean up immediately afterward. Clearing your table of any dishes, says Flores, should be the first thing on your list. Next, Stapf recommends doing the dishes, whether you're hand washing or using a dishwasher. Load dirty dishes or hand wash plates and dishes that had food, leaving any glassware and flatware for the next day if you run out of room. Lastly, take time to disinfect your bathroom using either disinfectant wipes or spray. 
Additionally, Stapf also recommends running your garbage disposal, clearing it of any lingering food bits that could attract pests, and wiping down counters and tables to clear them of crumbs and spills. If your floors become particularly messy after hosting guests, Flores suggests sweeping or vacuuming the areas where guests congregated (if you're lucky enough to have a robot vacuum, this task will be a breeze!).
10. Mopping, laundry, scrubbing, and some food storage
While sweeping and vacuuming may be required after guests leave, Flores says mopping can wait until the next day. Even if there was a spill the previous night that you quickly wiped up, it can be properly cleaned, along with the rest of your home, after a good night's rest.
You will likely have to deep clean again the day after your guests leave, but there are a handful of tasks that don't have to be completed the night your event ends. Putting away decor, scrubbing the counters, doing laundry, and storing dry foods should be at the bottom of your list in terms of urgency. 
"You can throw used linens like cloth napkins and tablecloths in the wash the next day, but make sure you spot-treat any spills when they happen to avoid setting in and staining," says Alves. "Put away perishable food in your fridge, but leave the rest for the next day. As long as it's covered, you don't have to worry about putting it away immediately."